Current Affairs for IAS Exams - 11 October 2022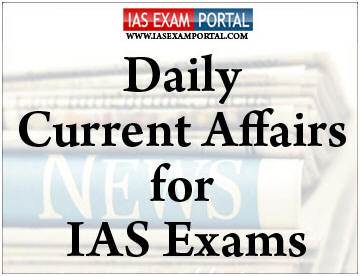 ---
Current Affairs for IAS Exams - 11 October 2022
::NATIONAL::
Primary agricultural credit societies in all panchayats soon
During inauguration of Eastern and North-Eastern Cooperative Dairy Conclave 2022, Union Minister said that PACS will be set upin all Panchayats of the country.
About:
PACS account for 41 % of the Kisan Credit Card (KCC) loans given by all entities in the Country and 95 % of these KCC loans through PACS are to the Small and Marginal farmers.
Earlier, Cabinet Committee had approved Computerization of PACS with the objective of increasing efficiency of PACS, bringing transparency and accountability in their operations.
PACS, registered as cooperative societies, provide the following facilities to their members:
Currently, there are only 65,000 active PACS in the country.
Input facilities in form of cash or kind component,
Agriculture implements on hiring basis,
Storage facility.
Cheetah Task Force 
Ministry of Environment, Forest and ClimateChange has constituted a Task Force for monitoringCheetah introduction in Kuno National Park,Madhya Pradesh and other suitable designatedareas.
About the task force:
National Tiger Conservation Authority (NTCA) would facilitate the working of the Cheetah Task Force and render all necessary help.
Role: 
Review, progress and monitor the healthstatus of the Cheetah.
Monitor hunting skills and adaptation ofCheetahs.
Regularly interact with Cheetah Mitras andlocal communities for raising awareness.
It will help to stem the degradation and rapidloss of biodiversity.
CLICK HERE FOR FULL CURRENT AFFAIRS (Only for Course Members)
::INTERNATIONAL::
Sveriges Riksbank Prize in Economic Sciences
The Royal Swedish Academy of Sciences awarded the 2022 Nobel Prize in Economics to Ben S. Bernanke, Douglas W. Diamond and Philip H. Dybvig.
About:
Ben S. Bernanke, Douglas W. Diamond and Philip H. Dybvig won the 2022 Nobel Prize in Economics for research on banks and financial crises.
According to Nobel committee, the three laureates have significantly improved our understanding of the role of banks in the economy, particularly during financial crises, and an important finding in their research is why avoiding bank collapses is vital.
Douglas W Diamond and Philip H Dybvi
Both Diamond and Dybvig worked together to develop theoretical models explaining why banks exist, how their role in society makes them vulnerable to rumours about their impending collapse, and how society can lessen this vulnerability. These insights form the foundation of modern bank regulation.
Ben S. Bernanke
Former Federal Reserve chairman Ben Bernanke analysed the Great Depression of the 1930s, the worst economic crisis in modern history. Among other things, he showed how bank runs were a decisive factor in the crisis becoming so deep and prolonged.
Using historical sources and statistical methods, Bernanke's analysis showed which factors were important in the drop in gross domestic product.
SverigesRiksbank Prize in Economic Sciences
CLICK HERE FOR FULL CURRENT AFFAIRS (Only for Course Members)
Kurds
Nationwide protests over the death of a young Iranian Kurdish woman in the custody of Iran's morality police have been at their most intense in the northwestern areas where the majority of the country's 10 million Kurds live.
About:
Minority Kurds, mainly Sunni Muslims in Shi'ite-dominated Iran, speak a language related to Farsi and live mostly in a mountainous region straddling the borders of Armenia, Iraq, Iran, Syria and Turkey.
Kurdish nationalism stirred in the 1890s when the Ottoman Empire was on its last legs. The 1920 Treaty of Sevres, which imposed a settlement and colonial carve-up of Turkey after World War One, promised Kurds independence. Three years later, Turkish leader Kemal Ataturk tore up that accord.
The Treaty of Lausanne, ratified in 1924, divided the Kurds among the new nations of the Middle East.
CLICK HERE FOR FULL CURRENT AFFAIRS (Only for Course Members)
::ECONOMY::
National Industrial Corridor Development Programme
4th NICDC Investors' Roundtable Conference to be held in Mumbai on October 10.
About:
The 4thNICDC Investors' Roundtable Conference organized by Maharashtra Industrial Township Limited (MITL).
The Investors Roundtable Conference has previously been hosted in Delhi, Kochi, and Ahmedabad.
The 4th edition of the conference will showcase the development of upcoming greenfield industrial cities across India, which have been planned by National Industrial Corridor Development Corporation Limited.
CLICK HERE FOR FULL CURRENT AFFAIRS (Only for Course Members)
::SCIENCE AND TECHNOLOGY::
Fresh twist in moon'sgenesis
Since the mid-1970s, astronomers have thought that the moon could have been made by a collisionbetween Earth and an ancient Mars-size protoplanet called Theia.
About:
Previous theories say the satellite (moon) was formed months or years after the collision and thegradual solidification of molten Theia debris gave rise to the Moon.
But a new hypothesis (based on supercomputer simulations) suggests that the moon's formationmight not have been a slow and gradual process, but one that instead took place within just afew hours.
CLICK HERE FOR FULL CURRENT AFFAIRS (Only for Course Members)