Current Affairs for IAS Exams - 11 September 2021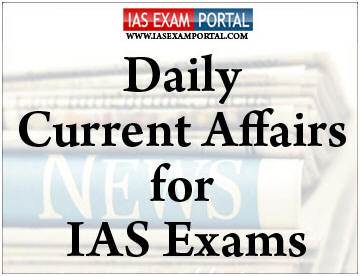 ---
Current Affairs for IAS Exams - 11 September 2021
::NATIONAL::
E-GOPALA App and i-MAP web portal
The web version of e-GOPALA application developed by National Dairy Development Board (NDDB) has been launched on to aid dairy farmers.
About:
The NDDB has launched the web version of e-GOPALA application and i-MAP web portal which provides real-time information to dairy farmers for better productivity of dairy animals.
NDDB, founded in 1965 to transform dairying into an instrument for development of India's rural people.
The E-GOPALA App is a comprehensive breed improvement marketplace and information portal for the direct use of farmers.
e-Gopala digital platform let farmers manage livestock including buying and selling of disease-free germplasm in all forms.
The i-MAP web portal provides real-time information to dairy farmers for better productivity of dairy animals.
Mumbai Climate Action Plan
The Brihanmumbai Municipal Corporation (BMC) is drafting a Mumbai Climate Action Plan (MCAP) in a bid to tackle climate challenges. It recently launched a website for the same.
About:
As per a study conducted by the World Resource Institute (WRI) India on Mumbai's vulnerability assessment, the city will face two major climate challenges — the rise in temperature, and extreme rain events which will lead to flooding.
The city has seen a constant rise in temperature after 2007, and a substantial increase in intense rainfall and storm events in the last five years.
A recent report from the Intergovernmental Panel on Climate Change (IPCC) has warned that at least 12 Indian coastal cities including Mumbai will face sea rise of 0.1 metres to 0.3 metres in next three decades due to climate change.
Before this, in February 2020, a report from McKinsey India stated that by 2050, Mumbai will see a 25 per cent increase in the intensity of flash floods and a 0.5 metre rise in sea level, which will affect two to three million people living within 1-km from the coastline.
CLICK HERE FOR FULL CURRENT AFFAIRS (Only for Course Members)
::INTERNATIONAL::
Nyongbyon Nuclear Scientific Research Center
The United Nations' nuclear watchdog described the resumption of operations over the weekend at North Korea's Yongbyon nuclear reactor as "deeply troubling."
In its new annual report on North Korea's nuclear program, the International Atomic Energy Agency (IAEA) stated that while monitors have not been granted access to the Yongbyon site, there are "indications" that the five-megawatt reactor is once more producing plutonium for the first time since December 2018.
About:
The Nyongbyon Nuclear Scientific Research Center is North Korea's major nuclear facility, operating its first nuclear reactors.
It is located in Nyongbyon County in North Pyongan Province, about 100 km north of Pyongyang.
The center produced the fissile material for North Korea's six nuclear weapon tests from 2006 to 2017, and since 2009 is developing indigenous light water reactor nuclear power station technology.
Leaded petrol
Algeria was the last country in the world to use leaded petrol.
Earlier, UNEP launched global Partnership for Clean Fuels and Vehicles (PCFV) to end its use in low and middle income countries in 2002.
Most developed nations phased out its use in 1980's.India phased out use of leaded petrol in 2000.
Ending the use of leaded petrol will prevent more than one million premature deaths each year from heart disease, strokes and cancer.
It will protect children whose IQs are damaged by exposure to lead.
::ECONOMY::
Bharat Series vehicle number
The government has announced a new all-India registration facility for vehicles – called the Bharat Series (BH series) – that will free owners from the re-registration process when they shift from one state or union territory to another.
About:
Under section 47 of Motor Vehicles Act, 1988, a person is allowed to keep vehicle for not more than 12 months in any state other than the state where the vehicle is registered.
This vehicle registration facility under the Bharat series (BH-series) will be available on a voluntary basis to defense personnel, employees of the central government/ state government/ central/state public sector undertakings and private sector companies/organisations, which have their offices in four or more states/Union territories.
The registration mark will be in a YY BH #### XX format - where YY denotes the year of first registration, BH is code for Bharat Series, #### is the randomised four digit number and XX are two alphabets.
::SCIENCE AND TECHNOLOGY::
Gaganyaan Service Module Propulsion System
Recently, ISRO successfully conducted the first hottest of the SDM of Gaganyaan Service Module Propulsion System at the ISRO Propulsion Complex (IPRC), Mahendragiri (Tamil Nadu).
The Service Module is part of the Gaganyaan Orbital module and is located below the crew module and remains connected to it until re-entry.
Gaganyaan programme seeks to demonstrate indigenous capability to undertake human space flight missions to Low Earth Orbit.
As part of this programme, two unmanned missions and one manned mission are approved by Government.
 CLICK HERE FOR FULL CURRENT AFFAIRS (Only for Course Members)