Current Affairs for IAS Exams - 12 January 2021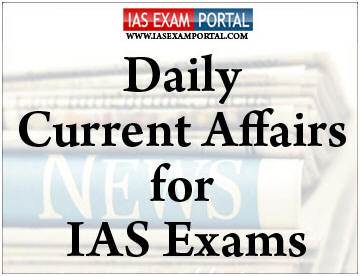 ---
Current Affairs for IAS Exams - 12 January 2021
::NATIONAL::
Ministry of Education issues guidelines for identification, admission and continued education of migrant children
The Ministry of Education had issued guidelines for identification, admission and continued education of migrant children.
The main features of the Guidelines are:      
1.    Continued Education for Out of School Children (OoSC) and Children with Special Needs (CWSN) 
Continuation of non-residential training for identified Out of School children through volunteers, local teachers and community participation.  
Continuation of home-based education for CWSN children through Volunteers/ Special Educators.
2.    Identifying Out of School Children 
States and UTs to carry out proper identification of OoSC for 6 to 18 years age group through a comprehensive door to door survey and prepare action plan for their enrolment.
 
3.    Enrolment Drives and Awareness Generation 
Enrolment drives may be undertaken at the beginning of academic year such as Praveshotsav, School Chalo Abhiyan etc.
Undertake awareness generation among parents and community for enrolling and attendance of children
Create awareness on practicing 3 Corona appropriate behaviors – wear mask, six-feet distance and washing hands with soap for which IEC material shared on 06.11.2020 with the States & UTs.
4.    Student Support while Schools are closed 
Students to be provided support including counselling, large scale awareness & targeted home visits
Using Manodarpan web portal and tele-counselling number for counselling services and psycho-social support.
Distribution of educational material and resources, supplementary graded material, workshops, worksheets etc to support home-based education
Exploring option of classroom on wheels and classes in small groups at village level
Increasing the access of children to online/digital resources, TV Radio etc. to reduce learning loss
Ensuring easy and timely access to the provisions of uniforms, textbooks and MDM
Timely disbursement of stipend to enrolled CWSN girls through DBT
Strengthening of Child protection mechanism at local level.
 
5.    Student Support on School Reopening 
Preparation and running of School readiness modules/Bridge course for initial period when the schools re-open so that they can adjust to the school environment and do not feel stressed or left-out.
Identification of students across different grades based on their learning levels
Relaxing detention norms to prevent drop out this year.
Ensuring reading with comprehension and numeracy skills by encouraging children to read books beyond syllabus and creative writing & problem solving.
Large-scale remedial programmes/Learning Enhancement programmes to mitigate learning loss and inequality.
 
6.    Teacher Capacity Building 
Effective utilization of the online NISHTHA training modules and online training module for Corona responsive behaviour to be launched on DIKSHA portal soon.
Use of alternative Academic Calendar prepared by NCERT for joyful engagement of children in learning.
Heavy snowfall declared state-specific natural calamity in Jammu and Kashmir 
Jammu and Kashmir's Lieutenant Governor Manoj Sinha declared 'Heavy Snowfall' as a state-specific natural calamity under the State Disaster Response Force (SDRF) norms.
The Lieutenant Governor was chairing a virtual meeting with all DCs and SSPs of Kashmir division to take stock of the administration's winter management measures, especially snow clearance efforts.
Earlier, 'Heavy Snowfall' did not figure in the list of Natural Calamities under SDRF norms, due to which disbursement of relief and ex-gratia for damage due to heavy snowfall was not possible for the districts' disaster management authorities.
Now, processing of ex-gratia relief under SDRF will become faster, thereby giving huge relief to the affected people living in snowbound areas.
On being apprised about shortage of small rescue vehicles for movement of people requiring medical assistance, particularly in remote areas and areas with narrow lanes.
The Lt Governor directed that 4×4 rescue vehicles /ambulances be provided to snow-affected districts with immediate effect.
CLICK HERE FOR FULL CURRENT AFFAIRS (Only for Course Members)
::INTERNATIONAL::
Indian Cities in the Post-Pandemic World report 
The study by the Geneva-based World Economic Forum (WEF) said the unfolding COVID-19 pandemic has been catastrophic for cities. 
About:
The WEF report, titled Indian Cities in the Post-Pandemic World, highlights the country's most pressing urban challenges that were further exacerbated by the pandemic.
According to estimates, about 70 per cent of India's GDP comes from its cities and around 25-30 people migrate to the cities from rural areas every minute. 
However, most big cities in India have a wide economic disparity, with expansive slums and a large urban poor population.
The study further said that about 25 million households in India — 35 per cent of all urban households — cannot afford housing at market prices and it is time to create a new urban paradigm that enables cities to be healthier, more inclusive and more resilient.
The report also provides insights for translating the lessons learned from the pandemic into an urban reform agenda.
The report, produced in collaboration with Mumbai-based IDFC Institute, compiles insights from leading global and Indian urban experts across seven thematic pillars — planning, housing, transport, environment, public health, gender and vulnerable populations.
US puts Cuba back on 'state sponsor of terrorism' list
The US State Department put Cuba back on a blacklist designating it a state sponsor of terrorism.
Cuba was removed from the list in 2015 by then-president Barack Obama as he moved to normalize relations with the country.
Key impact:
The terror designation has major consequences for Havana and everyday Cubans.
Foreign investors will now risk US prosecution for transactions in Cuba.
The reinstated sanctions also include major restrictions barring most travel between the US and Cuba.
The sanctions also curb money transfers between the two countries, hitting hard the incomes of Cubans who have relatives in the US.
Only three other countries are currently on the "state sponsor of terrorism" list, including: North Korea, Syria and Iran.
Economy
Risk-Based Internal AuditFramework
The Reserve Bank of India (RBI) has asked banks to ensure that the internal audit function has sufficient authority, stature, independence and resources within the bank to enable internal auditors to carry out their assignments with objectivity. 
It also emphasised that this function cannot be outsourced.
About:
These directives are aimed at strengthening governance arrangements in banks under the Risk-Based Internal Audit (RBIA) Framework.
The central bank said the Head of Internal Audit (HIA) should be a senior executive of the bank with the ability to exercise independent judgement.
The HIA as well as the internal audit function should have the authority to communicate with any staff member and have access to all records or files that are necessary to carry out the entrusted responsibilities.
RBI underscored that requisite professional competence, knowledge and experience of each internal auditor is essential for the effectiveness of banks' internal audit functions.
The desired areas of knowledge and experience may include banking operations, accounting, information technology, data analytics and forensic investigation, among others.
Science and Technology
Bio incubators Nurturing Entrepreneurship for Scaling Technologies
Biotechnology Industry Research Assistance Council (BIRAC)has approved the setting up of a BioNEST (Bio incubators Nurturing Entrepreneurship for Scaling Technologies) at the Manipal Academy of Higher Education (MAHE) campus in Manipal.
BIRAC is a public sector enterprise by the Department of Biotechnology of the Government of India.
About:
BioNEST is aimed at catering to the needs of incubating innovative biotechnology enterprises and at promoting a biotechnology innovation ecosystem.
BioNEST facilities are equipped with instrumentation for innovation and technology development and are connected with the global network of start-up enablers and funding agencies.
BioNEST provides incubation space to start-ups and entrepreneurs to test their ideas, run their business operations with access to resources and facilities of MAHE to enable the efficient exchange of knowledge as well as to facilitate technical and business mentorship.
The BioNEST facility at MAHE in Manipal can occupy 30 entrepreneurs at any given time, with faculties, infrastructure and services for the incubation of the start-ups in key domains such as biopharma, biomedical devices, dental innovation, biotechnology, healthcare, and diagnostics.
BioNEST will be managed by Manipal-GoK Bioincubator and K-tech Innovation Hub. 
CLICK HERE FOR FULL CURRENT AFFAIRS (Only for Course Members)