Current Affairs for IAS Exams - 12 February 2020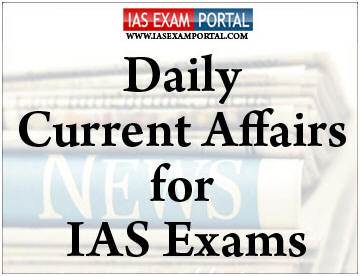 ---
Current Affairs for IAS Exams - 12 February 2020
---
::NATIONAL::
Government gives clarification on children left out of NRC
The government has decided not to send to detention children who were excluded from the NRC in Assam but whose parents were included, the LokSabha was informed on Tuesday.

Union Minister of State for Home NityanandaRai said the approved standard operating procedures for disposal of claims and objections had a specific provision for children left out of the NRC, while their parents had been included.

"The Attorney-General stated on January 6, 2020, before the Supreme Court that the children of parents included in the NRC, Assam, will not be separated from their parents and sent to a detention centre, pending decision on the application," he said in a written reply to a question.

The NRC was carried out in Assam under the supervision of the Supreme Court, and around 19 lakh people were left out of the final list published in August 2019.

Those excluded could challenge the decision before the Foreigners' Tribunals. The State NRC Coordinator is yet to issue certified copies of exclusion to the applicants and the process of challenging the order is yet to begin.
Social justice ministry publishes data on sewer deaths
The number of people who died while cleaning sewers and septic tanks in the country increased by almost 62% from 68 in 2018 to 110 in 2019, according to a reply given by the Social Justice and Empowerment (SJE) Ministry to the LokSabha on Tuesday.

SJE Minister of State RamdasAthawale replied to the question asked by BharatiyaJanata Party MPs Anil Firojiya, MohanbhaiKalyanjibhaiKundariya and Lallu Singh about the incidents of manual scavenging, which is banned under the Prohibition of Employment as Manual Scavengers and their Rehabilitation Act, 2013.

The reply said a total of 14,559 manual scavengers had been identified by Municipalities and Gram Panchayats in 13 States from 2013-2014 till January 31, 2020.

Apart from that, a national survey was conducted in 194 districts in 18 States where 48,345 manual scavengers were identified till January 31, taking the total to 62,904.

While saying "there have been no reports regarding death of persons due to manual scavenging", the Minister's reply stated that the National Commission for SafaiKaramcharis had received reports about the death of people cleaning sewers and septic tanks.

These cases were reported from 18 States and Union Territories, while 13 States and UTs submitted "nil reports".
::ECONOMY::
Finance ministry claims to have disbursed GST compensation to states
The Centre has released ₹81,043 crore as GST compensation to States for April-September 2019, Minister of State for Finance Anurag Singh Thakur said on Tuesday.

In a written reply to a question in the RajyaSabha, he said GST compensation cess collection had shown an upward trend since October 2019.GST compensation cess of ₹7,607 crore was collected in October, ₹7,727 crore in November, ₹8,331 crore in December and ₹8,637 crore in January.

For 2019-20, the amount targeted to be collected from cess in GST was ₹1.09 lakh crore. Of this, ₹70,534 crore has been collected between April-December 2019.The amount of GST compensation released to States for April-September 2019 stood at ₹81,043 crore, Mr. Thakur said.

For 2018-19 fiscal, the net collection of GST compensation cess stood at ₹95,081 crore as against the target of ₹90,000 crore. For full fiscal, the government had released ₹81,141 crore to states as compensation.

As many as 634 cases of fraudulent GST refund claim by exporters amounting ₹1,912 crore had been detected by the central tax authorities between July 2017 and January 2020, Parliament was informed on Tuesday.

In a written reply to a question in the RajyaSabha, Mr. Thakur said of this, ₹238.97 crore had been recovered by the Central GST authorities from the entities which claimed the fraudulent refunds.
India out of USTR list of developing nations
Ahead of President Donald Trump's visit on February 24-25, the US on Monday removed India from its list of developing countries that are exempt from investigations into whether they harm American industry with unfairly subsidised exports.

The United States Trade Representative (USTR) eliminated a host of countries including Brazil, Indonesia, Hong Kong, South Africa and Argentina from getting special preferences under the methodology for countervailing duty (CVD) investigations, stating that the previous guidance that dated back to 1998 "is now obsolete".

The US removed India from the list on account of it being a G-20 member and having a share of 0.5% or more of world trade. The move has cast a shadow on India being able to restore preferential benefits under the Generalised System of Preference (GSP) as part of its trade talks with the US, as only developing countries are eligible for it.

The move has jeopardised India's ability to restore GSP benefits under the trade deal that the two countries are negotiating, experts said. "According to this notice, India is no longer a developing country and its hopes of getting GSP may not materialise as it doesn't qualify to get the benefits," said a Delhi-based expert on trade issues.

In 2018, India exported goods worth $6.3 billion (as per USTR figures) to the US under the GSP, accounting for around 12.1% of India's total export to that country.
::INTERNATIONAL::
U.K brings in law to prevent early release of terrorists
Britain will end the automatic early release of convicted terrorists under new fast-tracked legislation to be introduced to Parliament on Tuesday.

The new Bill follows an attack earlier this month by an Islamist militant just days after he was set free half-way through his jail term, despite authorities believing he still posed a threat to the public.

The government had already promised tougher rules on terrorism after another former convict killed two people and wounded three before being shot dead by police near London Bridge in November.

The emergency measures, which the government wants to become law by the end of the month, will mean convicted terrorists cannot be released before the end of their sentence without an assessment of whether they are still a risk. They will have to serve at least two-thirds of their sentence before being assessed.

The government said around 50 people currently in jail would see their release blocked as a result of the change to the law.The government plans to boost de-radicalisation measures in prison.
China denies role in cybertheft following accusations
China denied involvement in any hacking activities on Tuesday after the U.S. indicted four members of the Chinese military for allegedly breaking into the computer networks of the Equifax credit reporting agency and stealing the personal information of tens of millions of people.

The Justice Department accused Beijing on Monday of engineering one of the biggest hacks in history targeting consumer data of some 145 million Americans.

Foreign Ministry spokesman GengShuang said China was committed to "firmly oppose and combat cyberattacks of any kind," adding that it is a staunch defender of cybersecurity and its institutions "never engage in cybertheft of trade secrets."

Mr.Geng also turned the accusation back on the U.S., saying past events had shown Washington is "engaging in large-scale, organized and indiscriminate cyberstealing, spying and surveillance activities on foreign governments, enterprises and individuals."

The accusation is the latest against Chinese suspected of breaching the computer networks of American corporations, including steel manufacturers, a hotel chain and a health insurer.

It comes as the Trump administration has warned against what it sees as the growing political and economic influence of China, and efforts by Beijing to collect data for financial and intelligence purposes and to steal research and innovation.
::SCIENCE & TECHNOLOGY::
MoES plans to go for decadal forecast system
The Ministry of Earth Sciences (MoES) is planning a 'decadal forecast' system along the lines of the United Kingdom's Met Office to ensure better predictability in the climate time scale, said Dr. M. Rajeevan, Secretary, MoES recently.

Speaking on the sidelines of the 6th International Conference on Climate Services being held at the Pune-based Indian Institute of Tropical Meteorology (IITM), Dr.Rajeevan said the system, based on a coupled climate model, would first be taking shape in the form of a research programme and would be operational only after its merits had been evaluated.

Refusing to elaborate on the operational aspects of the programme, Dr.Rajeevan said the system would be explored as a research programme to be taken up by IITM along with collaboration from the India Meteorological Department and other entities.

The World Meteorological Organization has set up global producing centres, coordinated by the U.K. Met Office, for annual to decadal projections that are already providing global-scale information.

Once the system was established, it would initially function for long-range forecasting at the national level and the model, if successful, would later be downscaled to the state or even district-level, he said.

Dr.Rajeevan said there were a number of gaps in the understanding of regional climate variability and its connections to global phenomena like Indian Ocean Dipole.
::SPORTS::
Gulmarg set to host national winter games
World-famous Ski destination Gulmarg is all set to host a five-day national winter games event from 7th March under the banner of Khelo India.

Secretary Youth Services and Sports, SarmadHafeez today reviewed the arrangements for the mega event with all the stakeholders.He impressed on all officers to make concrete efforts with a professional touch for making it one of the big events in recent times.

He asked the department of information to facilitate the coverage of the event of national and local media persons besides preparation for cultural events which would be an added attraction for enthralling the participants.He also asked the Tourism department to publicize the winter games event in different roadshows across different states of the country.

There will be 30 events under five major activities- snowboarding, snow skiing, cross country, snow show in which 800 players from across India would participate.