Current Affairs for IAS Exams - 12 March 2020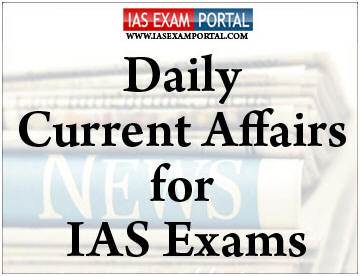 ---
Current Affairs for IAS Exams - 12 March 2020
---
::NATIONAL::
SC claims forcible dispossession of property as human rights violation
The Supreme Court has reiterated that forcible dispossession of a person of his private property without due process of law is a violation of human rights.
In a recent judgment by a Bench led by Justice S.K. Kaul, the court stressed that right to property is both a human right and a constitutional right — the latter under Article 300A of the Constitution.
The verdict came on the acquisition of a few acres in Sikkim by the State's Agriculture department in 1980 for building the Progeny Orchard Regional Centre.
The land was recorded in two names — 1.29 acres in the name of the Maharaja of Sikkim and 7.07 acres in the name of Man Bahadur Basnett, who was the father of the original appellant in this case.
The judgment found that "in this case, the appellant could not have been forcibly dispossessed of her property without any legal sanction"
The court gave the State three months' time from the date of the judgment for it to "make up their mind as to what they want to do". "Would they still like to retain the land by issuing a proper notification, or would they like to surrender possession of the land. In either eventuality, the question of payment for use and occupation would still arise, which will have to be determined in accordance with law," the judgment said.
Centre asks states to invoke epidemic disease act
"It has been decided that all States/Union Territories should be advised to invoke provisions of Section 2 of the Epidemic Disease Act, 1897 so that all advisories being issued from time to time by the Ministry/State/......................................................................
CLICK HERE FOR FULL CURRENT AFFAIRS (Only for Course Members)
::ECONOMY::
Commerce ministry to discuss issues on new foreign trade policy
Commerce and Industry Ministry has called a meeting of all stakeholders on Monday to discuss issues related to the forthcoming foreign trade policy (FTP) for 2020-25.
The meeting will be attended by industry chambers and exporters from various sectors such as textiles, chemicals, agriculture, capital goods, electronics, engineering, pharmaceuticals, leather, higher education, hospitality, e-commerce, and entertainment.
All exports and import-related activities are governed by the foreign trade policy, which is mainly aimed at enhancing the country's exports and use trade expansion as an effective instrument of economic growth and employment generation.
The meeting assumes significance as the commerce ministry is likely to soon come out with the policy for the next five financial years 2020-25. The validity for the old one will end on March 31, 2020.
The new policy could focus on simplifying procedures for exporters and importers besides providing incentives to boost outbound shipments.The ministry's arm Directorate General of Foreign Trade (DGFT) is formulating the policy.
Currently, tax benefits are provided under the Merchandise Export from India Scheme (MEIS) for goods and Services Export from India Scheme (SEIS).
In the new policy, changes are expected in the incentives given to goods as the current export promotion schemes are challenged in the World Trade Organization.
Saudi and UAE announces plans to boost oil production capacity
Oil prices fell on Wednesday after Saudi Arabia and the United Arab Emirates (UAE) announced plans to boost production capacity and OPEC and the U.S. Energy Information Administration (EIA) cut oil..................................................
CLICK HERE FOR FULL CURRENT AFFAIRS (Only for Course Members)
::INTERNATIONAL::
Russian parliament allows Putin to run for presidential election again in 2024
Constitutional changes allowing Vladimir Putin to run for President again in 2024 sailed through Russia's lower house of Parliament on Wednesday, opening the way for him to potentially stay in power until 2036.
Mr. Putin, a former KGB officer, is currently required by the Constitution to step down in 2024 when his second sequential and fourth presidential term ends. But the amendment would formally reset his presidential term tally to zero.
The 450-seat State Duma, the lower house of Parliament, on Wednesday voted in favour of the change, along with other amendments to the Constitution, by 383 votes. Nobody voted against, but 43 lawmakers abstained. Twenty-four lawmakers were absent.
If, as Mr. Putin critics expect, the constitutional court now gives its blessing to the amendment and it is backed in a nationwide vote on April 22, Mr. Putin would have the option to run again for President in 2024.
Kremlin critic and opposition politician Alexei Navalny has said he believes Mr. Putin will now try to become President for life.Two people staged lone pickets outside the State Duma on Wednesday.
Myanmar military blocks bid to limit their power base
Myanmar's military on Tuesday quashed proposals in Parliament that would mean its MPs relinquish power, in a vote pitting the armed forces in open opposition against Aung San Suu Kyi as elections loom.
The vote was the climax ......................................................
CLICK HERE FOR FULL CURRENT AFFAIRS (Only for Course Members)
::SCIENCE & TECHNOLOGY::
CAG report finds majority wildlife crimes in country from Rajasthan
On March 6, 2020, the Comptroller and Auditor General tabled the report for the year that ended on 31st March 2018 (2017-18). The report was tabled in the assembly. According to the report, between 2014 and 2016, 40% of environmental crimes in India were from Rajasthan.
The report pointed out that Wildlife Crime Control units were not established in the state. The crimes violated Forest (Conservation) act and Wildlife Protect Act.
Between 2014 and 2016, the number of environmental crimes registered in the country were 15,723 and those registered in Rajasthan were 6382.
The Ranthambhore Tiger Reserve and Sariska Tiger Reserve were not regulated due to the absence of Local Advisory Committee. In Ranthambhore, 5 out of 10 core areas were not closed in monsoon season.
The CAG identified several irritants to the wild life in the area. The Abheda Biological Park in Kota had garbage dumping yard nearby. The other concerns were firing range of the army, industrial areas and slums.
::SPORTS::
Shafali Verma loses top spot in ICC T20 rankings
Indian batting sensation Shafali Verma today lost the top spot in the ICC women's T20 International rankings as she slipped to third after managing only two runs in the World Cup final against Australia in Melbourne.
Australia opener Beth Mooney, who hit 78 not out in the final on Sunday, jumped two spots to number one with 762 points to her kitty.
New Zealand's Suzie Bates with 750 points remained in second position while India vice-captain Mandhana moved down a spot to be ranked seventh, Rodrigues remained static on ninth.
+