Current Affairs for IAS Exams - 12 May 2019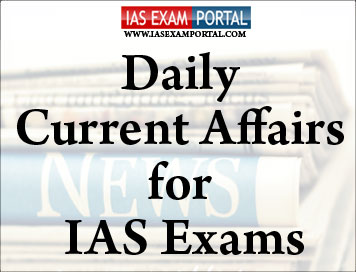 Current Affairs for IAS Exams - 12 May 2019
::NATIONAL::
PM greets scientific community on National Technology Day
President Ram Nath Kovind today greeted the scientific community on National Technology Day marking the anniversary of the Pokhran nuclear Tests of 1998.

In a tweet, he said India is committed to using technology to accelerate the developmental process and ensure a dignified existence for every citizen.

Prime Minister Narendra Modi has greeted the nation on the occasion. In a tweet, Mr Modi said, the country remembers with immense pride the accomplishment of our scientists on this day in 1998.

He said, the hard work of the scientists has always ensured a stronger and safer India. He expressed hope that the country will continue leveraging the power of technology for national progress.

The Prime Minister said, the patriotism and farsightedness of the former Prime Minister Atal Bihari Vajpayee and his team had a major role to play in the success of tests of 1998. He said Atal Ji's unwavering faith in scientists proved valuable during that crucial time.

He said it also demonstrated the difference a strong political leadership makes.
Vice president addresses world leaders on UN day in Vietnam
Vice President Venkaiah Naidu today urged the world leaders to work together to promote dialogue, harmony and justice based on compassion and wisdom. He said, sustainable society is possible only through sustainable consumption and production given the limited natural resources.

Delivering the keynote address at the 16th UN Day of Vesak in Vietnam, Mr Naidu said, the contemporary global leadership faces a huge challenge in constructing sustainable societies with peace and harmony.

The genesis of conflict among nations has roots in the idea of hate and violence originating from an individual's mind-space. He said, the growing menace of terrorism in the world is a manifestation of this destructive emotion.

Mr Naidu said, the proponents of ideologies of hate need to be constructively engaged to avoid mindless death and destruction. He said, Buddha's message of peace and compassion provides an ideology and effective answer to overcome sectarian and ideology-driven violence all over the world.

Mr Naidu said, in today's turbulent contemporary world, there is a need for an enlightened world leadership and a just and responsive world order.
::ECONOMY::
Jute availability projected to increase by 10 %
Raw jute availability is expected to improve in 2019-20 with an almost 10% increase being projected for the crop.

Estimates are about 79 lakh bales in 2019-20 against 72 lakh bales final estimate for 2018-19. Taken together with the opening stock and imports, the total supply is estimated at 101.4 lakh bales against 97.4 lakh bales.

Although the crop estimates given by the various agencies have differed, indications were that this year would be good for jute farmers, a senior IJMA member told. At the meeting, the Director of the Jute Development Directorate said that in 2019-20, the area coverage and production would be normal and a crop size of 112 lakh bales was estimated.

The fibre is available after a long process called retting which involves the extraction of the fibre from the plant through washing and drying.

Farmers also got good prices, amid rumours of a crop shortage in 2018-19, it was learnt. Jute mills, too, have consumed more (69 lakh bales against 68 lakh bales estimated earlier for 2018-19 by JAB) with good order for foodgrain sacks, under the mandatory Jute Packaging Order.
RHCA meeting of World customs organisation concludes
The Central Board of Indirect Taxes and Customs (CBIC) had organised a Conference of the Regional Heads of Customs Administration of Asia Pacific Region of the World Customs Organisation (WCO) in Kochi from 08th to 10th May, 2019. India hosted this Conference in its capacity as Vice-Chair of the Asia Pacific Region of WCO which it assumed on 1st July, 2018 for a two-year period.

The Conference took stock of the progress made in carrying forward the programmes and initiatives of WCO to promote, facilitate and secure cross-border trade in the Region and the capacity building and technical assistance required by Member Administrations to achieve these goals.

In addition to the discussions on the strategic priorities of the Asia Pacific Region, the Conference also deliberated on the work programs of the Vice-Chair, ROCB & RILO, security related issues, trade facilitation, e-commerce, performance measurement, trusted trader programmes and emerging technological and logistical challenges in the fields of trade facilitation and Customs Administrations. The Conference also facilitated Bilateral Meetings between the Member States

Recognising the importance of the collaborative approach between Customs and trade, a Trade Day was organised on 7th May, 2019 as a precursor to the Conference of the Regional Heads of Customs.

In the daylong deliberations, representatives from trade & industry and think-tanks shared their insights and experiences that are expected to shape the thinking of customs administrations of the region in adopting policies and measures to promote trade facilitation and secure global trade, and promote ethical leadership.
::INTERNATIONAL::
Former Maldives president calls for tight screening after srilankan blasts
Mohameed Nasheed, former President of the Maldives, has called for thorough screening of Islamic priests visiting the island nation.

"While we are not certain if Zahran Hashim came to the Maldives in 2016 as a preacher, we should screen well before allowing people to come here posing as sheikhs and preachers," he tweeted on Friday, referring to the alleged mastermind of the Sri Lanka Easter attacks.

Following the incident, and subsequent reports of the suspects' movement in the region, security and intelligence agencies in the neighbourhood have enhanced scrutiny of travellers. Sri Lanka has expelled around 200 clerics for overstating their visas. Clarifying his tweet that was in Dhivehi, the language of Maldivians, Mr. Nasheed told : "He [Zahran] might have travelled under another name, but the point is that we should be mindful in allowing preachers."

Earlier, some reports indicated to Hashim's likely travel to the Maldives. However, the Maldives Immigration authorities refuted the claim. An April 24 tweet from their official handle said: "Maldives Immigration can confirm that, based on our records, the Sri Lankan national known as Moulvi Zahran Hashim, involved in the Easter Sunday terrorist attack in Sri Lanka. has not travelled to Maldives in the past five years or even beyond that."

The Maldives has remained on high alert since the terror attacks shook Sri Lanka and is working on a coordinated response mechanism, involving the military and police, to face any contingency. The National Counter Terrorism Centre in identified 69 individuals who joined foreign wars.

In addition to developing a rehabilitation programme for radicalised individuals, the government is closely monitoring potential links that radicalised individuals might have with Islamist militant groups abroad, according to Male-based official sources. Security forces and Immigration have heightened scrutiny, though authorities have said no imminent threat that has been detected.
India and Australia moves towards classified communication environment
Though the Australian Navy is, at present, "hanging off" COMCASA — India's secure communications agreement with the U.S. — Australia and India are "moving forward" toward a classified-level communications environment, a senior Australian Navy spokesperson said.

The spokesperson said COMCASA (the Communications Compatibility and Security Agreement) was a "major step forward", especially for interactions between navies of two countries that are restricted to the classified environment, for example, conversations on counter-terrorism.

"Now we will see India moving to classified communications environment that one would see, for instance, in the Combined Task Force 150, 151 and 152 operations [relating to counter-terrorism, anti-piracy and maritime security], where there is a bunch of like-minded countries that have a communications system that is operating at the classified level, to be able to allow them to talk together," the official said.

At the present juncture, communication in an unclassified environment is part of an age-old tradition of ships meeting on the high seas, the spokesperson added, though even in that space, there has recently been an "evolution of authority to Indian Navy ships' commanding officers to be able to do passage exercises".

Australian officials said that for a basic exchange of pleasantries and identity, and then doing "some things together", Indian Navy commanding officers no longer must go back to New Delhi to get authority.
::SCIENCE & TECHNOLOGY::
Bioremediation technique to contain arsenic contamination in soil developed
Several studies have pointed out that using arsenic-contaminated water for agricultural purposes can lead to increased concentration of arsenic in fruits and grains, proving toxic to humans.

The researchers studied the two bacteria under different concentrations of arsenate and arsenite, the toxic forms of heavy metal. Arsenic treatment did not stunt or delay the growth of both the bacterial strains.

The bacterial strains were further scrutinised to understand if they can help in plant growth too. In studies carried out in the lab, both the bacteria were able to solubilise phosphorus. Phosphate solubilising bacteria have been reported to increase phytoavailability of phosphate, thus facilitating plant growth.

These two bacterial strains were also found to produce siderophores and ACC deaminase enzyme. Siderophore increase the bioavailability of iron and other metal ions in polluted soil environment and ACC deaminase is a well known plant growth promoting enzyme.

These bacteria can live symbiotically in the roots of plants in arsenic- contaminated soils and help them uptake the required nutrients without causing toxicity.
::SPORTS::
Kiki Bertens wins Madrid open
Kiki Bertens beat Simona Halep 6-4, 6-4 to win the 2019 women's title in the Madrid Open tennis tournament.In the men's competition, Novak Djokovic will face Stefanos Tsitsipas in today's men's final.

Barbara Strycova and Hsieh Su-Wei won the women's doubles title, beating Dabrowski and Xu Yifan 6-3, 6-1 in the final.