Current Affairs for IAS Exams - 12 November 2017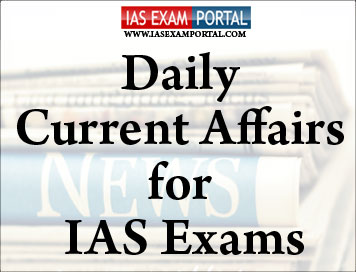 Current Affairs for IAS Exams -12 November 2017
::NATIONAL::
Question on whether FIR can be filed on sitting HC or SC judge or CJI
Can the police or any investigating agency file a first information report (FIR) against a sitting High Court or a Supreme Court judge and even the Chief Justice of India?
The question was repeatedly asked by Justice Arun Mishra in a Constitution Bench hearing on November 10. Justice Mishra was repeatedly heard telling advocate Prashant Bhushan that it is contempt to claim that the FIR in the medical college bribery case directly involves the Chief Justice of India.
"It is contempt to say that the FIR names the CJI. Can there be an FIR against a sitting judge of a superior court? That is not the procedure," Justice Mishra observed. So, what is the procedure? The answer is found in the majority judgment delivered by a five-judge Constitution Bench of the Supreme Court in the K. Veeraswami case.
The majority held that no criminal case shall be registered under Section 154 of the Criminal Procedure Code (an FIR) against a judge of the High Court, Chief Justice of the High Court or a judge of the Supreme Court unless the government first "consults" the Chief Justice of India.
The justification given was that the CJI's assent was imperative as he was a "participatory functionary" in the appointment of judges.
The Veeraswami case specifically dealt with the Prevention of Corruption Act in judiciary, but the majority judgment had extended its ambit to "any criminal case".
"Due regard must be given by the government to the opinion expressed by the Chief Justice. If the Chief Justice is of opinion that it is not a fit case for proceeding under the Act, the case shall not be registered," the majority judgment held.
The verdict held that if the the Chief Justice of India himself is the person against whom the allegations of criminal misconduct are received, the government shall consult any other judge or judges of the Supreme Court.
If the CJI allows the FIR to be registered, the government shall, for the second time, consult him on the question of granting sanction for prosecution.
The Veeraswami judgment holds that "it shall be necessary and appropriate that the question of sanction be guided by and in accordance with the advice of the Chief Justice of India". The majority in the Constitution Bench classifies a judge as a "public servant".
Consultation with the CJI while registering a criminal case against a judge, whether of the High Court or the Supreme Court, has been made mandatory to protect the independence of judiciary
Similarly, the Supreme Court has also laid down guidelines for the arrest of a judicial officer of the subordinate judiciary.
The Delhi Judicial Service Association versus State of Gujarat judgment of the Supreme Court was the product of the notorious treatment meted out to the Nadiad Chief Judicial Magistrate by a few Gujarat police officials.
• It had the country's legal and judicial bodies in an uproar, compelling the Supreme Court to issue directions of the procedure to be followed while arresting a judicial officer. Primarily, the court held that a judicial officer "should be arrested for any offence under intimation to the District Judge or the High Court".
The immediate arrest shall only be a "technical or formal arrest", after which it should be immediately communicated to the District and Sessions Judge of the district concerned and the Chief Justice of the High Court.
The arrested judicial officer shall not be taken to a police station without the prior orders of the District Judge and no statements shall be recorded from him or her except in the presence of a counsel. He or she will not be handcuffed.
Section 3 of the Judges (Protection) Act of 1985 protects judges and former judges of the Supreme Court and the High Courts from "any civil or criminal proceedings" for any act, thing or word committed, done or spoken by him in the course of their judicial duty or function. No court shall entertain such complaints.
Section 77 of the IPC exempts judges from criminal proceedings for something said or done during judicial duties.
The government can initiate criminal proceedings against a sitting or former judge of a superior court under sub section (2) of Section 3 of Judges (Protection) Act, 1985 if it can produce material evidence to show that a judgment was passed after taking a bribe.
Registry circular of SC says Oral mentions only before CJI
The circular issued by the Registry of the Supreme Court has, in effect, put a stop to the practice of lawyers or litigants mentioning their cases before Justice J. Chelameswar's court. He is the number two judge in the Supreme Court.
The notification asks lawyers and litigants not to orally mention fresh cases before any other Supreme Court judge except before the Bench presided over by the Chief Justice of India.
All oral mentionings were made before a two-judge Bench led by Justice J. Chelameswar. 'Mentioning' of fresh and urgent cases is done by lawyers and litigants for an early listing and, if possible, an out-of-turn hearing.
The circular is significant as it was an oral mention before Justice Chelameswar's Bench on November 9 that led to a series of events culminating in an almost impromptu hearing by a five-judge Constitution Bench led by the Chief Justice of India on November 10.
On November 9, advocate Kamini Jaiswal had made an urgent oral mention of a petition before this two-judge Bench. The petition wanted the investigation into the medical college corruption case to be transferred from the CBI to a SIT supervised by a retired CJI.
The petition said the FIR alleged that a conspiracy was hatched to bribe Supreme Court judges.
The two-judge Bench immediately listed the case for hearing on the same afternoon and ordered a Constitution Bench of the "first five judges in the order of seniority" to be set up on November 13 to hear Ms. Jaiswal's petition.
The Constitution Bench headed by Chief Justice Misra virtually pre-empted the scheduled hearing on November 13 by laying down the law that no two-judge Bench can command the Chief Justice of India to constitute Benches to hear cases in the Supreme Court.
The Chief Justice of India is the master of the roster and will have complete administrative prerogative over which judge should hear which case in the apex court. The Constitution Bench, in effect, nullified the two-judge Bench's order of November 9.
::INTERNATIONAL::
Venezuelan financial crisis widens
Venezuela showed new signs of a financial unravelling, as the state electricity company was declared in default.
The announcement of the country's first bond default came three days before the government was to begin talks with investors to refinance and restructure more than half its $120 billion in debt.
The electricity company, Corpoelec, based in Caracas, was unable to make a $28 million payment on a $650 million bond. The bond was originally issued by Electricidad de Caracas before it was nationalised as a Corpoelec subsidiary a decade ago.
Venezuela and its state-owned enterprises — including the oil company Petróleos de Venezuela, known as PDVSA — have missed roughly $350 million in interest payments over the past month.
President Nicolás Maduro announced that the government would refinance and restructure $63 billion in bonds, and invited investors to meet with a government committee led by his Vice President.
It is uncertain how many investors will take part, since U.S. sanctions restrict any negotiation or purchases of new bonds by U.S.-regulated financial institutions.
The panel will discuss whether late and partial payments of $1.2 billion due last week from PDVSA constituted a "credit event" that could prompt bondholders to organise to seek payment.
The creditors could pursue legal action to confiscate Venezuelan assets abroad, for instance, some oil tankers or even refineries owned by the PDVSA subsidiary Citgo.NY Times
TPP to continue without U.S
Ministers from 11 Asia-Pacific countries agreed to press ahead with a major trade deal without the U.S., as the world's largest economy seeks to go it alone under President Donald Trump's 'America First' policy.
Mr. Trump pulled his country from the Trans Pacific Partnership (TPP) at the start of the year, dismaying allies and casting into doubt an agreement heralded for tying lower tariffs to strong environmental and labour protections.
In a joint statement, the remaining countries — dubbed the TPP-11 — said they had "agreed on the core elements" of a deal at the sidelines of the APEC summit in the Vietnamese city of Danang, after days of stalled talks raised fears it could collapse altogether.
The Ministers said further talks would be needed to reach a full consensus before inking the deal, which now carries an even longer official name — the Comprehensive and Progressive Agreement for Trans-Pacific Partnership (CPTPP).
Japan's lead negotiator Toshimitsu Motegi said the remaining members would still welcome the U.S. back into their pact. "This time all the 11 countries are on board and this would send out a very strong positive message to the U.S. and other Asia Pacific countries in the region," he said.
Canada had held out to maintain environmental and labour protections linked to freer markets in the deal. Those elements were thrown into jeopardy by America's sudden withdrawal from the deal earlier this year.
Beijing is not included in the TPP, a deal initially driven through by the former U.S. administration as a counterweight to surging Chinese power in Asia. China has since sought to fill the free trade gap left by the U.S., even if much of its own market remains protected.
::ENVIRONMENT::
Threatened Elephant corridors
Elephant herds are known to migrate across 350-500 sq. km. annually but increasingly fragmented landscapes are driving the giant mammals more frequently into human-dominated areas, giving rise to more man-animal conflicts, experts have found. Maintaining elephant corridors is therefore of crucial importance to both elephant and human habitats.
'Right of Passage', an 800-page study released in August 2017, authored by experts and published by the Wildlife Trust of India (WTI) in collaboration with Project Elephant and the
U.K.-based NGO Elephant Family, identifies and records details pertaining to 101 elephant corridors across India.
Of these 101 corridors, 28 are located in south India, 25 in central India, 23 in northeastern India, 14 in northern West Bengal and 11 in northwestern India.
In terms of their functionality or usage by elephants, almost 70% of the 101 corridors are regularly used, 25% are occasionally used, and 6% rarely. Almost all elephant corridors in south India (93%) and northern West Bengal (86%) are regularly used; 66% of corridors are regularly used in northeastern India.
Thus, the highest number of corridors are located in northern West Bengal, which has one corridor for every 150 sq. km. of available elephant habitat, resulting in heightened human animal conflict and an average of 48-50 human deaths every year. This is followed by northwestern India, which has one corridor for every 500 sq. km. of available elephant habitat.
Central India comes next with one corridor for every 840 sq. km.
In southern India, there is one corridor for every 1,410 sq. km. of available elephant habitat. Northeastern India fares best with one corridor for every 1,565 sq. km.
Among the States, West Bengal has the highest number of corridors (14), followed by Tamil Nadu with 13 and Uttarakhand with 11.
In 2005, WTI had mapped and listed 88 elephant corridors. With alterations to natural landscapes and a heightened pace of development, researchers found that seven of these corridors have been impaired and are currently not used by elephants. The team also added 20 new corridors to the list, bringing the total to 101 corridors in the 2017 'Right of Passage' study.
"About eight corridors have been secured on the ground by State Forest Departments, MoEFCC (Ministry of Environment, Forest and Climate Change), WTI, and other conservation organisations. This process needs to be hastened and other high priority as well as threatened corridors need to be secured on an urgent basis," says co-author Dr. Sandeep Kr Tiwari, Programme Manager, IUCN Asian Elephant Specialist Group (AsESG).
To increase awareness on elephant corridors, the team is planning 'Gaj Yatras' — parading life-size elephant models crafted by local artisans on road shows through corridors across 12 States where elephants range.
Taking note of 266 instances of elephants deaths caused by being run over by trains between 1987 and July 2017, the report points out that 20 corridors have a railway line passing through them.
The study notes that almost 20% of the corridors urgently require an overpass for vehicles to facilitate the unhindered movement of elephants. In addition to railway tracks and highways, 11% of corridors have canals passing through them, and 12% are affected by mining and the extraction of boulders.
Bonnet macaques becoming threatened
It's tough times for south India's bonnet macaques — a monkey that we think is irritatingly common could be losing ground to the larger and more aggressive rhesus macaque of the north.
Other factors contributing to their decline include rapid urbanisation (as roadside trees are felled and vegetation lost) and their disappearance from temples and tourist spots, says a study published in PLOS ONE.
Bonnet macaques are endemic commensals: they are found only in peninsular India and live in close proximity with humans, adapting to habitats ranging from riverside temples to roadside fig trees. However, a study in 2011 suggested that rhesus macaques were invading the bonnet's habitats in south India.
To assess the current status of bonnet macaques, a team of scientists from institutes including Tamil Nadu's Salim Ali Centre for Ornithology and Natural History (SACON) surveyed roadsides (1,140 km in total) in peninsular India which were considered the southernmost boundary for rhesus macaques and compiled distributional data from earlier studies in the area.
They found that rhesus macaques have spread as far south as Karnataka's Raichur district — adding 24,565 sq km to their former range — in an area where bonnet macaques used to reside.
The team collated information on bonnet macaque presence from surveys between 1989 and 2015 along 651 km of Mysore's roadsides and found that over the last 25 years a staggering 65% of the population has disappeared.
The scientists predict that many of these populations will go locally extinct in 10 years. High-resolution satellite and Google Earth imagery between 2000 and 2006 and from 2015 onwards showed a decrease in tree cover on and around these roads; the loss of contiguous canopies now prevents the monkeys from colonising new areas.
Bonnet macaques were present only in low numbers across 16 forest-dominated protected areas that the team surveyed in south India. They also found that bonnet macaques have disappeared from more than 48% of temples and tourist spots across Kerala, Karnataka and Tamil Nadu.
Araku is the home of beekeepers
Come November, the sleepy hamlet of Araku, nestled in the Eastern Ghats, turns a spectacular shade of yellow. It's in this season that niger flowers bloom in the valley.
Beekeepers come to Araku from various parts of Andhra Pradesh during winter. The blue beehive boxes are placed in rows in the yellow niger fields.
Each box has about one lakh worker bees, 100 drones and one queen bee. The boxes are uncovered only when the beekeeper wants to examine them or take out the frames. A small hole at the bottom of the box is meant for the bees to enter and exit.
During the peak season, honey is harvested in 10 days and sold directly to tourists who throng the valley. Bottles go to retail outlets in cities too.
Honeybees, which lives in highly organised communities, are of great importance to farmers for pollination and maintaining the ecological balance. The recent increase in beekeeping in the Eastern Ghats has enhanced crop yields, farmers say. Many motivated youngsters have come out to explore this field to earn a living. Many of them are graduates who get trained in beekeeping and come to Araku to start their own enterprises.
::BUSINESS AND ECONOMY::
Whether India can lend LEED-certified consultants to the world
Today, India has got 2,500 LEED certified projects spread over 1 billion sq.ft. India has shown that green buildings are not just for offices; it is into every industry segment — manufacturing, hotels, hospitals, schools, colleges, temples, data centres, metro stations, airports and shipping terminals. So, we are satisfied.
The work has just started. India's development in terms of infrastructure and buildings is going to happen — from now until 2020. So, [there is going to be] more penetration. While the metro cities have now gone for Green Buildings in a big way, and even tier 1 cities are adopting them, the action will now shift to tier-2 and tier-3 cities.
Maharashtra is number one because Mumbai is one of the early adopters. It is closely followed by Delhi and Bengaluru. Chennai and Hyderabad are picking up.
If you take the LEED rating, there are five pillars to it: energy, water, human experience, waste and carbon footprint. All these five are important for any city, town or building. Whether we are energy- or water-surplus or facing a shortage, we will be able to save energy and water in green buildings. It creates an economic value proposition and is linked to an entity's bottomline.
Treating waste has now becoming mandatory. Human experience is becoming very important. Human beings are today spending 80% of their time inside built-up spaces, be it in offices or inside residences. So, the quality of air that we breathe inside the buildings dictates the [quality of our] health. Carbon footprint is today much talked about.
U.S. and Canada may not be good comparisons because they started 25 years ago. China could be a good comparison. China has six times the construction activity that India has. But if you go by the green buildings in India, China is three times ahead of us.
Because of economies of scale, prices have come down dramatically. Today, possibly a green building would be 5% costlier than a normal building but because of savings from energy and water, your payback period is as low as 12 months.
Now, health and well-being are big contributors for green buildings. Today, every CXO is worried about how to retain employees, how to engage them and how to ensure that their productivity goes up.
The employees are inside a built-up environment. If something can control their carbon oxide and oxygen levels and can bring daylight inside, that would make a significant difference to the lifestyle of the employees. That would be the next thing to happen in India.
Today, 120 firms across India are issuing LEED certificates. These are typically architects and engineers who have been trained. We have a curriculum on LEED which can be taken by a student of architecture or a structural engineering or by a working professional. We see immense potential here.
India has a strong case to become a [global] manufacturing base for green materials. Also, whether in sensors or building management solutions or IoT. India has a tremendous advantage.
Bond yields high' due to low FII inflows
Continuing concerns regarding a potential fiscal slippage at the Union Government level and a moderation in FII inflows into debt will pose an upward pressure on bond yields in the second half of the current financial year, according to a report.
Rating agency ICRA, however, said that with the systemic liquidity surplus expected to moderate in the second half of the current fiscal, open market operations (OMOs) through sales of Government securities (G-sec) are likely to be pared by the RBI, which would prevent the 10-year G-sec yields from rising above the 7.0-7.1% range.
Nevertheless, concerns regarding a slippage relative to the government's fiscal deficit target of 3.2% of GDP for the current fiscal continue to linger, on account of lower-than-budgeted revenues. This stems from uncertainty around indirect taxes post-GST, revenues from telecom and disinvestment flows, as well as the lower surplus transferred by the RBI.
The RBI conducted OMO sales of Rs. 600 billion in the second quarter of the current fiscal, which contributed towards a decline in the liquidity surplus and also pushed up bond yields. In October 2017, the RBI announced further OMOs of Rs. 200 billion. The incremental bank credit offtake in the remainder of this fiscal is likely to be higher than incremental growth in bank deposits.
After netting off the CRR as well as the SLR requirements, ICRA estimated that "additional credit offtake would exceed deposits by a sharp margin." resulting in a moderation in the systemic liquidity surplus during second half. In line with this, further OMO sales by the RBI is expected to be limited, which may help counter the uptrend in bond yields.
The 10-year benchmark G-Sec yield rose sharply to 6.88% as on October 31 from the low of 6.41% as on July 24, driven by factors such as increasing likelihood of a rate increase by the U.S. Fed in December, a slowing GDP growth rate in India — that has led to speculation regarding a fiscal stimulus package — and a potential slippage relative to the Centre's fiscal deficit target for FY18.