Current Affairs for IAS Exams - 12 April 2021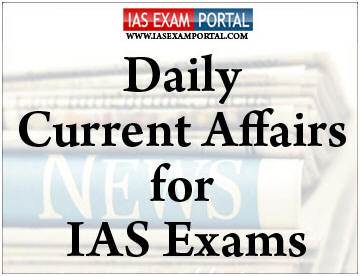 ---
Current Affairs for IAS Exams - 12 April 2021
::NATIONAL::
Population versus Planet Conference
Union Minister for Health and Family Welfare participated and expressed his views in WION and Zee Media's 'Population versus Planet' Conference which is a part of its year-long campaign called 'Mission Sustainability: Population Vs Planet'.
This e-conclave marking the campaign's launch will host deliberations between numerous policy experts, demographic researchers & academicians on socially important themes like population stabilisation
Its empowering women & youth through education among various others as the world population witnesses an increase from 1 billion in the year 1800 to 7.8 billion.
Thereafter he spoke on the exhaustive efforts undertaken by India to encourage the adoption of family planning:
India was one of the first countries in the world to formulate a National Family Planning Program way back in 1952.
It was later expanded to cover maternal and child health as well as adolescent health and nutrition and has taken giant strides in spreading awareness & enhancing adoption of family planning techniques while also ensuring healthier lives for its citizens;
India's population has increased from 36 crore in 1951 to 121.02 crore in 2011.
The country has witnessed significant decline in both fertility and mortality;
The crude birth rate which was recorded at 40.8 per 1000 in 1951 has declined to 20.0 in 2018;
Total Fertility Rate (TFR) has declined from 6.0 in 1951 to 2.2 in 2015-16;
Death rate in India has declined from 7 in 2012 to 6.2 in 2018.
India successfully test-fires Helina, Dhruvastra anti-tank guided missiles in Pokhran
India successfully test-fired indigenously-developed anti-tank guided missile systems 'Helina' and 'Dhruvastra'.
Helina (the Army version) and Dhruvastra (IAF version), are third-generation anti-tank guided missiles.
The system has all-weather day-and-night capability and can defeat battle tanks with conventional armour as well as with explosive reactive armour.
These have been designed and developed indigenously by the Defence Research and Development Organisation.
CLICK HERE FOR FULL CURRENT AFFAIRS (Only for Course Members)
::INTERNATIONAL::
U.K. Supreme Court Rules Uber Drivers Are Workers and Not Independent Contractors
The U.K. Supreme Court ruled that ride-sharing app company Uber's drivers are workers and not independent, self-employed contractors.
The high court's ruling could call for Uber to pay its drivers at least minimum wage, holiday pay and, perhaps, other benefits traditionally afforded to workers.
The ruling may have severe consequences for other similar app-based tech companies that depend upon gig workers.  
The decision was viewed as a big victory for labor organizations.
They claim that Uber, and other app-based companies, take advantage of its gig workers by not treating them as employees.
The recent ruling may affect Uber's competitor, Lyft, as well as companies that have a similar business model, such as DoorDash, Instacart and Grubhub.
India, Maldives sign agreements on wide range of domains including fish processing, public broadcasting
India and Maldives signed agreements on wide range of domains including fish processing, public broadcasting, sustainable urban development, road infrastructure and housing.
The agreements were exchanged after the talks between External Affairs Minister Dr. S. Jaishankar and his Maldivian counterpart Abdulla Shahid in Male.
The agreement in the field of broadcasting is for cooperation between Prasar Bharati and PSM, the official State Media of Maldives.
The MoU intends to facilitate collaboration and capacity building in the field of public broadcasting.
::ECONOMY::
Carbon Watch
Chandigarh became the first state or Union Territory in India to launch Carbon Watch.
It is a mobile application to assess the carbon footprint of an individual.
Although the app can be accessed by everyone, it has specific options for the residents of Chandigarh to compile a detail study.
The application can be downloaded through a QR code in Android supported smart cell phones.
Carbon footprint is the amount of greenhouse gases-especially carbon dioxide-released into the atmosphere by a particular human activity. 
It looks into the workings of the app, motivations behind its design and emission generation in Chandigarh.
How does the app Carbon Watch work?
As a person downloads the application, they will need to fill details in four parts — Water, Energy, Waste Generation and Transport (Vehicular movement). In the category of Water, the person will be required to inform about the consumption of water.
In the Energy category, the details regarding the electricity units consumed every month at the house, monthly bill etc and usage of solar energy will have to be furnished.
In the Waste category, the individual will need to inform about the waste generation on their part and their family. In the transport section, the individual will have to inform about the mode of transport used by them- four wheeler, two-wheeler or bicycle.
With the mentioned information, the mobile application will automatically calculate the carbon footprint of the individual. The application will also provide information such as the national and world average of the emission, and the individual's level of emission generation.
::SCIENCE AND TECHNOLOGY::
Software Defined Radio
Ministry of Defence (MoD) and Defence Public Sector Undertaking (DPSU) Bharat Electronics Limited (BEL) have signed a contract for procurement of Software Defined Radio Tactical (SDR-Tac) worth over Rs 1,000 crore in New Delhi.
About:
It is a handheld Radio device that is being developed by DRDO.
It will replace Combat Net Radio (CNR) which supports voice communication only and has limited or no data transmission capability.
SDR will have enhanced data transmission capability, enhanced voice clarity and data transmission accuracy in spectrally noisy environments, greater system security etc.
 CLICK HERE FOR FULL CURRENT AFFAIRS (Only for Course Members)
::MISCELLANEOUS::
Indian Sign Language Dictionary
Ministry for Social Justice and Empowerment (MoSJE) has launched the Indian Sign Language Dictionary. It was first was launched in 2018.
Dictionary has been developed by Indian Sign Language Research and Training Centre (ISLRTC) under the Department of Empowerment of Persons with Disabilities, MoSJE.