Current Affairs for IAS Exams - 12 January 2022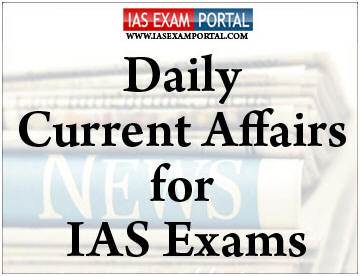 ---
Current Affairs for IAS Exams - 12 January 2022
::NATIONAL::
Citizenship Amendment Act 2019
Ministry of Home Affairs (MHA) is yet to notify the Citizenship Amendment Act (CAA) 2019 rules.
About:
Without rules, the Act cannot be implemented.
CAA provides citizenship to six communities (Hindu, Sikh, Buddhist, Jain, Parsi and Christian) from Pakistan, Afghanistan and Bangladesh who entered India on or before December 31, 2014.
It exempts the members of the six communities from any criminal case under the Foreigners Act, 1946 and the Passport Act, 1920.
Amendments on citizenship will not apply to certain areas including
Tribal areas of Assam, Meghalaya, Mizoram, and Tripura, as included in the Sixth Schedule, and
States regulated by Inner Line permit under the Bengal Eastern Frontier Regulations 1873.
Orang National Park
Government has issued notification to expand size of Park, facilitating reintroduction of Gharials.
About:
Gharials as listed in Critically Endangered category as per IUCN status, were wiped out from the Brahmaputra River system in 1950s.
Orang National Parkis located on the north bank of the Brahmaputra Riverin the Darrang and Sonitpur districts of Assam.
Tributaries Dhansiri and Pachnoi divide the park into two halves.
Orang is one of the seven national parks in Assam. Others are Kaziranga,Manas, Nameri, Dibru-Saikhowa, Raimona and Dehing Patkai.
The major fauna have seen in this park are One-Horned Rhinoceros, pigmy hog, Tiger, Elephants, Hog Deer, WildPig, Civet Cat etc.
CLICK HERE FOR FULL CURRENT AFFAIRS (Only for Course Members)
::INTERNATIONAL::
Colombo Security Conclave
The first Colombo Security Conclave Virtual Workshop on "Developing Regional Cyber Security Capabilities on Defensive operations, Deep/Dark Web handling and Digital Forensics" was hosted.
About:
It was hosted by the National Security Council Secretariat (NSCS), Government of India in association with National Forensics Science University, Gandhinagar (Gujarat) and the Secretariat of the Colombo Security Conclave, over two days on 10-11 January 2022.
Delegates from Member and Observer States of the of Colombo Security Conclave (CSC) including Sri Lanka, Maldives, India, Mauritius, Seychelles, and Bangladesh participated in the workshop.
At the 5th Deputy NSA Level Meeting of the Colombo Security Conclave held on 04 August 2021, Members and Observer States had agreed on four pillars of cooperation including 
Maritime Safety and Security, 
Terrorism and Radicalization, 
Trafficking and Organized Crime and 
Cyber Security and Protection of Critical Infrastructure. 
It addressed key areas of 
Deep Web and Dark Net Investigation and Challenges; 
Digital Forensics; 
Cyber Threat intelligence; and 
Defensive Operations in Cyber Domain. 
Participants agreed to identify key deliverables and continue to work on the way forward for cooperation on cyber security under the Colombo Security Conclave.
Bilateral Trade and Investment aspects between India and South Korea
Minister for Trade of South Korea, Yeo Han-Koo met with Commerce and Industry Minister Piyush Goyal in New Delhi. 
About:
The Ministers agreed to impart fresh momentum to the discussions on Comprehensive Economic Partnership Agreement up-gradation negotiations.
India and Korea aim to achieve the trade target of 50 Billion dollars before 2030.
They agreed to address difficulties expressed by industry from both sides and instructed their respective negotiating teams to meet on a regular basis in order to conclude the CEPA up-gradation negotiations as soon as possible. 
The Ministers agreed to boost bilateral trade between India and Korea to achieve growth in a fair and balanced manner to the mutual advantage of both sides.
CLICK HERE FOR FULL CURRENT AFFAIRS (Only for Course Members)
::ECONOMY::
Hyderabad Declaration
The Department of Administrative Reforms & Public Grievances (DAPRG), Ministry of Personnel, Public Grievances & Pensions and Ministry of Electronics & Information Technology (MeitY), Government of India in collaboration with the Government of Telangana organized the 24th National Conference on e-Governance at Hyderabad during 7-8 January 2022.
The Conference has unanimously adopted the Hyderabad declaration outlined below after intensive deliberations during the sessions held over two days.
The Conference resolved that Government of India and State Governments shall collaborate to:
To bring citizens and government closer through digital platforms.
Transform citizen services through use of technology by leveraging the artifacts of India Stack that include Aadhaar, UPI, DigiLocker, UMANG, e Sign and consent framework.
Fast track the implementation of the national level public digital platforms in key social sectors viz. Health, Education, Agriculture, etc by adopting open interoperable architecture for joined up connected services.
Operationalize the data governance framework to facilitate data sharing within Government entities as also make available all data on data.gov.in except for a negative list. Enable protocols for data collection, data harvesting, data privacy, data anonymization, data security, and data preservation that can help build a data economy.
Foster responsible use of emerging technology such as Artificial Intelligence, Machine Learning, Blockchain, 5G, Augmented Reality, Virtual Reality, etc for Social Empowerment.
Make India the global hub for emerging technology through creation of large pool of skilled resources on futuristic technologies
Ensure resilient Government Infrastructure with robust technological solutions to withstand pandemic like disruptions.
Foster a spirit of research and development and process reengineering in ongoing government services
Uplift good governance to higher level through healthy competition among States and UTs and among Central Ministries by benchmarking services.
NeSDA 2021 to be adopted in collaboration with MeITY for improving e-Governance landscape.
Integration of all State/District portals with CPGRAMS for seamless Redressal of Public Grievances
Replication of awarded projects under National Awards for e-Governance 2020 – 21 and their nomination for dissemination of best practices through Regional conferences
Adoption of e-office version 7.0 in all ministries and departments
Use technology for propagating end to end service delivery without human interference to the citizen at the grass root level
Make "digital" the primary aspect of government service design and delivery and provide requisite infrastructure to achieve that.
::SCIENCE AND TECHNOLOGY::
Gaganyaan Mission
Indian Space Research Organisation (ISRO) is going at full throttle for Gaganyaan, the country's maiden manned space mission scheduled for launch in 2023.
The Crew Module (CM), would be splashing down near the Indian coast in 2023 after the week-long mission, and the Arabian Sea, which is comparatively calmer, is the primary choice, but Bay of Bengal is also being considered as a backup option.
Key highlights: 
The HSFC was set up by the ISRO in Bengaluru in 2019 for sustained and affordable human space flight activities and Gaganyaan is the first project.
The test flight to validate the performance of Crew Escape System and the first uncrewed mission of Gaganyaan have been scheduled at the beginning of the second half of 2022.
The Gaganyaan Orbital Module (OM) has two parts — the Crew module (CM) and the Service module (SM) — and weighs about 8,000 kg. While in orbit, the OM will be orbiting the Earth with a velocity of about 7,800 m/s. 
The CM, a double walled system and the habitat of astronauts, who would be part of the manned mission, has an ablative Thermal Protection System (TPS) to protect it during the intense aerodynamic heating during the flight, points out Nair.
The CM has a cluster of small thrusters with 100N thrust level based on green propulsion that will be fired in controlled manner to change the attitude of the module during the re-entry and atmospheric phases of flight.
CLICK HERE FOR FULL CURRENT AFFAIRS (Only for Course Members)
::MISCELLANEOUS::
Pravasi Bharatiya Diwas
The Prime Minister greeted the Indian diaspora on the occasion of Pravasi Bharatiya Diwas (PBD).
About PBD:
It is celebrated every two years on 09 January to mark the return of Mahatma Gandhi fromSouth Africa to India in 1915.
First PBD was celebrated in 2003.
It is observed to mark the contribution of the overseas Indian community towards the development of India as well as reconnect them with their Indian roots.
On this day, the Government confers Pravasi Bharatiya Samman Award.