Current Affairs for IAS Exams - 12 May 2022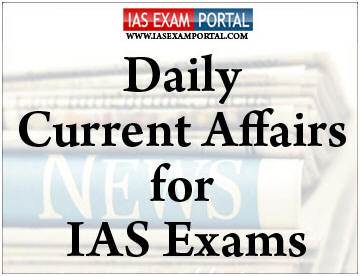 ---
Current Affairs for IAS Exams - 12 May 2022
::NATIONAL::  
Tomato flu
Tamil Nadu has ramped up surveillance at its borders in the wake of "tomato flu" cases being detected in Kerala. 
About:
The flu affects children below five years of age.
The symptoms of this flu, also called Tomato fever, include rashes, skin irritation and dehydration. 
The flu can also cause tiredness, joint pain, stomach cramps, nausea, vomiting, diarrhoea, coughing, sneezing, runny nose, high fever, and body ache. In some cases, it may also change the colour of the legs and the hands.
Like other cases of flu, tomato fever is also contagious. If someone is infected with this flu, they need to be kept in isolation as this could spread rapidly from one person to another.
This flu is a self-limiting one and there is no specific drug for this. 
It is essential to prevent children from scratching the blisters caused by the flu. Proper rest and hygiene is also advised. Utensils, clothes and other items used by the infected persons must be sanitised to prevent the flu from spreading.
Fluid intake would also help counteract dehydration.
CLICK HERE FOR FULL CURRENT AFFAIRS (Only for Course Members)
Section of IPC
The Supreme Court suspended pending criminal trials and proceedings under Section 124A (sedition) of the Indian Penal Code while allowing the Government to reconsider the British-era law.
About:
All pending trials, appeals and proceedings with respect to the charges framed under Section 124A of the IPC be kept in abeyance," ordered a three-judge Bench.
It was argued in court that about 13,000 persons were already in jail under the sedition provision.
The court also made it clear that it "hopes and expects" the Centre and States to restrain from registering FIRs, continuing investigations or take coercive measures under Section 124A while the "reconsideration" of the colonial-era provision was on.
'Free to approach Courts'
Adding a fail-safe to protect civil liberties against any future misuse of Section 124A while it was under the Government's microscope, the court ordered that the persons accused in fresh cases were free to approach courts.
CLICK HERE FOR FULL CURRENT AFFAIRS (Only for Course Members)
::INTERNATIONAL::
United Nations Convention to Combat Desertification
Union Minister for Environment, Bhupender Yadav delivered National Statement at the 15th Session of the Conference of Parties (COP) of United Nations Convention to Combat Desertification (UNCCD) in Cote d'Ivoire.
About:
The fifteenth session of the Conference of the Parties (COP15) of the United Nations Convention to Combat Desertification (UNCCD) is being held in Abidjan, Côte d'Ivoire, from 9 to 20 May 2022.
The COP15 theme, 'Land. Life. Legacy: From scarcity to prosperity', is a call to action to ensure land, the lifeline on this planet, continues to benefit present and future generations.
Several global developments indicate support to the objectives of UNCCD, such as the launch of the UN Decade on Ecosystem Restoration (2021-2030) that aims at halting and reversing ecosystem degradation and loss.
The importance placed on increasing area, connectivity and integrity of natural ecosystems is visible in the post-2020 Global Biodiversity Framework.
For the first time, an Intergovernmental Working Group (IWG) on effective policy and implementation measures for addressing drought under the United Nations Convention for Combating Desertification (UNCCD) was established by decision 23/COP.14. India held the 14th COP in Delhi in 2019.
CLICK HERE FOR FULL CURRENT AFFAIRS (Only for Course Members)
State of the World's Birds Report 
The State of the World's Birds, an annual update from BirdLife International,highlighted that, threat to almost half of the 10,994 recognised extant species of birds.
About:
BirdLife International, a non-profi¬t global conservation group, is the o¬fficialRed List Authority for birds.
From India, Bombay Natural History Society (BNHS), Mumbai is BirdLifeInternational partner.
Key highlights: 
Maleo Macrocephalonmaleo and Vietnamese Crested Argus Rheinardiaocellata are added to Critically Endangered (CR).
The degradation and loss of natural habitats as well as direct overexploitation of many species are the key threats to avian biodiversity.
The use of 37% of the surviving bird species as common or exotic pets and 14% as food are examples of direct overexploitation, the report indicates.
The review found that 5,245 or about 48% of the existing bird species worldwide were known or suspected to be undergoing population decline. 
While 4,295 or 39% of the species had stable trends, about 7% or 778 species had increasing population trends. The trend of 37 species was unknown.
CLICK HERE FOR FULL CURRENT AFFAIRS (Only for Course Members)
::ECONOMY::
Corporate InsolvencyResolution Process
According to recent order by Supreme court, lenders can initiate insolvency proceedings againstpromoters, directors and chairman who have signed personal guarantees on corporate loanseven ifCorporate Insolvency Resolution Process (CIRP) has not been initiated, pending or concluded.
About:
It is the process of resolving the corporate insolvency of a corporate debtor in accordance with theprovisions of Insolvency and Bankruptcy Code.
It may be initiated by a financial creditor, an operational creditor and corporate applicant ofcorporate debtor.
The minimum amount of default for initiating CIRP is ₹ 1 crore.
CLICK HERE FOR FULL CURRENT AFFAIRS (Only for Course Members)
::SCIENCE AND TECHNOLOGY::
National Technology Day
The National Technology Day is celebrated every year on 11 May, the day reminds Indians of the country's technological advancements. 
The National Technology Day celebrates not only scientists and engineers, but anyone who is involved with ideating, innovating, and promoting the dissemination of knowledge and also ensuring that its benefits reach the grassroots level.
About:
National Technology Day was first celebrated in 1999 on 11th May. 
It was officially declared by the Late Prime Minister Atal Bihari Vajpayee after the Five nuclear tests that were carried out on May 11, 1998.
In 1974, India conducted its first nuclear test, codenamed "Smiling Buddha", atPokhran in Rajasthan.
CLICK HERE FOR FULL CURRENT AFFAIRS (Only for Course Members)