Current Affairs for IAS Exams - 12 October 2021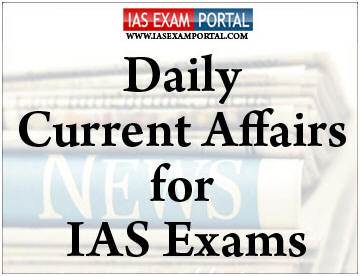 ---
Current Affairs for IAS Exams - 12 October 2021
::NATIONAL::
6G technologies
Telecom Secretary K Rajaraman has asked state-run telecom research and development organisation Centre for Development of Telematics (C-DOT) to begin developing 6G and other futuristic technologies to catch up with the global market in time.
Samsung, Huawei, LG and some other companies have started working on 6G technologies.
About:
The next generation telecom technology is said to be 50 times faster than 5G and is expected to be commercially launched between 2028-2030.
As per theoretical calculations, peak data download speed of 5G is pegged at 20 gigabit per second (Gbps). However, Vodafone Idea has claimed to have achieved the highest peak speed of 3.7 Gbps during trials in India.
According to Department of Telecom (DoT), 5G technology is expected to deliver ten times better download speed than that of 4G and up to three times greater spectrum efficiency.
Telecom Regulatory Authority of India (Trai) has recorded the top speed of 4G at around 20 megabit per second (Mbps) in Reliance Jio network in the country.
The telecom department has begun the process for commercial launch of 5G in India. It has sought Trai's views on the base price of spectrum to be allocated for 5G services.
Recirculatory Aquaculture System
Recently, Recirculatory Aquaculture System(RAS) technology was established at Awantipora (J&K) under Pradhan Mantri MatsyaSampada Yojana.
About:
RAS is used for high- density culture of various species offish, utilising minimum land area and water.
It is a technology where water is recycled and reused after mechanical and biological filtration and removal of suspended matter and metabolites.
Unlike the traditional method of growing fish outdoors, in RAS fish are typically reared in indoor/outdoor tanks in a controlled environment.
Advantage of RAS:
Extended durability of tanks and equipment.
Reduced dependency on antibiotics and therapeutants hence, advantage of getting high quality fish.
Reduction of direct operational costs associated with feed, predator control and parasites.
Potentially eliminate release of parasites to recipient waters.
Risk reduction due to climatic factors, disease and parasite impacts.
RAS production can promote flexibility in terms of location for farming, proximity to market.
Enable production of a broad range of species irrespective of temperature requirements.
Feed management is considerably enhanced in RAS when feeding can be closely monitored for 24 hrs.
Exposure of stock to stress on RAS can be reduced for some factors such as adverse weather, unfavourable temperature conditions, external pollution and predation.
Enable secure production of non-endemic species.
Judicial use of water and land areas.
Disadvantage of RAS:
Constant uninterrupted power supply is required if electric power fails than backup of electricity is required
Capital cost of starting a recirculating aquaculture system is high as compared to ponds and raceways.
CLICK HERE FOR FULL CURRENT AFFAIRS (Only for Course Members)
::INTERNATIONAL::
Raxaul and Kathmandu Broad gauge railway line
India and Nepal reviewed implementation of ongoing cross-border railway links and overall bilateral cooperation in the railway sector in the 5th Joint Working Group and the 7th Project Steering Committee meetings in New Delhi.
Both sides signed the Standard Operating Procedures for start of passenger train services on the Jaynagar-Kurtha section and the Memorandum of Understanding for Final Location Survey of the proposed broad gauge railway line between Raxaul and Kathmandu.
Key highlights:
The proposed Raxaul-Kathmandu broad gauge railway line will further boost connectivity between India and Nepal.
Both sides discussed the ongoing works of Jaynagar-Bijalpura-Bardibas and Jogbani-Biratnagar broad gauge railway lines between India and Nepal, being developed with grant assistance from Government of India.
The technical preparedness of the completed 34 km long section of the railway line, from Jaynagar in India to Kurtha in Nepal for operationalization of passenger train services was also reviewed. Both sides also agreed to expedite the work on completion of the 18.6 km long Jogbani-Biratnagar rail link, and its early operationalization.
The progress on Raxaul-Kathmandu Broad Gauge Railway Link and Phase-II railway link projects were also discussed.
India and Denmark relations
India and Denmark have inked four agreements and decided to expand cooperation following bilateral talks.
The agreements were signed in the field of Skill Development and Entrepreneurship, Traditional Knowledge Digital Library, on establishing a Centre of Excellence towards natural refrigerants for tropical climates with potential applications and on mapping of ground water resources and aquifers.
The two countries also decided to expand ties in the fields of health and agriculture. 
In a joint statement issued after the talks, they agreed to enhance efforts for reforming and strengthening multilateralism and a rules-based international order, including freedom of navigation.
::ECONOMY::
Long haul trains
Indian Railways has successfully operated two long haul freight trains "Trishul" and "Garuda" for the first time over South-Central Railway(SCR).
About:
Long haul trains, which are twice or multiple times longer than the normal composition of freight trains, provide a very effective solution to the problem of capacity constraints in critical sections.
Trishul is SCR's first long haul comprising of three freight trains, i.e., 177 wagons.
SCR is a one of the five major freight loading railways on IR. Bulk of SCR's freight traffic moves in certain arterial routes such as Visakhapatnam-Vijayawada-Gudur-Renigunta, Balharshah-Kazipet-Vijayawada, Kazipet-Secunderabad-Wadi, Vijayawada-Guntur-Guntakal sections.
Saving of path across congested routes, quicker transit time, maximizing throughput of critical sections, saving in crews are the major operational benefits of running long haul trains, which help IR serve its freight customers better.
::SCIENCE AND TECHNOLOGY::
Quantum Communication
The Quantum Communication Lab was inaugurated at Centre for Development of Telematics (C-DOT). The indigenously developed Quantum Key Distribution (QKD) solution by C-DOT was also unveiled which can support a distance of more than 100 kilometers on standard optical fiber.
About:
Quantum Technologies can broadly be divided into four verticals viz. Quantum Computing, Quantum Communications, Quantum Sensors and Quantum Materials.
Quantum Technologies are based upon phenomena exhibited by microscopic particles (like photons, electrons, atoms etc.) which are quite distinct from the way normal macroscopic objects behave.
Centre for Development of Telematics:
Centre for Development of Telematics (C-DOT), a premier telecom research & development organization under Department of Telecommunications, Government of India, is leading the effort in the Quantum Communications vertical of NM-QTA. C-DOT has developed Product in one of the most promising applications of Quantum Communications viz. Quantum Key Distribution (QKD) and is continuing to pursue research in this area.
Development of QKD solution will address the threat that rapid advancement in Quantum Computing poses to the security of the data being transported by the current communication infrastructure.
C-DOT is actively looking to collaborate with other national & international institutes and organizations working in the area of Quantum Communications to synergize efforts in this nascent field.
 CLICK HERE FOR FULL CURRENT AFFAIRS (Only for Course Members)