Current Affairs for IAS Exams - 12 October 2022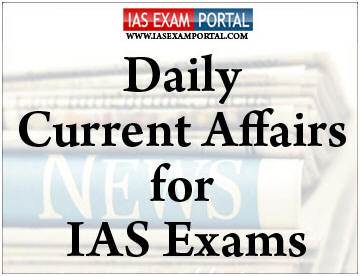 ---
Current Affairs for IAS Exams - 12 October 2022
::NATIONAL::
Collegium System
During Justice Chandrachud's two-year tenure, the collegium he will head will potentially make as many as 18 recommendations for appointment of judges to the Supreme Court. It will be an unusual collegium: instead of five members, it will have six.
About:
The collegium system of appointing judges evolved through three significant verdicts of the Supreme Court, known as the First, Second, and Third Judges Cases. 
The Constitution of India does not mention the collegium system; however, these three cases established that the collegium headed by the Chief Justice of India will have primacy in the appointment of judges to the higher judiciary.
The Supreme Court collegium is headed by the CJI and comprises four other senior-most judges of the court. This collegium makes recommendations to the government for appointment of judges to the SC and of Chief Justices of High Courts, and the transfers of HC judges.
A separate three-member collegium, headed by the CJI and comprising the two senior-most judges of the SC makes recommendations for appointment of judges to HCs.
What are the Judges Cases?
First Judges Case: In S P Gupta v Union of India (1981), a seven-judge Bench gave the Executive the last word on the appointment of judges. Interpreting Articles 124(2) and 217(1) of the Constitution, which deal with the appointments of judges to the SC and the HCs respectively, the SC ruled that the government can disagree with the CJI for "cogent reasons".
CLICK HERE FOR FULL CURRENT AFFAIRS (Only for Course Members)
Right To Information Act 
According to a report by Satark Nagrik Sangathan, backlog of RTI appeals or complaints is increasing in commissions every year.
About:
Nearly 3.15 lakh complaints and appeals are pending with 26 information commissions across India.
The number of appeals and complaints pending in 2019, from data obtained from 26 information commissions was 2,18,347.
In 2020, the number climbed up to 2,33,384 with data obtained from 23 information commissions, in 2021 the number was 2,86,325 with data from 26 commissions and in 2022, it was 3,14,323.
The highest number of pending cases was in Maharashtra at 99,722, followed by Uttar Pradesh at 44,482, Karnataka at 30,358, the Central Information Commission at 26,724 and Bihar at 21,346.
The report says two information commissions—Jharkhand and Tripura—out of 29 across the country have been completely defunct for 29 months and 15 months respectively.
Manipur, Telangana, West Bengal and Andhra Pradesh are without chiefs at the moment.
Only 5% of the all positions in commissions are being occupied by women.
Also, several information commissions, including the Central Information Commission, are working at reduced capacity with less than the stipulated number of members being in office.
CLICK HERE FOR FULL CURRENT AFFAIRS (Only for Course Members)
::INTERNATIONAL::
6th meeting of the India-Norway Joint Working Group on Higher Education
India recently hosted the 6th meeting of the India-Norway Joint Working Group on Higher Education in New Delhi.
About:
The Joint Working Group was established to monitor and oversee the implementation of the MoU on Cooperation in the field of Higher Education signed between India and Norway on 25th April, 2022.
The two sides reviewed the progress made under the Indo-Norwegian Cooperation Programme developed under the ambit of the previous India-Norway MoU signed in 2014.
They deliberated upon overall higher education policy and priorities, student/faculty mobility and cooperation in the field of skill development.
India's relations with Central Europe (CE):
India's relations with countries in Central Europe (CE) remained on a steady upward track characterised by warmth and progress in 2021-22, according to the Ministry of External Affairs (MEA).
Rooted in cultural ties, relations with Central European countries have been free from any major irritants.
CLICK HERE FOR FULL CURRENT AFFAIRS (Only for Course Members)
'UN peacekeepers need 'robust' mandates, to be able to go after the armed groups'
UN Peacekeeping fatalities due to malicious acts (not illness or accidents) that were once on the decline, are rising — from 13 in 2020 to 25 in 2021 and this year as many as 26 till August.
About:
Against this backdrop, UN Peacekeeping chief Jean-Pierre Lacroix has said that Peacekeeping soldiers need a more robust or proactive mandate and better equipment.
This is required to deal with deteriorating conditions in countries where UN Peacekeepers are posted.
Earlier, India has proposed a 10-point formula to address challenges faced by the mission, which include:
Missions should be given "clear and realistic mandates" that are matched with adequate resources.
Missions should be "deployed prudently, with full recognition of their limitations.
Coordination with host governments will help address misinformation and disinformation against peacekeepers and enhance their safety.
Reasons identified for rise in fatalities:
Troop and police contributing countries not fully involved at all stages missionplanning;
Lack of financial and human resources for peace-building in post-conflictsocieties; soldiers not prepared for 'peace enforcing';
CLICK HERE FOR FULL CURRENT AFFAIRS (Only for Course Members)
::ECONOMY::
International Monetary Fund Forecast 
The International Monetary Fund (IMF) recently trimmed its FY23 growth forecast for India by 60 basis points from its July projection of 7.4 per cent to 6.8 per cent, its steepest cut for any major economy barring the US.
About:
IMF's move follows the World Bank slashing its FY23 growth projection for India to 6.5 per cent recently from 7.5 per cent predicted earlier.
India is projected to grow at 6.8% in the current fiscal year, following 8.7% growth in fiscal year that ended March 31 as per figures released in the IMF's October 2022 World Economic Outlook.
Growth rate for this year for India has been revised downward by 0.6 percentage points relative to the IMF's June 2022 forecast, following a weaker output in the second quarter, and subdued external demand.
The forecast for the next fiscal year remains unaltered at 6.1%.
The IMF has projected 6.9% consumer price inflation this year and 5.1% next year.
CLICK HERE FOR FULL CURRENT AFFAIRS (Only for Course Members)
::SCIENCE AND TECHNOLOGY::
Cyber Knife System
PM Modi recently lays the foundation stone of various healthcare facilities in Civil Hospital Asarwa, Ahmedabad. The new Civil Hospital Asarwa will be the first government hospital in the country where state-of-the-art technology like Cyber-Knife will be available.
About:
The CyberKnife System is a non-invasive treatment for cancerous and non-cancerous tumors and other conditions where radiation therapy is indicated.
It is used to treat conditions throughout the body, including the prostate, lung, brain, spine, head and neck, liver, pancreas and kidney, and can be an alternative to surgery or for patients who have inoperable or surgically complex tumors. 
CyberKnife treatments are typically performed in 1 to 5 sessions. The CyberKnife System has more than two decades of clinical proof and has helped thousands of cancer patients.
Treatment types
The CyberKnife System was designed to deliver external-beam radiation therapy:
CLICK HERE FOR FULL CURRENT AFFAIRS (Only for Course Members)