Current Affairs for IAS Exams - 13 January 2020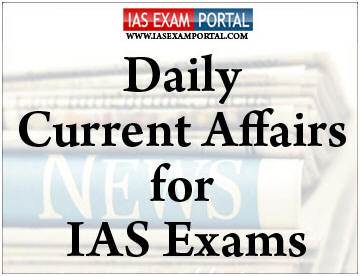 ---
Current Affairs for IAS Exams - 13 January 2020
---
::NATIONAL::
Home minister calls for more use of technology to maintain law and order
Union Home Minister Amit Shah today asked the students to use education for national development and to find solutions to global challenges. He was addressing the students at the 9th convocation of Gujarat Technological University at Mahatma Mandir in Gandhinagar.

The Minister highlighted the role of youth in making of New India. Mr Shah also asked students not to feel inferiority complex about their mother tongue. He appealed young students to save Indian languages from dying.

Gujarat Governor AcharyaDevvrat, Chief Minister Vijay Rupani, Vice Chancellor NavinSheth were also present on the occasion. Around 61 thousand students were conferred degrees in various fields.

173 Students were conferred Gold Medal while 39 students were conferred Ph.D. degrees on the occasion.

Earlier, Mr Shah visited Gujarat Chief Minister Vijay Rupani's office and received information about the progress of activities of CM Dashboard.
Demolition drive against illegal flats completed in Kochi
Sending a strong message to violators of environmental norms, the Supreme Court ordered demolition drive against four illegal waterfront apartment complexes here was completed on Sunday with the last two high rises pulled down using controlled implosion method.

In perhaps the first of its kind drive in the country against illegal residential high rises, the four concrete colossuses housing nearly 350 flats were reduced to piles of rubble in seconds one after another over the last two days.

Explosives, weighing totally nearly 750 kgs, were used in a controlled manner to bring down the lakeside structures in Maradu, eight months after the apex court ordered their demolition for violation of the Coastal Regulation Zone norms.

The Kerala government stuck to its time line of 138 days given to the Supreme Court in September last year as the meticulously planned operation was successfully carried out in a precise manner amid tight security and after people in the neighbourhood were evacuated as a precautionary measure.

The government, which made it clear that it will implement the court orders, had managed to evict the owners of the flat, who staged protests, saying they had invested their hard earned money in buying the flats. The Supreme Court had ordered payment of Rs 25 lakh as interim compensation.

The court had passed the order after taking note of a report of a three-member committee, which said when the buildings were built, the area was already notified as a CRZ and construction was prohibited.
::ECONOMY::
Government to help firms producing import substitutes
Union Minister NitinGadkari on Sunday said the Centre is formulating a scheme to encourage "import substitute products" in the manufacturing sector in order to save foreign exchange.

India has increased import tariffs or imposed duties by withdrawing exempt status of goods over the past few years to encourage local manufacturing.

CII official MukundKulkarni urged the government for concrete steps and encouragement to firms working on import substitute products.

Replying to a question from VasantWaghmare, president of Waluj Industrial Association, over delayed payment time limit and law, Gadkari said many companies go bankrupt and the consequences are faced by the smaller units attached to it.

"The government will look into this matter seriously and policy will be framed for the same, hesaid.He urged the industrial sector to work on cutting down expenditure on power, logistics and capital by exploring new dimensions.
Banks, insurance sectors seek exemption from GST invoices
Banks, airlines, insurance companies, armed forces and telecom service providers are likely to be exempted from mandatory issuing of e-invoices under goods and services tax (GST), said people aware of the matter.

"Banks, airlines, telcos and other entities that have direct customer interaction on a large scale may be exempted from filing their e-invoices under GST," said one of the persons.

Another person said the government would have to specify the exemptions through notification in the rules. Such a move is likely to benefit entities in the sectors that issue a number of invoices to customers directly or have direct debit and credit facilities such as in the case of banks, said experts. Banks and insurance companies are currently allowed consolidated invoices.

"These entities would have to undergo heavy compliance costs if the exemption was not allowed," said BipinSapra, partner at EY.

From April 1, companies with an aggregate revenue of Rs 100 crore or more have been mandated to issue e-invoices, as the government embarks on digital filing of invoices under goods and services tax (GST) regime amid efforts to curb tax evasion and fraudulent claims of GST credits while increasing tax collection.
::INTERNATIONAL::
World future Energy Summit to begin today
The World Future Energy Summit will begin today in Abu Dhabi. 33,500 participants from 170 countries and 800 specialist exhibitors are expected to attend the four-day annual event.

The theme for this year's summit is "Rethinking Global Consumption, Production, and Investment." World Future Energy Summit is the Middle East's largest future energy and sustainability event.

Held annually at Abu Dhabi National Exhibition Centre, the 2020 edition includes exhibition and forum programmes across five main pillars: energy, solar, water, waste and smart cities, hosting an unrivalled gathering of top-level government and business leaders.

The event is starting to set an example for best practice, supporting the circular economy through recycling, and acting to remove single-use plastics from the event.

Also held alongside the World Future Energy Summit are the Climate Innovations Exchange, 'CLIX' for short and the Future Sustainability Summit.

The event will showcase 42 of the world's most disruptive innovations, selected from 1,402 global submissions from 128 countries, related to the future of energy, food, agriculture and sustainability in space.
SCO secretary general pushes India's Eurasian agenda on visit
Wider security engagement with Eurasia including Central Asia that enables to safegaurd interests in Afghanistan will be Delhi's focus when its hosts SCO Secretary General and Uzbekistan Foreign Minister this week.

As Taliban and USA inch closer to conclude peace deal and Pakistan eyes to revive its influence in Kabul, India is stepping up its engagement with regional players who are neighbours of Afghanistan. This includes Uzbekistan and Tajikistan besides Iran and Russia.

Expanding security and economic footprints in Eurasia through SCO to balance China is another key priority for the Modi government, indicated persons familiar with the issue. India will host SCO Heads of Governments meet for the first time later this year, ET has learnt.

SCO has an effective counter-terror mechanism named RATS and the grouping of eight that extends from China to Russia is a key tool for Afghan outreach. SCO Secretary General VladmirNorov will not just engage with the External Affairs Minister but also engage with Commerce & Industry Minister besides industry leaders.

"The history, civilization and culture of India, have been interconnected with the SCO region for thousands of years. Our shared area needs better connectivity in the modern era. Initiatives like International North South Transport Corridor, Chabahar Port, Ashgabat Agreement, clearly emphasize the focus of India on connectivity. We have also operated Air Freight Corridor between Kabul and Kandahar and New Delhi and Mumbai since 2017," PM NarendraModi said in his intervention at the 2019 SCO Summit.
::SCIENCE & TECHNOLOGY::
Scientists discover new black holes in dwarf galaxies
A new hint towards finding out the early history of galaxy formation comes up as the astronomers discover 13 new black holes in some dwarf galaxies which are not more than a billion light-years away from our planet.

These gnome galaxies are at least are 100 times smaller if compared to our milky way. They are identified as the smallest star system to host such humungous black holes. The researchers calculate that these black holes would be as big as 400,000 times of mass as to the Sun.

The scientists started by selecting a sample of galaxies from the NASA-Sloan Atlas, a catalogue of galaxies made with visible-light telescopes. They chose galaxies with stars totalling less than 3 billion times the mass of the Sun, about equal to the Large Magellanic Cloud, a small companion of the Milky Way.

From this sample, they picked candidates that also appeared in the National Radio Astronomy Observatory's Faint Images of the Radio Sky at Twenty centimetres (FIRST) survey, made between 1993 and 2011.

The scientists said this indicates that the galaxies likely have merged with others earlier in their history. This is consistent with computer simulations predicting that roughly half of the massive black holes in dwarf galaxies will be found wandering in the outskirts of their galaxies.
::SPORTS::
India reaches top spot in shooting rankings
With its sparkling show through 2019, India finished the year as the top shooting nation in the world, leaving behind Olympic heavyweights China and the USA.

In terms of overall medals, the tally stood at 21 gold, six silver and three bronze as India topped all the Rifle-Pistol World Cups and Finals in a unforgettable year.

While India leads the standings with 30 medals overall, China is second with 11 gold, 15 silver and 18 bronze for a total of 44 podium finishes. The USA is placed third with 15 medals including six gold six silver and three bronze.