Current Affairs for IAS Exams - 13 February 2018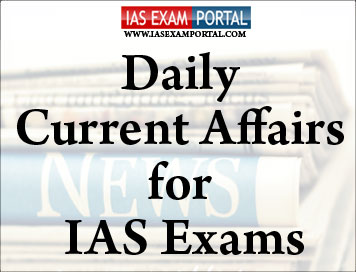 Current Affairs for IAS Exams - 13 February 2018
::NATIONAL::
INS Chakra damages
Russian authorities have demanded over $20 million for rectifying the damage suffered by nuclear submarine INS Chakra , which was dry-docked, even as the government is seeking to fix responsibility for the mishap.
According to defence sources, Russia has quoted $20 million (approximately Rs. 125 crore) for fixing the front portion, which was damaged while the submarine was entering the harbour in Visakhapatnam.
The accident details emerged in public in early October last year.
The developments around INS Chakra come even as the indigenously built nuclear ballistic missile submarine INS Arihant, which had suffered extensive damage because of human error over a year ago, is yet to be back to active sailing.
After extensive flushing and replacement of many of its pipes, Arihant was floated recently but sailing it will take more time, the defence sources said.
On INS Chakra , Russian officials have conveyed to India that they would be making all the replacement panels in their own facility, and would not be using any Indian facilities.
The almost 5x5 ft. panels of the sonar dome would be brought to Visakhapatnam and fitted on to the leased submarine.
In an interview to The Hindu last week, Russian Ambassador Nikolai Kudashev said he wasn't aware when the nuclear-powered submarine would sail again.
Meanwhile, government sources indicate that they want responsibility fixed for the damage suffered by INS Chakra .
As part of the firm stand taken by the government, it is believed to have put on hold the proposal to appoint Inspector General of Nuclear Safety Vice Admiral Srikant as the new Commandant of the New Delhi-based National Defence College (NDC), until responsibility is fixed for the Chakra mishap.
Vice Admiral Srikant is the senior most naval officer responsible for nuclear submarines. Lt. Gen. YVK Mohan moved out as NDC commandant early in January to take over as the General Officer Commanding IX Corps headquartered at Yol in Himachal Pradesh.
Denying any specific knowledge of the Ministry's move, Navy officials admitted that a series of appointments in the Navy are currently waiting to be cleared by Defence Minister Nirmala Sitharaman and Vice Admiral Srikant's is also among them.
Marginal increase in forest cover
India posted a marginal 0.21% rise in the area under forest between 2015 and 2017, according to the biennial India State of Forest Report (SFR) 2017.
The document says that India has about 7,08,273 square kilometres of forest, which is 21.53% of the geographic area of the country (32,87,569 sq. km).
Getting India to have at least 33% of its area under forest has been a long standing goal of the government since 1988.
However various editions of the SFR over the years, have reported the area under forests as hovering around 21%.
So the government also includes substantial patches of trees outside areas designated as forests — such as plantations or greenlands — in its assessment.
The total tree cover, according to this assessment, was 93,815 square kilometres or a 2% rise from the approximately 92,500 square kilometres estimated in 2015.
Andhra Pradesh, Karnataka and Kerala topped the States that posted an increase in forest cover.
Much of this increase can be attributed to plantation and conservation activities both within and outside the Recorded Forest areas as well as an improvement in interpretation of satellite data.
Currently, 15 States and union territories have 33% of their geographical area under forests.
In India's north-east however, forest cover showed a decrease; 1,71,306 square kilometres, or 65.34%, of the geographical area was under forest and this was a 630 square kilometre decline from the 2015 assessment.
The category of 'very dense forest'— defined as a canopy cover over 70% — and an indicator of the quality of a forest, saw a dramatic rise from 85,904 square kilometres to 98,158 square kilometres this year but the category of 'moderately dense forest' (40%-70%) saw a 7,056 square kilometre-decline from 2015.
"In different categories of forests there may be fluctuations within categories.
However we are soon coming up with a comprehensive policy to address this," said Siddhanta Das, Director General of Forests.
Union Environment Minister Harsh Vardhan lauded the survey findings.
India is ranked 10th in the world, with 24.4% of land area under forest and tree cover, even though it accounts for 2.4% of the world surface area and sustains the needs of 17% of human and 18% livestock population
The forest survey for the first time mapped 633 districts and relied on satellite-mapping. Earlier this year, the government ceased to define bamboo as a tree to promote economic activity among tribals.
The survey found that India's bamboo bearing area rose by 1.73 million hectares (2011) to 15.69 million hectares (2017).
Purity of election process at stake due to convict heading party: CJI
Chief Justice of India (CJI) Dipak Misra questioned the logic behind having a criminal and corrupt person to head a political party, and said such a lapse was a huge blow to the purity of the election process.
Far worse is the prospect of democracy when such a criminal has the power to choose candidates for elections under his party's banner, observed the CJI, heading a three-judge Bench.
"This goes against our judgments that corruption in politics to be ostracised from the purity of elections," he orally observed, addressing the government and the Election Commission (EC).
"So, is it that what you cannot do individually [that is to contest in elections], you can do collectively through some of your agents," he asked.
"A man cannot directly contest in an election, so he constitutes a group of persons to form a political party and contest in an election," he said.
People could form an "association to do philanthropic activities like having a hospital or a school".
"But when it comes to ... governance, it is different," he said.
Additional Solicitor-General Pinky Anand said the government needed time to file a response.
The court said that banning convicted persons from becoming office-bearers of parties would be in consonance with its past judgments against corrupt politics.
It posted the case for two weeks later.
Last December, the court agreed to examine whether the EC should be empowered to de-register a party because a convicted person had formed it or was a crucial office-bearer.
Advocate Ashwini Kumar Upadhyay, who filed the petition, reasoned that if a convicted person was banned from elections, he or she should also be debarred from heading a party and controlling its other elected members.
The petition names leaders such as Lalu Prasad of the RJD, who was convicted in the fodder scam, and O.P. Chautala of the INLD, who was found guilty in the junior teachers recruitment scam case.
The petition had also sought to declare Section 29A of the Representation of the People Act, 1951, "arbitrary, irrational and ultra vires the Constitution, and to authorise the Election Commission to register and de-register parties as suggested by the Goswami Committee on Electoral Reform."
The petitioner, however, withdrew this prayer.
KMP & KGP expressways to be opened by Modi
Haryana Chief Minister Manohar Lal Khattar said that Prime Minister Narendra Modi would inaugurate the KMP and KGP expressways in March.
He said that the Kundli-Manesar-Palwal (KMP) and the Kundli-Ghaziabad-Palwal (KGP) expressways are scheduled to be completed by March 31.
The Chief Minister announced this after inspecting the intersection of KMP-KGP and National Highway-1 at Rai in Sonipat district.
Mr. Khattar said the construction work on these expressways would be completed within the prescribed time frame and it would help in getting rid of traffic jams.
Earlier, during a review, he had sought a report from the officers of the construction company, an official release said here.
Mr. Khattar also visited Badkhalsa in Sonipat where he said that under the 'Beti Bachao, Beti Padhao' programme, the sex ratio in the State had improved, and now it was 914 girls per 1,000 boys.
In Badkhalsa village, this figure has crossed the 1,000 mark, he said.
"Welfare and upliftment of girls is necessary for building a strong and stable society," Mr. Khattar said, exhorting villagers to educate girls.
"Sonipat is fast developing as an education hub and more reputed institutions will soon come up in this area," he added.
::INTERNATIONAL::
Joint action to isolate terror: India-Oman
India and Oman have agreed to isolate the sponsors of international terrorism.
The declaration on battling terrorism came at the end of Prime Minister Narendra Modi's visit to the country during which both sides acknowledged that there was an "inter-linkage" between the stability of the Gulf region and the Indian subcontinent.
"The two sides also emphasised the need to isolate the sponsors and supporters of terrorism and agreed that the international community should take urgent action against all such entities, which support terrorism and use it as an instrument of policy," a joint statement issued at the end of Mr. Modi's visit declared.
The visit to the strategically located country is of special significance as the monarchy, led by Sultan Qaboos bin Said for more than four decades, is soon likely to undergo a phase of succession.
Indian officials last week thanked Oman for providing refuelling facilities to Indian ships and aircraft.
The delegations declared that both sides recognise "the close inter-linkage of the stability and security of the Gulf region with the Indian subcontinent".
Mr. Modi appreciated Oman's help in dealing with "specific" security challenges, the joint statement mentioned.
Prime Minister Modi arrived in Oman on Sunday after visiting Jordan, Palestine and the UAE.
He addressed a gathering of Indian workers and professionals during his stay in Muscat.
Mr. Modi thanked Sultan Qaboos for "exceptional warmth" and said, "My visit to Oman (is) one of the most memorable visits I have undertaken anywhere."
The Indian side thanked Omani side for facilitating operational visits by Indian Naval ships and aircraft as well as Indian Air Force aircraft to various Omani ports and airports.
The Omani side expressed appreciation of the training facilities provided to the Omani Royal Armed Forces personnel by India.
Mr. Modi also informed Oman's ruler about the strategic oil reserve that India plans to build and invited Oman to participate in the project.
The Omani side briefed India about its own strategic oil reserve project in Ras Markaz near the port of Duqm.
A total of eight MoUs were signed on health, legal cooperation, tourism and military cooperation.
Oman also expressed that it would like its scientists to be trained in Indian space research facilities.
::ECONOMY::
Jute sector crisis
The jute industry has sought the intervention of the Textiles Minister to stem the decline in raw jute prices.
In a letter to Smriti Irani, Manish Podddar, chairman of the apex industry body, the Indian Jute Mills Association (IJMA) said a crisis was prevailing in raw jute with prices ruling at several notches below the minimum support price.
In the letter, dated February 8, IJMA said for the TD 5 variety, the price was lower by about Rs. 7,000 per tonne, and by Rs. 10,290 per tonne for the TD 6 variety.
"This is almost 20% and 35% below the MSP for TD5 and TD6 respectively," it said, adding the total loss to jute farmers had been estimated at about Rs. 1,000 crore.
Raw jute is produced mostly in West Bengal (74%) followed by Bihar and Assam.
The industry sought Ms. Irani's intervention to raise purchases by the Jute Corporation of India as an immediate measure.
The Centre is gearing up to announce the MSP for FY19. Government documents indicate the price would be about 5% higher than this year's MSP.
Data also showed that between FY13 and FY18, area under jute cultivation shrank to 6,84,3000 hectares from 7,56,000 hectares. Raw jute output fell to 98.3 lakh bales from 110 lakh bales.