Current Affairs for IAS Exams - 13 February 2021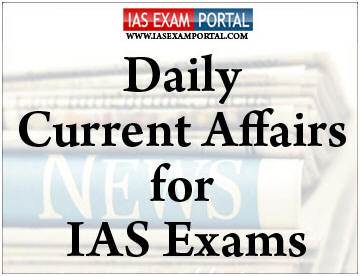 ---
Current Affairs for IAS Exams - 13 February 2021
::NATIONAL::
Excessive alcohol can cause irreversible changes to DNA
According to researchers from National Institute of Mental Health and Neuro Sciences (NIMHANS) has said the assumption that all the damage can be set right after a person stops drinking is not true.
Excessive alcohol consumption can cause irreversible changes to the DNA and changes may persist even when alcohol is no longer consumed, revealed a study by researchers at NIMHANS.
The study, published online in the 'American Journal of Medical Genetics'.
How it works?
Alcohol (ethanol) is rapidly metabolised in the body, and its two carbon atoms (CH3CH2 or ethyl) are converted into single atoms (CH3 or methyl), that can react with many other chemicals, including DNA. 
This change (methylation) can modify the expression of many genes, or even have toxic consequences. 
Furnace oil from Titanium factory spills into sea
An emergency clean-up was launched to address furnace oil leak at Kochuveli near Thiruvananthapuram.
Oil is one of the most abundant pollutants in the oceans. About 3 million metric tons of oil contaminated oceans annually.
Measures that can be taken:
Floating booms to reduce or prevent further spreading of oil.
Use of various sorbents (e.g., straw, volcanic ash) that absorb oil from water.
Skimmers or oil scoops can be deployed onto boats to remove contaminants.
Oil zapper by TERI that feeds on hydrocarbon compounds present in crude oil and converts them into CO2and water.
CLICK HERE FOR FULL CURRENT AFFAIRS (Only for Course Members)
::INTERNATIONAL::
UAE gets Category-1 status for investment
Government has classified foreign portfolio investors (FPIs) from UAE as eligible for taking up Category-1licence,a move that could boost investment from the region into India.
Category-1 licence implies lower compliance burden, simplified know-your-customer norms and documentation requirements, and fewer investment restrictions.
Earlier SEBI relaxed its guidelines for FPIs seeking a Category-1 licence by allowing investors from non FATFcountries (specified by govt.) to qualify for such registrations.
Nearly 80% of FPIs were put under Category-1 after reclassification of three categories into two inSeptember 2019, with easiest set of compliance norms for Category-1FPIs and strictest for Category-III FPIs
World SustainableDevelopment Summit
Prime Minister Narendra Modi to inaugurate World Sustainable Development Summit 2021.
It is the annual flagship event of The Energy and Resources Institute (TERI).
TERI is a not-for-profit, policy research organization - working in the fields of energy, environment, and sustainable development.
Summit series brings together governments, business leaders, academicians,climate scientists, youth, and civil society in the fight against climate change.
::ECONOMY::
Specialty Steel included under the Production Linked Incentive
Government has approved inclusion of 'Specialty Steel' under the Production Linked Incentive (PLI) Scheme.
Specialty Steel is a steel containing alloys that provide special properties, such as resistance to corrosion or to heavy load. It is also called alloy steel.
Earlier, PLI scheme across 10 key specific sectors was launched to attract investment, enhance exports etc. Other specific sectors are 
1.    Advance Chemistry Cell (ACC) Battery; 
2.    Electronic/ Technology Products; 
3.    Automobiles & Auto Components; 
4.    Pharmaceuticals drugs, 
5.    Telecom & Networking Products, 
6.    Textile Products, Food Products, 
7.    High Efficiency Solar PV Modules, 
8.    White Goods (ACs & LED)
::SCIENCE AND TECHNOLOGY::
16 crore drug is the hope for SMA patients
A gene therapy costing 16 crore is the only shot of life for nearly 200 children with Spinal Muscular Atrophy (SMA) Type 1, a rare genetic disease, in Karnataka.
About:
It is a genetic disorder characterized by weakness and wasting (atrophy) in muscles used for movement(skeletal muscles).
It is caused by a loss of specialized nerve cells, called motor neurons that control muscle movement.
It most often affects babies and children and makes it hard for them to use their muscles.
CLICK HERE FOR FULL CURRENT AFFAIRS (Only for Course Members)
::SPORTS::
World Championship sprinter Hima Das appointed as DSP
Assam Government decides to appoint World Championship sprinter Hima Das as DSP.
The cabinet also decided to amend the integrated sports policy of the state by appointing sportspersons as Class-I and Class-II officers in different department of the state like Police, Excise, Transport etc, government spokesman and Industry minister Chandra Mohan Patowary told reporters.
It was decided that Das will be appointed as a DSP rank officer in the Assam police and medal winners in Olympics, Asian Games and Commonwealth Games will be appointed as Class- I officers.