Current Affairs for IAS Exams - 13 March 2020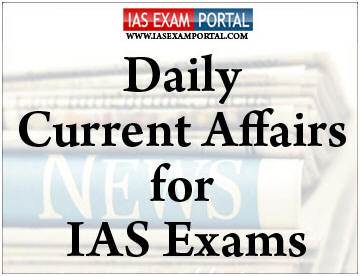 ---
Current Affairs for IAS Exams - 13 March 2020
---
::NATIONAL::
Centre launches new Crime Multi Agency Centre
Minister of State for Home NityanandRai has launched the Crime Multi Agency Centre (Cri-MAC) for sharing of information on heinous crime and other issues related to inter-state coordination.
MrRai launched the Centre at a function organised on the occasion of   35th Inception Day of National Crime Records Bureau (NCRB) yesterday. 
He also launched the National Cyber crime Training Centre (NCTC) for professional quality e-Learning services on cyber crime investigation to police officers, judges, prosecutors and other stakeholders.
Speaking on the occasion, MrRaiemphasized the importance of capacity building in cyber-crime investigation and mentioned the Government's resolve in tackling the menace of increasing cyber-crime.
He also lauded the role of NCRB networking around 16 thousand  Police Stations and over 8 thousand higher Police offices across the country under  Crime and Criminal Tracking Network and  Systems (CCTNS) project.
Social media accounts to be made more responsive and accountable
The government is finalising the 'intermediaries guidelines' to make the social media platforms, including Facebook and Twitter, more responsive and accountable.
"The Ministry of Electronics and Information Technology is in the process of amending the Information Technology (Intermediaries Guidelines) Rules, 2011, to make the social media platforms more responsive and accountable. ...............................................
CLICK HERE FOR FULL CURRENT AFFAIRS (Only for Course Members)
::ECONOMY::
RBI announces dollar swap to infuse liquidity into forex market
Observing mismatch in US dollar liquidity across the world, the Reserve Bank has announced a six month US dollar sell/buy swap to provide liquidity to the foreign exchange market. In a statement issued from Mumbai today, RBI said, the first swap worth two billion US dollars will be conducted on Monday.
RBI has said that financial markets are facing intense selling pressures due to coronavirus infection. It said that volatility in global markets has been spiked by a slump in international crude prices and a decline in bond yields in advanced economies.
Stating that it is closely and continuously monitoring the rapidly evolving global situation and spillovers, RBI assured that it ready to take all necessary measures to ensure that the effects of COVID-19 pandemic on the Indian economy are mitigated.
RBI added that the level of forex reserves, which stood at 487.24 billion dollars as of 6th March, remains comfortable to meet any exigency.
All sectoral indices recorded a fall of over five percent with shares of realty, metal, oil and gas, banking and finance sectors suffering maximum selling.
RBI asks states not to shift deposits from private banks
The Reserve Bank of India (RBI) has asked all State governments to refrain from shifting their deposits from private sector banks to government banks.
The move came after the Maharashtra government directed all its departments, civic bodies and semi-government corporations not to transact with private banks after private sector lender Yes Bank was put on moratorium last week.
Observing that some other State governments were also contemplating such a move, the RBI, in a strongly-worded letter to all chief secretaries of the States, said apprehension regarding safety of deposits in private sector banks was highly misplaced and such reactions would not be in the interest of the financial stability of the banking system. "We strongly believe that such a move can have banking and financial sector stability implications," the letter said..........................................
CLICK HERE FOR FULL CURRENT AFFAIRS (Only for Course Members)
::INTERNATIONAL::
India to assist Maldives tackle COVID-19
India is providing assistance to the Maldives to tackle the COVID-19 crisis as the neighboring country declared a state of public health emergency to fight the situation. 
High Commission of India in Male said that a team of health experts from India will be reaching tomorrow to assist the Maldives' health care workers in the fight against Covid-19. 
The team will consist of anesthesiologists, pulmonologists, physicians and lab technicians. The statement said that the government will also donate essential medicines required for treatment despite the temporary export ban by India, as a special goodwill gesture to government and people of Maldives.
Meanwhile, the country's Election Commission is expected to take a decision on postponing the upcoming local council and women's development committee elections scheduled for the 3rd of next month. 
Vice-President of the Elections Commission Ahmed Akram said a decision will be taken after discussions with the Covid-19 monitoring committee.
India delivers rice to flood hit Madagascar
Indian Ambassador to Madagascar Abhay Kumar has handed over 600 tonnes of rice on behalf of the Government of India to theMadagascar Foreign Minister TehindrazanariveloDjacobaLiva for quick relief to the flood victims.
Indian Naval Ship (INS) Shardul arrived in Madagascar at Port Antsiranana on 10th of this month carrying rice for the people of Madagascar. The rice will be distributed to the people affected by cyclone Diane that hit Madagascar coast in January this year..........................
CLICK HERE FOR FULL CURRENT AFFAIRS (Only for Course Members)
::SCIENCE & TECHNOLOGY::
Scientists develop fuel cell technology for disaster management
The scientists of ARCI (Advanced Research for Powder Metallurgy and New Materials) recently developed PEMFC (Polymer Electrolyte Membrane Fuel Cells).The technology is to be used to manage Natural Disasters.
The PEMFC is a system with 10 KW capacity. They have operational advantage to operate at low-temperature in decentralized systems of power generation.
The technology was developed at Chennai centre of ARCI. The system is to be used to operate early warning systems using phones, ethernet, computers,FAX,etc................................
CLICK HERE FOR FULL CURRENT AFFAIRS (Only for Course Members)
::SPORTS::
No spectators allowed for India-South Africa cricket match
Uttar Pradesh Cricket Association has announced that no spectator will be allowed during 2nd one day match between India and South Africa which will be played in Lucknow on 15th March.
The release issued by Yudhvir Singh, secretary of association cited the advisory of the health department to avoid any possible outbreak of COVID 19 virus as reason for this and said that the money of the tickets will be refunded.....................
CLICK HERE FOR FULL CURRENT AFFAIRS (Only for Course Members)