Current Affairs for IAS Exams - 13 May 2019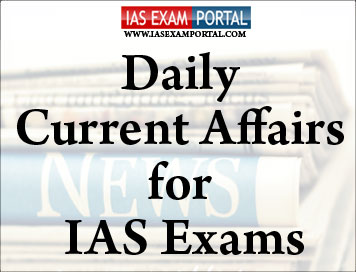 Current Affairs for IAS Exams - 13 May 2019
::NATIONAL::
EC claims NITI Aayog sharing of data with PMO does not violate code of conduct
Election Commission said, it has found no violation of the poll code in Niti Aayog sharing data with the Prime Minister's Office (PMO) on places where Prime Minister Narendra Modi was set to campaign for the ongoing Lok Sabha elections.

Talking to media in New Delhi, Senior Deputy Election Commissioner Sandeep Saxena said, the poll body has disposed off the complaint as the Prime Minister is exempted from the provision that bars ministers from combining official visits with campaigning.

Mr Saxena said, the exemption to the Prime Minister was given in October 2014 and it was not a one-time exemption but a standing instruction.

In another event Heads and Representatives of 20 Election Management Bodies from across the World have arrived in New Delhi to witness the ongoing Lok Sabha elections.

Addressing the participants, Chief Election Commissioner Sunil Arora reiterated that the Commission is firmly committed to ensuring free, fair and robust elections in the country.

He added that the objective and intention of the Commission is to always keep learning from the experiences of the past for necessary course corrections for the future.

Mr Arora said further efforts would be made to make the election process more robust, ethical, inclusive, accessible and participative. He also announced that Committees will be set up to study best practices from the States, document issues and challenges faced.
Plea to centre asking for freezing of GMO's
Senior advocate Prashant Bhushan has sent a legal notice to Union Environment Minister Harsh Vardhan asking for a freeze on all genetically modified organisms, including field trials.

Though growing Bt brinjal is illegal in India, Mr. Bhushan's letter comes in the aftermath of activist groups recently proffering evidence of Bt Brinjal, a GM crop, being grown in a farmer's field in Haryana.

Developed by the Maharashtra-based seed company, Mahyco, Bt brinjal was the first food crop made to contain an insecticidal protein, called cry1 ac, sourced from the genes of the soil bacterium, Bacillus thuringienesis.

Though this was cleared for commercial cultivation it was put in deep-freeze, by former Union Environment Minister Jairam Ramesh in 2010 on the grounds that there was scientific and public disagreement on its safety.

Mr. Bhushan's Sunday letter also contains a lab report, prepared by a private biotechnology firm, that confirmed the presence of the Bt-derived protein in brinjal samples from Fatehabad, Haryana, in April. The GEAC was apprised of this but no action had been forthcoming so far, the letter claims

The lab report was also sent to the Haryana government, which picked up samples of the suspected Bt Brinjal crop and sent it to the National Bureau of Plant Genetic Resources (NBPGR) in New Delhi for testing. The complete report and decision hasn't been made public so far.
::ECONOMY::
IT sector set to grow in global market soon
After some years of a dry drive, Indian tech firms now seem to have turned the corner and established themselves firmly as digital transformation agents in the global market, international IT experts have affirmed.

Growth is picking up for the Indian IT sector and the good news is that most players have a strong hiring plan in place.

Last fiscal's performance numbers posted by the country's leading players reflect a clear upswing in the market. All the digital pilot projects that were under way over the last couple of years are now going mainstream and are being scaled into enterprises.

Digital services are going mainstream which will propel growth for the next few years. Revenue from the digital business is getting close to 30% or more of total revenue and growing at a healthy pace, which is a good thing and bodes well for the vendors.

Indian IT vendors continue to rely heavily on the U.S. and U.K. markets for a large portion of revenues. Though this is changing, any protectionist measures in the U.S. (including due to the presidential election next year) and uncertainty around Brexit may impact revenues in the short term.
Telecom industry to recover amid tariff wars this fiscal
The Indian telecom industry, which has been grappling with declining revenues following a long and bitter tariff war triggered by fierce competition in the market, is likely to see signs of recovery in the current financial year (2019-20).

The forecast of green shoots appearing are hinged on expectations that marginal rise in tariffs, combined with higher data usage, will drive upwards the average revenue per user (ARPU) – seen as the only tool to boost the industry revenues, as subscriber growth is anticipated to remain muted.

In a recent report, agencies such as Edelweiss as well as Crisil have forecast that price recovery in the telecom sector could take place from the second half of the current financial year.

Besides, telecom operators are undertaking a massive non-core asset monetisation drive, which makes it imperative for investors to repose confidence in the telecom industry's long-term health.

The report added that even in terms of market structure, the industry had come down to three private players and a public sector firm which "is the optimum level of competition.
::INTERNATIONAL::
UN secretary general claims political will to fight climate change fading
UN Secretary-General Antonio Guterres has said the political will to fight climate change has faded at the same time as it is getting worse for those feeling its effects.

Guterres made the comments after arriving in New Zealand yesterday where he addressed the media alongside Prime Minister Jacinda Ardern in Auckland. Guterres plans to spend three days there as part of a trip to the South Pacific to highlight climate change's global threat.

He said that the countries are not following commitments under the 2016 Paris Agreement which expects them to keep the global temperature rise to below two degrees Celsius above pre-industrial levels.

Reports in the state of the planet show the need for concrete steps to tackle climate change and environmental catastrophe.

During his visit, he praised Prime Minister Jacinda Ardern for introducing a bill that aims to make New Zealand mostly carbon neutral by 2050.
Trump-Xi meeting likely on the sidelines of G20 meeting
President Donald Trump and China's Xi Jinping could meet next month on the sidelines of the G20 summit to hash out their differences on trade, but no new talks are scheduled, White House economic adviser Larry Kudlow said on Sunday.

The world's top two economies ended two days of negotiations in Washington on Friday with no deal. While making it clear that the U.S. was unwilling to settle, Mr. Kudlow sought to tamp down concerns, insisting that the process was ongoing.

As for future negotiations, while there are "no concrete, definite plans yet", Mr. Kudlow said China had invited Treasury Secretary Steven Mnuchin and U.S. Trade Representative Robert Lighthizer to Beijing — and higher-level discussions could be on the cards. The chances of Mr. Trump and Mr. Xi meeting during the Group of 20 summit in Japan in late June "are probably pretty good," the top White House aide said.

Mr. Trump ordered new punitive duties, which took effect on Friday, on $200 billion worth of Chinese imports, raising them to 25% from 10%. He then ordered a tariff hike on almost all remaining imports $300 billion worth, according to Mr. Lighthizer from China.

But Mr. Kudlow insisted it would be months before such punitive measures take effect, and that there was still time to negotiate.
::SCIENCE & TECHNOLOGY::
Countries agree upon new UN accord to control export of plastic waste
Around 180 governments on Friday agreed on a new UN accord to regulate the export of plastic waste, some eight million tonnes of which ends up in the oceans each year, organisers said.

The 1,400 representatives, meeting in Geneva reached the agreement after 12 days' discussion on what Rolph Payet, Executive Secretary of the UN Environment Programme (UNEP) called "one of the world's most pressing environmental issues".

The Geneva meeting amended the 1989 Basel Convention on the control of hazardous wastes to include plastic waste in a legally-binding framework.

The IPEN umbrella group seeking to eliminate hazardous and toxic chemicals said the new amendment would empower developing countries to refuse "dumping plastic waste" by others.

"For far too long, developed countries like the U.S. and Canada have been exporting their mixed toxic plastic wastes to developing Asian countries claiming it would be recycled in the receiving country

"Instead, much of this contaminated mixed waste cannot be recycled and is instead dumped or burned, or finds its way into the ocean," said IPEN science adviser Sara Brosche. Plastic waste pollution has reached "epidemic proportions" with an estimated 100 million tonnes of plastic now found in the oceans.
::SPORTS::
Mumbai Indians win IPL title in a thrilling finals
Mumbai Indians became IPL champions for the fourth time after defeating Chennai Super Kings by one run in a thrilling final in Hyderabad last night.

Last ball dismissal of Shardul Thakur by paceman Lasith Malinga registered final win for Mumbai over Chennai.Chasing a victory target of 150 set by Mumbai, Chennai Super Kings were restricted to 148 for 7 in stipulated 20 overs.