Current Affairs for IAS Exams - 13 April 2021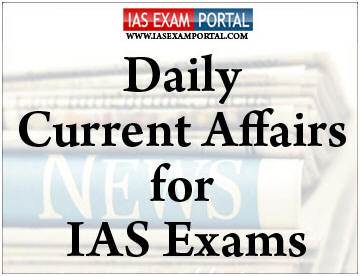 ---
Current Affairs for IAS Exams - 13 April 2021
::NATIONAL::
 Sputnik V
Russia's COVID vaccine — Sputnik V — has been recommended for emergency use authorisation in India following a meeting of the Subject Expert Committee (SEC). 
If approved by the Drug Controller General of India (DCGI), Sputnik-V would be the third vaccine to be made available in India after Serum Institute of India's Covishield, developed by Oxford-AstraZeneca, and Bharat Biotech's Covexin.
Sputnik V, developed by Russia's Gamaleya Research Institute of Epidemiology and Microbiology.
It claims to be one of the three vaccines in the world with efficacy of over 90%.
The vaccine's efficacy is confirmed at 91.6% based on the analysis of data on 19,866 volunteers, who received both the first and second doses of the Sputnik V vaccine or placebo at the final control point of 78 confirmed COVID-19 cases.
It adds that the vaccine supplies for the global market will be produced by Russian Direct Investment Fund (RDIF) international partners in India, Brazil, China, South Korea and other countries.
 Bombay Natural History Society
Scientists from theBombay Natural History Society (BNHS) have recorded the presence of new bird (Three-banded Rosefinch) in the easternHimalayas, taking India's avian biodiversity count to a total of 1,340 species.
It was sighted in the coniferous forests of the Sela Pass in Arunachal Pradesh.
BNHS is a non-governmental organisation established in 1883.
BNHS specializes in the conservation of nature and natural resources as well as organizing education activities and exploration of natural history.
CLICK HERE FOR FULL CURRENT AFFAIRS (Only for Course Members)
::INTERNATIONAL::
Financial Action Task Force
Pakistan seeks time to complete the 27-point (anti-money laundering/combating the financing of terrorism)action plan to help the country exit from the greylist.
Pakistan was put under Greylist of FATF for terror financingand money laundering.
FATF is an inter-governmental body established in 1989 to combat money laundering, terrorist financingand other related threats to the integrity of the international financial system.
India is a member of FATF.
Northern Ireland
Young people have hurled bricks, fireworks and gasoline bombs at police and set hijacked cars and a bus on fire during a week of violence on the streets of Northern Ireland. Police responded with rubber bullets and water cannons.
The chaotic scenes have stirred memories of decades of Catholic-Protestant conflict, known as "The Troubles". A 1998 peace deal ended large-scale violence but did not resolve Northern Ireland's deep-rooted tensions.
Why is Northern Ireland a contested land?          
Geographically, Northern Ireland is part of Ireland. Politically, it's part of the United Kingdom.
Ireland, long dominated by its bigger neighbour, broke free about 100 years ago after centuries of colonisation and an uneasy union. Twenty-six of its 32 counties became an independent, Roman Catholic-majority country. Six counties in the north, which have a Protestant majority, stayed British.
Northern Ireland's Catholic minority experienced discrimination in jobs, housing and other areas in the Protestant-run state. In the 1960s, a Catholic civil rights movement demanded change, but faced a harsh response from the government and police.
The 1998 Good Friday accord saw the paramilitaries lay down their arms and established a Catholic-Protestant power-sharing government for Northern Ireland.
The question of Northern Ireland's ultimate status was deferred: it would remain British as long as that was the majority's wish, but a future referendum on reunification was not ruled out.
::ECONOMY::
India Energy Dashboards
The India Energy Dashboards Version 2.0 was recently launched.
India Energy Dashboards (IED) is an endeavour to provide single-window access to the energy data for the country.
ITI Aayog launched the Version 1.0 in May 2017.
Key features of India Energy Dashboards Version 2.0: 
The IED provides time series data from FY 2005-06 until FY 2019-20;
Enhanced data download – It enables easy downloading of data into convenient spreadsheet formats in a cleaner, more intuitive way;
IED provides data at sub-yearly frequencies as well. This includes monthly data and API linked data from some portals maintained by the government agencies.
The monthly data is sourced from the monthly reports that are regularly published for the electricity, petroleum and natural gas sectors.
::SCIENCE AND TECHNOLOGY::
Nano Sniffer
India has developed the world's first micro-sensor based explosive trace detector (ETD), using a micro-electromechanical system (MEMS), called NanoSniffer. It is launched by Union Education Minister.
It can accurately detect a wide range of military, commercial, and home-made explosives threats.
It provides trace detection of nano-gram quantity of explosives & delivers result in seconds.
 CLICK HERE FOR FULL CURRENT AFFAIRS (Only for Course Members)