Current Affairs for IAS Exams -13 February 2023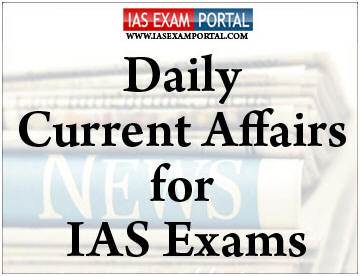 ---
Current Affairs for IAS Exams - 13 February 2023
::NATIONAL::
Developments of Border Infrastructure 
The Minister of External Affairs recently provided a briefing to the parliament regarding the government's projects on border infrastructure and connectivity.
The report was released in the wake of an official Security Conference report that said Indian forces have lost access to 26 of 65 patrolling points along the LAC since 2020.
Key highlights regarding Border Infrastructure Developments?
Multi-Pronged Approach:To improve connectivity to the Line of Actual Control (LAC) through roads, bridges and tunnels.
Improving cross-border connectivity to neighbouring countries through highways, bridges, inland waterways, railroads, electricity lines and fuel pipelines.
Modernising and constructing Integrated Check Posts (ICPs) at all the border crossings to smooth trade, and funding and constructing infrastructure projects in neighbouring countries.
Neighbourhood Pojects:
Nepal:South Asia's first cross-border petroleum products pipeline Motihari -Amlekhgunj Pipeline.The Mahakali motorable bridge over the Mahakali River connecting Dharchula (India) with Darchula (Nepal), under Indian grant assistance.
Bangladesh:MaitriSetu, High Speed Diesel pipeline with Bangladesh that will reduce petrol prices and road congestion.
Myanmar:Sittwe port project, Kaladan Multi-Modal Transit Transport Project (KMTTP).
Bhutan:Dry port in Pasakha bordering West Bengal is being developed under an Indian government grant.
What is the Importance of Border Infrastructure?
India faces long-standing territorial and boundary disputes with China and Pakistan and porous borders along difficult terrain.
Despite border wars and conflicts, the state of infrastructure at India's borders is inadequate and borders are manned by different military, para-military, and police forces, lacking in coordination.
Smugglers, drug traffickers, and terrorists often take advantage of poor surveillance and infrastructure at borders.
Tansa Wildlife Sanctuary
The first-ever bird survey in Tansa Wildlife Sanctuary was conducted and the recorded 186 species of birds respectively.
The survey coincided with the 53rd anniversary of the sanctuary located in Shahapur tehsil of Thane district on Sunday.
The sanctuary also has two lakes—Tansa and Modak Sagar—that supply water to Mumbai. While the sanctuary is spread over 338 sq km, the Tansa lake is spread over 19 sq km.
About:
The wildlife sanctuary at Tansa in Thana district comprises the catchment area of Tansa Lake and the surrounding forests of Shahapur, Khardi, Vaitarna and East Wada Ranges in Shahapur tahsil of Thana district. 
The glittering expanse of Tansa Lake is an eye-catching spectacle and a perennial source of water to wild life in the sanctuary.
Vegetation: 
The Sanctuary has Southern Tropical Moist Deciduous Forest, with a few patches of Evergreen forest. 
Flora:
It consists of trees like Kalamb, Bibla, Khair, Hed, Teak, and Bamboo.
Fauna:
The forest in the sanctuary provide ideal conditions of harbourage to a variety of birds and animals. 
There are aprroximate 54 species of animals and 200 species of birds do exist in the sanctuary. Major wild animals are Panther, Barking deer, Mouse deer, Hyena, Wild boar etc..
::INTERNATIONAL::
Operation Dost
India has launched 'Operation Dost' to extend assistance to Turkey and Syria, the nations hit by an intense 7.9-magnitude earthquakeand subsequent aftershocks. 
A field hospital set up by the Indian Army in Hatay province of Turkey has become operational with surgical and emergency wards to provide succour to the affected people days.
About:
It is an ongoing search and rescue mission initiated by the Government of India to help Syria and Turkey, after they witnessed a massive earthquake that left thousands dead, injured and trapped under the rubble.
Under operation dost, India has sent search and rescue teams, mainly teams of the National Disaster Response Force (NDRF), materials, medicines, medical equipment and consumables to Turkey and Syria.
The NDRF teams comprise dog squad, medicines, blankets, four wheelers.
The Indian Army's team of medical specialists is providing relief to the injured at a field hospital set up in Turkey's Hatay. The hospital is running with medical, surgical and emergency wards. 
Christ the Redeemer statue
The 100-foot statue of Jesus Christ towering over Rio de Janeiro was hit by lightning recently. 
About Christ the Redeemer statue:
It is located at the summit of Mount Corcovado, Rio de Janeiro, southeastern Brazil. 
It depicts Christ standing with his arms crossed and looking at the city.
It was completed in 1931 and stands 98 feet (30 metres) tall.
Its horizontally outstretched arms span 92 feet (28 metres).
It is made of reinforced concrete and is the largest Art Deco-style sculpture in the world.
Art Deco:
Art Deco, also called style moderne, is a movement in the decorative arts and architecture that originated in the 1920s and developed into a major style in western Europe and the United States during the 1930s.
It is a modern art style that attempts to infuse functional objects with artistic touches. 
This movement is different from the fine arts (painting and sculpture), where the art object has no practical purpose or use beyond providing interesting viewing.
Art Deco works are symmetrical, geometric, streamlined, often simple, and pleasing to the eye. 
::Economy::
India submits papers on consumer protection in e-commerce, digital public infrastructure
India has submitted two papers on e-commerce at the WTO, one on collaborating on consumer protection and the other on role of digital public infrastructure. 
This would provide an "alternative paradigm'' to discussions at the multilateral forum currently dominated by a group of countries in a plurilateral mode on rule-making in e-commerce.
About:
India has argued that since e-commerce sector has implications on developing and poor nations, it should be discussed in amultilateral setting.
In 1998, WTO established work programme on e-commerce to comprehensively examine all trade-related issues relating to this.
It instructed WTO bodies (including Council on Trade in Goods, Council on Trade in Services etc) to explore relationship betweenexisting WTO agreements and e-commerce.
It also agreed for a moratorium on e-commerce which entails that members should not impose customs duties on electronictransmissions (encompasses software, emails, digital music, movies, videogames etc).
Two papers submitted by India:
Consumer protection paper emphasised on need to jointly address several new challenges and issues relating to misleadingadvertising, online payment security, data protection, dispute resolution etc.
DPI paperoutlined key challenges which limit adoption of e-commerce and presented an approach to overcome the challenge ofdigital divide.
::SCIENCE AND TECHNOLOGY::
Bhashini Mission
Centre-run National Language Translation Mission, better known as Mission Bhashini's capabilities have been integrated with the Unified Payments Interface (UPI) to make digital payments through the UPI 123 Pay available in more than 20 local Indian languages.
About:
Bhashini Mission is a local language translation mission that aims to break the barrier between various Indian tongues by using available technology.
BHASHINI4 aims to build a National Public Digital Platform for languages.
This government platform aims to make Artificial Intelligence and Natural Language Processing (NLP) resources available in the public domain to be used by — Indian MSMEs, startups an and individual innovators.
This will help developers to offer all Indians easy access to the internet and digital services in their native languages.
This online platform also has a separate 'Bhasadaan' section which allows individuals to contribute to multiple crowdsourcing initiatives and it is also accessible via respective Android and iOS apps.
UPI 123 Pay is an instant payment system which will allow users to make UPI transactions without an internet connection.
UPI 123 Pay:
It is an instant payment system which will allow users to make UPI transactions without an internet connection. 
It was launched by the National Payments Corporation of India (NPCI)
Transactions through UPI 123Pay can be done through IVR (interactive voice response) based payment solution, missed call, sound-based technology, and payment app.