Current Affairs for IAS Exams - 13 July 2022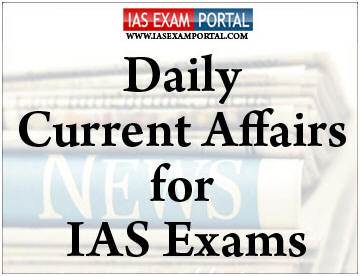 ---
Current Affairs for IAS Exams - 13 July 2022
::NATIONAL::
Centre tightens norms for use of mineral funds
The Centre has tightened the criteria for use of district mineral funds to ensure they are used for the specified purpose, that is redevelopment of areas and people affected by mining activities.
The step is aimed to streamline usage of fundsfor specified purpose and to ensure organised development.
About:
Mining and Minerals Development andRegulation (MMDR) Act, 2015, mandates every state to set up District mineral foundations(DMFs) in each mining-affected area.
Under MMDR Act, combination and functions of DMF are prescribed by states and Centre has power to give directions regarding utilisation of funds.
Leaseholders are required to contribute toDMFs between 10 and 30% of the royalty, inaddition to the royalty paid to stategovernments.
60% of the fund needs to be used for highpriority works such as drinking watersupply, health, education etc.
Changes introduced by centre
DMFs to prepare a five-year perspectiveplan (based on a baseline survey throughuniversities or renowned organisations) toensure systematic development of thearea affected by mining-related activities.
Rest 40% can be used in other prioritywork such as physical infrastructure,irrigation etc.
CLICK HERE FOR FULL CURRENT AFFAIRS (Only for Course Members)
National Emblem
Prime Minister Sri Narendra Modi has unveiled the national emblem that has been placed atop new Parliament.
About:
It is an adaptation of Lion Capital of Asoka at Sarnath.
It was adopted on January 26, 1950.
In the original, four lions are mounted back-to-back on a circular abacus, which rests on abell-shaped lotus (omitted later on).
Frieze of abacus has sculptures of an elephant, a galloping horse, a bull, and a lion separatedby intervening Dharma Chakras.
CLICK HERE FOR FULL CURRENT AFFAIRS (Only for Course Members)
::INTERNATIONAL::
World Population Prospects 2022 report 
India is projected to surpass China as the world's most populous country next year. According to the report, India's population stands at 1.412 billion in 2022, compared to China's 1.426 billion.
About:
India, which will surpass China as the world's most populous nation by 2023, is projected to have a population of 1.668 billion in 2050, way ahead of China's 1.317 billion people by the middle of the century.
The report, compiled by the United Nations Department of Economic and Social Affairs, Population Division, notes that the global population is projected to reach 8 billion on November 15, 2022. The global population is growing at its slowest rate since 1950, having fallen under one per cent in 2020.
The latest projections by the United Nations suggest that the world's population could grow to around 8.5 billion in 2030 and 9.7 billion in 2050. It is projected to reach a peak of around 10.4 billion people during the 2080s and to remain at that level until 2100.
CLICK HERE FOR FULL CURRENT AFFAIRS (Only for Course Members)
James Webb Space Telescope
NASA unveiled images from the James Webb Space Telescope, the largest and most powerful orbital observatory ever launched.
About:
The pictures, designed to peer farther than before with greater clarity to the dawn of the universe, were hailed by NASA as milestone marking a new era of astronomical exploration.
Nearly two decades in the making, the $9 billion infrared telescope was launched on December 25, 2021. It reached its destination in solar orbit nearly 1 million miles from Earth a month later.
The crowning debut image was a "deep field" photo of a distant galaxy cluster, SMACS 0723, revealing the most detailed glimpse of the early universe recorded to date.
Among the other Webb subjects were two enormous clouds of gas and dust blasted into space by stellar explosions to form incubators for new stars — the Carina Nebula and the Southern Ring Nebula, each thousands of light years away from Earth.
CLICK HERE FOR FULL CURRENT AFFAIRS (Only for Course Members)
::ECONOMY::
India's move on rupee settlements may help trade with Russia
India's central bank this week introduced a new mechanism for international trade settlements in rupees, aiming to promote exports and facilitate imports.
To settle international trade transactions in rupees, a foreign bank will need to open a vostro account – an account that a correspondent bank holds on behalf of another bank – with an authorised Indian bank.
About:
Indian banks would need prior approval from the Reserve Bank of India to act as correspondent banks. Indian importers of goods or commodities such as oil or coal would make payments to these accounts in rupees. 
The accounts could then be used to pay Indian exporters in the local currency. Surplus from vostro accounts could be used to invest in government bonds, and payment for projects and investments.
Exporters' bodies said RBI's move would help support trade with countries under sanctions, mainly Russia and Iran, and with African and South American countries – and neighbouring Sri Lanka – that have little access to hard currencies. 
The RBI has not however explicitly named countries for which new mechanism could be used. 
CLICK HERE FOR FULL CURRENT AFFAIRS (Only for Course Members)
::SCIENCE AND TECHNOLOGY::
Bacillus thuringiensis israelensis
It is a strain of bacteria developed by ICMR that kills mosquito and black fly larvae withoutharming other animals.
Key findings: 
When ingested by mosquito larvae, the bacterial toxins destroy their gut within 10-30 minutesupon ingestion.
Bti is a naturally occurring bacterium found in soils and has been in use for decades for mosquitocontrol.
Bti has no toxicity to people and is used for pest control in organic farming operations.
It can aid in India's fight against vector-borne diseases such as malaria, filariasis, Japanese encephalitis, dengue, chikungunya etc.
CLICK HERE FOR FULL CURRENT AFFAIRS (Only for Course Members)