Current Affairs for IAS Exams - 14 January 2020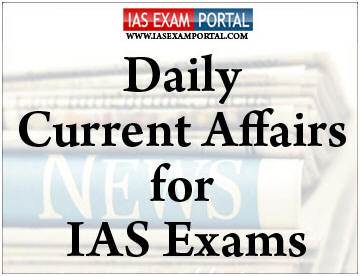 ---
Current Affairs for IAS Exams - 14 January 2020
---
::NATIONAL::
Supreme court begins hearing of pleas regarding discrimination against women at religious places
The Supreme Court on Monday commenced hearing on issues related to discrimination against women in various religions and at religious places including Kerala's Sabarimala Temple. A nine-judge bench headed by Chief Justice S A Bobde said that it was not considering review pleas in the Sabarimala case.

The apex court had on November 14 asked a larger bench to re-examine various religious issues, including the entry of women into the Sabarimala Temple and mosques and the practice of female genital mutilation in the DawoodiBohra community.

While the five-judge bench unanimously agreed to refer religious issues to a larger bench, it gave a 3:2 split decision on petitions seeking a review of the apex court's September 2018 decision allowing women of all ages to enter the Sabarimala shrine in Kerala.

A majority verdict by then Chief Justice RanjanGogoi and Justices A M Khanwilkar and InduMalhotra decided to keep pending pleas seeking a review of its decision regarding entry of women into the shrine, and said restrictions on women in religious places was not restricted to Sabarimala alone and was prevalent in other religions as well.
PM launches projects worth Rs600cr for port development
The Kolkata Port has been renamed as Shyama Prasad Mukherjee Port. The Prime Minister Mr.NarendraModi announced this in Kolkata today on the occasion of 150th years celebrations of the Kolkata Port Trust. Mr.Modi launched several Port led development projects worth Rs 600 cr rupees to mark the day.

The projects include upgraded Ship repair facility at NetajiSubhash Dry Dock, upgraded railway insfrascture of Kolkata dock system of the Kolkata Port for smooth cargo movement and river front development scheme. Speaking on the occasion, the Prime Minister said that the Government has taken up plans for expansion of inland waterways connectivity through integrated transport policy.

He said that the centre is modernizing old Ports and developing new Ports through Sagarmala project. Mr.Modi also advocated for expansion of water based tourism in the country besides creating new infrastructures in Port connected cities.

On the occasion Prime Minister released a commemoratives stamp on 150th years of the Kolkata Port Trust. He also honored two oldest pensioners of the Port Smt. NaginaBhagat of 105 years and 100-year old Mr.Naresh Chandra Chakraborty on the occasion besides launching the Port Anthem at the event.

Our Kolkata correspondent reports that the Prime Minister handed over a cheque of 501 crore Rupees to the chairman of LIC Mr. M.R. Kumar towards final installment to meet deficit of pension funds of the Kolkata Port Trust.
::ECONOMY::
Revenue department uses data analytics to detect GST frauds
The Department of Revenue has identified 931 cases of fraudulent GST refund claims through data analytics and has now tasked the GST data analytics wing to scrutinise all past and pending refund claims filed all over the country for inverted duty structure, sources said.

Refunds of over Rs 28,000 crore are said to have been filed by over 27,000 taxpayers so far on account of inverted duty structure in the current financial year.

The sources said such identified taxpayers who have purchased goods from tax-evading non-filers would face verification and scrutiny as necessary.

The highest number of such fraud cases have been booked in Kolkata zone, followed by Delhi, Jaipur and Panchkula (Haryana), the sources said adding that a recently detected fraud by central tax authorities in Delhi, involving GST refund for inverted duty structure, was deliberated at the 2nd National Conference on GST last week.

It was also through data analytics that recently, GST formations have identified a few exports with 'star' status that were fraudulently availing IGST refund and were untraceable at their registered addresses.

The GST data analytics wing has been able to identify all such cases involving fake invoicing and fraudulent tax credits, which have been encashed through the facility of IGST refunds, the sources said.
Kharif crops likely to decline due to erratic weather
The production of coarse grains, pulses, oil seeds and sugarcane is expected to decline in the summer season of 2019-20 due to late monsoon and erratic and heavy rains later, according to a report.

In the current assessment, coarse grains, pulses, oil seeds and sugarcane have marginally pushed themselves further in the negative region with an expected decline of 14.14 per cent, 14.09 per cent, 53.31 per cent and 11.07 per cent over the last estimate, respectively, according to a report by the National Bulk Handling Corporation (NBHC).

The real deterrent for the kharif crop came with post monsoon rains, which exceeded by 32 per cent and had maximum impact in the northwest region (121 per cent excess) and the central India region (64 per cent excess).

According to the report, rice production in 2019-20 is expected to decline marginally by 8.21 per cent over the last year while maize is expected to decline significantly by about 11.86 per cent over the last year.

In the cash crops, sugarcane output is estimated to drop significantly by 21.98 per cent while cotton is expected to increase marginally by 3.28 per cent owing to favourable growing conditions, it added.
::INTERNATIONAL::
SCO suggest e-com partnership with member states
Vladimir Norov, Secretary General, Shanghai Cooperation Organisation (SCO), Monday said that the member countries of SCO should partner in developing e-commerce in the region as it is rapidly growing and changing the structure of world economy.

Norov said that e-commerce provides opportunities for companies to expand their markets, scale up their businesses, reduce transaction cost through economies of scale and more efficient use of capital, as well as to create new jobs.

Further, he said that globalisation process despite the rise of some restrictive trade practices has opened up great opportunities for the growth of developing countries and SCO can play a key role in facilitating and boosting international trade.

VikasSwarup, Secretary West, Ministry of External Affairs, said that the SCO has emerged as a key regional organisation in the Eurasian space in the past two decades accounting for 40 per cent of the world's population.

Identifying areas of potential cooperation in the region as pharmaceutical, health, hospitality, renewable energy, education, culture, infrastructure, energy and disaster management, Swarup said, "India has emerged as an attractive destination for medical tourism."
China-Myanmar meeting likely to speed up BRI projects
Chinese President Xi Jinping plans to visit Myanmar, a key neighbour of India this week, as Beijing seeks to ramp up support for BRI that will open connectivity in Bay of Bengal. The BRI projects in Myanmar has not received enough local support contrary to Chinese expectations.

This will first visit by a Chinese President to Myanmar in nearly two decades. India will keep a close watch on the visit.

It will be Xi's second visit to Myanmar. He visited the country in 2009 as vice president. During that trip, China and Myanmar signed 16 memorandums of understanding (MOUs) on technical cooperation, the implementation of hydropower projects, the China-Myanmar Oil and Gas twin pipeline project, and the Kyaukphyu SEZ. However, the Kyaukphyu project has been delayed due to domestic opposition.

Myanmar joined the BRI in 2018 by signing a 15-point MOU establishing the CMEC. Utilizing the interconnected transportation infrastructure of China and Myanmar, the 1,700-kilometer CMEC will run from Kunming in China's Yunnan Province through Shan State's Muse to Mandalay in central Myanmar, and then branch out to Yangon and the Kyaukphyu Special Economic Zone (SEZ) in western Rakhine State.

During his trip in December, Foreign Minister Wang told Aung San SuuKyi that China is willing to work with Myanmar to promote the CMEC from the planning stage to construction of the landmark project.
::SCIENCE & TECHNOLOGY::
Australian bushfires puts Koalas in endangered list
The Australian Koalas population suffered an extraordinary hit in the bush fires of Australia. It took 3 months for the firemen to control the fires.

Australia recorded 2019 as its hottest year on record. Around 1.25 billion animals are believed to be dead in bush fires. It has also destroyed more than 10 million hectares of land.

The Australian Koalas are to be put under "endangered" from "vulnerable" as 30% of their habitat were destroyed by the fires.The Australian Government has announced 50 million Australian Dollars emergency fund to save the wildlife affected due to the fires.

The Australian Koalas is herbivorous animals that are native to Australia. They are found in coastal areas of New South Wales, Queensland, Victoria and South Australia.

The Indian Ocean Dipole was in its positive phase in 2019. This means, the eastern Indian Ocean (lying in the north west of Australia) was cooler thanthe western Indian.

This drew away the moisture from Australia raising temperatures in Australia. The westerlies blowing hot air into the continent increased the fires further fanning them.
::SPORTS::
HarmanpreetKaur to lead Indian team for T- worldcup
Harman PreetKaur-led India squad was announced in Mumbai today for the ICC Women's T20 World Cup in Australia, starting on 21st February. Bengal's rookie bats woman RichaGhosh was the only new face in a 15-member team.

15-year-old Haryana schoolgirl ShafaliVerma will also be playing her first global meet following some good performances at the international level in her first season.

The selectors also announced a 16-member squad for a tri-series in Australia prior to the T20 World Cup, with NuzhatParveen being added as the 16th member. That tournament starts on January 31 and also features England.