Current Affairs for IAS Exams - 14 January 2021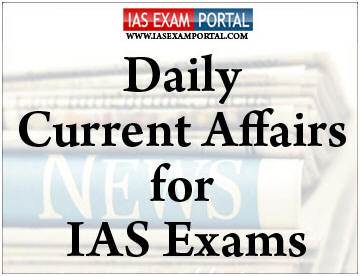 ---
Current Affairs for IAS Exams - 14 January 2021
---
::NATIONAL::
Sugarcane farmers demand timely payment of FRP, SAP from mills
Farmers in Maharashtra and Uttar Pradesh are gearing up to agitate against mills demanding timely payment of Fair and Remunerative Price (FRP) and State Advised Price (SAP).
The sugar millers claimed that higher FRP and SAP leads to rising cane price payment arrears. 
Sugarcane farmers in Maharashtra have demanded that sugar mills must pay FRP in one go.
About:
According to the Indian Sugar Mill Association (ISMA), one of the main reasons for cane price payment arrears is high FRP set by the Centre. 
Millers said that they are facing a tough financial situation, as there is no correlation between the revenue generated by mills and the cost incurred in the production of sugar.
The FRP is based on the cost of production of sugarcane and an element of assured profit as to cover the risk of sugarcane farmers. 
According to ISMA, the mark up above the cost of production of sugarcane, at an all-India average basis, is as high as 100 per cent over the cost of producing sugarcane.
Millers claimed the Minimum Selling Price (MSP) has been revised only once back in February, 2019 to ₹31/kg. The government has increased the FRP for sugarcane from October, 2020 but not the MSP. 
The Centre increased the FRP by ₹10 to ₹285 per quintal for a basic recovery of 10 per cent for the current season.
NITI Aayog, along with various States, have requested for a hike in the MSP to ₹33-36 per kilo, to facilitate timely payment to farmers.
Some States including Uttar Pradesh declare SAP for sugarcane considering the cost of production and productivity levels. The SAP is generally higher than the FRP.
National Youth Day
12th January is celebrated as National Youth Day to commemorate Swami Vivekananda's birth anniversary.
He became an inspirer of India's dormant national consciousness owing to his address at the Parliament of the World's Religions, 1893.
He established the Ramakrishna Math in Belur (1897) to spread the teachings of Vedanta (monism) and to improve the social conditions of commoners.
CLICK HERE FOR FULL CURRENT AFFAIRS (Only for Course Members)
::INTERNATIONAL::
India proposed an 8-point action plan at the UNSC
Indian foreign minister S Jaishankar Tuesday proposed an 8-point action plan at the UNSC.
The objective is aims to ensure effective action against the menace of terrorism. Even without naming either Pakistan or China, the minister slammed the former for aiding terrorism and took a dig at the latter as he said that there can be no double standards on the issue of terrorism and that the practice of blocking requests for designation of terrorists "without any rhyme or reason" had to end.
China had earlier at least on 4 occasions blocked a UN ban on JeM chief Masood Azhar even though he headed an organisation already designated by a UNSC sanctions committee.
In an intervention at a UNSC debate on combating international terrorism, Indian foreign minister called upon the Council to first summon up the political will to combat terrorism, saying there must be no ifs and buts in this fight. "Nor should we allow terrorism to be justified and terrorists glorified. 
All memberStates must fulfill their obligations enshrined in international counter terrorism instruments and conventions.
It was important to not countenance double standards in this battle as there are no good or bad terrorists. He said those who propagate this distinction have an agenda and those who cover up forthem are just as culpable.
He called for a reform of the working methods of committees dealing with sanctions and counter terrorism, saying transparency, accountability and effectiveness were the need of the day. He said blocking listing requests only eroded the collective credibility of the members.
It must firmly discourage exclusivist thinking that divides the world and harms our social fabric. 
US, India differ in 3D printing adoption
A new study finds that while US firms tend to acquire 3D printing technologies more than Indian ones, they fall behind in the actual application of these methods in production.
About the study:
The study, by Mengli Zhao and others from China's Jiao Tong University, is based on a 2017 survey of over 600 professionals in product development and 27 firm managers.
The use of 3D printing in manufacturing is picking up as it improves sustainability. 
The technology uses less energy and produces less waste than traditional methods. It also allows manufacturing to be done on demand, so less space is needed to store inventory.
One reason why US firms are keener on acquiring 3D printing technology is that they are more aware of it. 
Only 30% of Indian executives in the survey knew about 3D printing, compared to 77% of American executives. 
CLICK HERE FOR FULL CURRENT AFFAIRS (Only for Course Members)
Economy
RBI forms working group on digital lending
The Reserve Bank of India (RBI) has constituted a working group on digital lending — including online platforms and mobile apps — to study all aspects of digital lending activities in the regulated financial sector as well as by unregulated players.
This is to ensure that an appropriate regulatory approach is put in place.
Digital lending has the potential to make access to financial products and services more fair, efficient and inclusive. 
The working group consists of both internal and external members. 
The working group will evaluate digital lending activities and assess the penetration and standards of outsourced digital lending activities in RBI regulated entities; identify the risks posed by unregulated digital lending to financial stability, regulated entities and consumers; and suggest regulatory changes to promote orderly growth of digital lending.
It will also recommend measures for expansion of specific regulatory or statutory perimeter and suggest the role of various regulatory and government agencies. It will also recommend a robust fair practices code for digital lending players.
Science and Technology
Scientists produce electron gas with ultra-high mobility
Recently, Institute of Nano Science and Technology (INST), an autonomous institution of Department of Science and Technologyhave produced electron gas with ultra-high mobility.
2d-electron gas (2DEG) is an electron gas with ultra-high mobility, which can speed up transfer of quantum information and signal from one part of a device to another and increase data storage and memory.
Strong spin-orbit coupling and relativistic nature of the electrons in the 2DEG resulted in Rashba field.
Rashba effect consists of splitting of spin-bands in an electronic system, might play a key role in spintronic devices.
Due to the high mobility of the electron gas, electrons do not collide inside the medium for a long distance and hence, do not lose the memory and information.
CLICK HERE FOR FULL CURRENT AFFAIRS (Only for Course Members)
::Miscellaneous ::

 
Kalaripayattu
Kalaripayattu is set to see a surge in popularity with the establishment of an academy in the Kerala capital.
Kalaripayattu is a Martial art which originated as a style in Kerala during 3rd century BC to the 2nd century AD.
There are also plans to link the academy with the Dance Training College that is also part of the Crafts Village. 
Classes will be organised in such a way that training in Kalaripayattu will help those learning dance.
Other martial arts of India: 
Tamil Nadu: Silambam&KuttuVarisai; 
Manipuri: Thang-Ta (HuyenLanglon) andSarit Sarak ;
Himachal Pradesh: Thoda; 
Punjab: Gatka; 
Bengal: Lathi Khela; 
Maharashtra: Mardaani Khel,Mallakhamba; 
J&K: Squay.
CLICK HERE FOR FULL CURRENT AFFAIRS (Only for Course Members)