Current Affairs for IAS Exams - 14 February 2021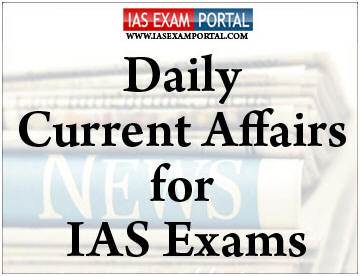 ---
Current Affairs for IAS Exams - 14 February 2021
::NATIONAL::
India's First Retrofitted CNG Tractor
Minister for Road Transport and Highways launched country's first-ever diesel tractor converted to Compressed natural gas (CNG) tractor.
It promises lower running costs (can reportedly save over Rs.1 lakh annually on fuel costs), lesser emissions, reduced cost of maintenance.
The Union Minister also stressed on the point that CNG is priced at ₹ 42.70 per kg compared to diesel which is priced at ₹ 78.38 per litre in Delhi, making the former a more economical choice. Details regarding the performance and other specifications of the tractor post conversion to CNG were not revealed
CNG is odourless, tasteless and non-toxic, clean fuel and is made up of 96% of methane, and traces of nitrogen, carbon dioxide, propane etc.
It is economical as it has zero lead and is non-corrosive, non-dilutive and non-contaminating which helps in increasing the life of the engine.
Mahatma Gandhi National Fellowship
The Union Minister of Skill Development and Entrepreneurship rolling out of the Mahatma Gandhi National Fellowship (MGNF).
The two-year academic programme comes with an in-built component of on-ground practical experience with the district administration. 
The fellows under MGNF will acquire academic expertise and technical competency in understanding the overall skill ecosystem along with being attached to DSCs and help them manage the skill development planning at district level through the mechanism of formulating District Skill Development Plans (DSDPs).
With the successful launch of MGNF in the first pilot (MGNF) which had 69 fellows working across 69 districts, the Ministry is now expanding MGNF to all remaining districts in the country.
CLICK HERE FOR FULL CURRENT AFFAIRS (Only for Course Members)
::INTERNATIONAL::
Mario Draghi 
Former European Central Bank chief Mario Draghi will be sworn as Italy's new prime minister.
The 73-year-old, known as Super Mario for doing "whatever it takes" to save the eurozone, has put together a national unity government involving almost all Italy's political parties.
He was parachuted in by President Sergio Mattarella after the previous centre-left coalition under premier Giuseppe Conte collapsed, leading Italy rudderless at a critical time.
Italy is battling the pandemic that hit one year ago, leaving more than 93,000 people dead and triggering the country's deepest recession since World War II.
Draghi has spent the last 10 days assembling a broad-based coalition and on Friday night formally accepted the post of prime minister in a meeting with Mattarella.
Catalonia
Catalonia voted in an election overshadowed by the pandemic and which Madrid hopes will unseat the region's ruling separatists more than three years after a failed bid to break away from Spain.
The vote in the wealthy northeastern region could see a high level of abstentions as Spain battles a third wave of coronavirus infections.
Polls suggest turnout could be around just 60 percent, compared to roughly 80 percent during the last regional election in December 2017. Some 5.5 million people are eligible to vote.
::ECONOMY::
IIP grows by 1% after temporary blip in November
Index of Industrial Production (IIP) turned positive again for December after contracting by 1.9 per cent in November.
IIP is an index that tracks manufacturing activity in different sectors of an economy.
Manufacturing, Mining and Electricity are the three broad constituents of IIP, with weightage of 77.63 per cent, 14.37 per cent and 7.99 per cent respectively.
Electricity, crude oil, coal, cement, steel, refinery products, natural gas, and fertilisers are the eight core industries that comprise about 40% of the weight of items included in IIP.
IIP data is compiled and published by Central Statistical Organisation (under Ministry of Statistics and Programme Implementation) monthly. IIP base year is 2011-12.
::SCIENCE AND TECHNOLOGY::
NetWire
Activist Rona Wilson, imprisoned since June 2018 in connection with the case of violence against Bhima Koregaon, filed a petition in the Bombay High Court requesting the suspension of the proceedings against her.
About:
Her petition concerned a report prepared by Arsenal Consulting, a Massachusetts-based forensic consulting firm,which was hired by Mr.Wilson'sdefense team.
The Arsenal Consulting report said that Mr. Wilson's computer was under control for 22 months by an attacker whose aim was to transfer incriminating documents to his computer, which formed the basis of the case against him.
What is NetWire?
NetWire, which first appeared in 2012, is known malware. It is also one of the most active malware around.
It is a remote access trojan, or RATthat allows an attacker to gain control of the infected system. 
Such malware can log keystrokes and compromise passwords. 
Malware can essentially do two things. One of them is data exfiltration, which is the stealing of data. Most antivirus programs are designed to prevent this from happening, which has proven to be far more difficult for antivirus software.
NetWire is described as off-the-shelf malware while Pegasus, which used a bug in WhatsApp to infiltrate users' phones in 2019, is custom. manufactured and sold to nations.
CLICK HERE FOR FULL CURRENT AFFAIRS (Only for Course Members)