Current Affairs for IAS Exams - 14 March 2020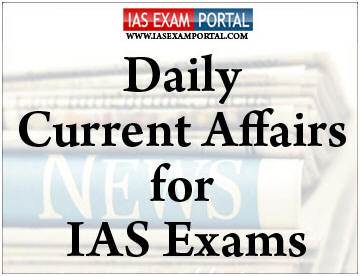 ---
Current Affairs for IAS Exams - 14 March 2020
---
::NATIONAL::
Government notifies new POCSO rules with stringent punishments
The Centre has notified the Protection of Children from Sexual Offences Rules, 2020 which enables implementation of recent amendments to the Act under which provisions of punishment for child abuse has been made more stringent.
Some of the significant additions in the new rules include provision of mandatory police verification of staff in schools and care homes, procedures to report sexual abuse material (pornography), imparting age-appropriate child rights education among others.
For crackdown on child pornography, the rules state that any person who has received any pornographic material involving a child or any information regarding such pornographic material being stored, possessed, distributed, circulated, transmitted, facilitated, propagated or displayed, or is likely to be distributed, facilitated or transmitted in any manner shall report the contents to the Special Juvenile Police Unit (SJPU) or police, or the cybercrime portal.
The rules said, the report shall include the details of the device in which such pornographic content was noticed and the suspected device from which such content was received including the platform on which the content was displayed.
Under the rules, the State Governments have been asked to formulate a child protection policy based on the principle of zero-tolerance to violence against children, which shall be adopted by all institutions, organizations, or any other agency working with, or coming in contact with children.
Under the new rules, any institution housing children or coming in regular contact with children, including schools, creches, sports academies or any other facility for children must ensure a police verification and background check on periodic basis of every staff.
Government notifies masks and sanitisers as essential commodities
Masks and hand sanitisers have been declared as essential commodities due to their shortage in the wake of the COVID-19 outbreak.
On Friday, the Centre notified an order under the Essential .....................................................
CLICK HERE FOR FULL CURRENT AFFAIRS (Only for Course Members)
::ECONOMY::
Rupee rebounds post RBI intervention
The rupee made a sharp recovery after touching a record low of 74.50 a dollar in early trade following intervention and assurance of liquidity by the Reserve Bank of India.
The rupee opened weak at 74.39 a dollar compared with the previous close of 74.24 and then touched the day's low of 74.50. The previous record low was on October 9, 2018 when the rupee closed the day at 74.39 a dollar.
On Friday, the rupee closed the day at 73.80 a dollar, up 44 paisa from its previous close.
The turbulence in the financial market steered the central bank into making a statement, saying it would take steps to ensure adequate liquidity and that the situation was being monitored closely.
Markets around the globe are facing volatility due to risk aversion; investors are holding liquidity even as COVID-19 keeps spreading. Trading was halted in the domestic equities market after hitting their lower circuits on Friday.
"The Reserve Bank of India is closely and continuously monitoring the rapidly evolving global situation and will take all necessary measures to ensure that money, debt and forex markets remain adequately liquid and stable, and continue to function normally," the RBI said.
On Thursday, the RBI announced that it would open a six-month dollar sell-buy swap window to pump in liquidity in the foreign exchange market. The central bank will conduct U.S. dollar-rupee sell-buy swaps worth $2 billion on March 16, to 'begin with,' in its effort to fight market volatility.
The central bank observed mismatches in the U.S. dollar liquidity had become accentuated across the world but added that the level of foreign exchange reserves remained at comfortable levels to meet any exigency. Latest data released by the RBI showed the country's foreign exchange surged $5.69 billion to reach an all-time high of $487.23 billion in the week to March 6 due to an increase in foreign currency assets.
Centre approves reconstruction scheme for YES bank
The Union Cabinet has approved a reconstruction scheme for Yes Bank as proposed by the Reserve Bank of India. Giving details about the scheme after the Cabinet meeting, Finance Minister Nirmala Sitharaman said that ....................................
CLICK HERE FOR FULL CURRENT AFFAIRS (Only for Course Members)
::INTERNATIONAL::
SAARC leaders agree upon joint strategy to combat COVID-19
Leaders of SAARC nations today endorsed Prime Minister Narendra Modi's proposal to chalk out a joint strategy to combat the coronavirus outbreak, promising their complete support towards the collective effort against the pandemic.
Prime Minister of Bhutan Lotay Tshering said it is what we call leadership. He said, he has no doubt that under Prime Minister Narendra Modi's leadership the region will see the immediate and impactful outcomes. He said, as members of this region, nations must come together in such times.
Mr Tshering said, smaller economies are hit harder, so SAARC nations must coordinate. Replying to Mr Modi in a tweet, he said, with Mr Modi's leadership, he has no doubt the nations will see the immediate and impactful outcomes. He said, he is looking forward to the video conference.
Sri Lankan President Gotabaya Rajapaksa said that his country is ready to join the discussion and share its learnings and best practices to combat the outbreak. He called upon leaders to unite in solidarity during these trying times and keep our citizens safe.
Nepal Prime Minister K P Sharma Oli welcomed the idea advanced by Mr Modi, for chalking out a strong strategy by the leadership of the SAARC nations to fight Coronavirus. Mr Oli said, his government is ready to work closely with the SAARC Member States to protect the citizens from this deadly disease.
WHO claims Europe as epicenter of Pandemic
The World Health Organization said on Friday that Europe was now the "epicentre" for the global coronavirus pandemic — and warned it was impossible to know when the outbreak would peak.
The continent had now "more ....................................
CLICK HERE FOR FULL CURRENT AFFAIRS (Only for Course Members)
::SCIENCE & TECHNOLOGY::
Scientists develop new solar receiver tube technology
Scientists from ARCI-International Advanced Research Centre for Powder Metallurgy and New Materials operating under DST (Department of Science and Technology), Ministry of Science & Technology have developed cost effective solar receiver tube technology.
The tubes developed absorbs solar energy and converts the heat to required application. They provide high resistance to corrosion especially to Indian weather conditions.
The Technology is a wet chemical process that is used to coat stainless steel tubes that are used in industrial heat applications.
The tubes manufactured by this technology absorbs 93% of radiant energy and 14% of emittance. Emittance is the amount of light emitted by an area of a radiating surface.
The invention of the technology is highly important as the Indian Industries are currently importing high end Concentrating Solar Panel receivers for CST (concentrating solar Technologies). The technology will help India achieve its solar energy target of 100 GW by 2022.
::SPORTS::
India-South Africa remaining matches cancelled due to COVID-19
The two remaining India-South Africa One Day Internationals in Lucknow and Kolkata have been called off owing to the COVID-19 threat as the country's sports calendar continued to go haywire because of the global pandemic.
The Board Secretary Jay Shah ....................................................
CLICK HERE FOR FULL CURRENT AFFAIRS (Only for Course Members)