Current Affairs for IAS Exams - 14 November 2017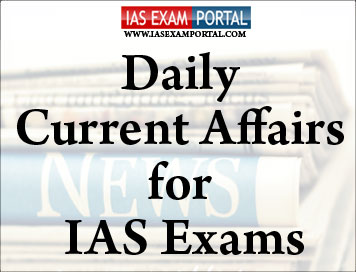 Current Affairs for IAS Exams -14 November 2017
::NATIONAL::
Allegations against CJI are "scurrilous and per se contemptuous"
The allegations levelled against Chief Justice Dipak Misra are "scurrilous and per se contemptuous", observed one of the judges hearing petitions by the Campaign for Judicial Accountability and Reforms and advocate Kamini Jaiswal in the Supreme Court in the medical college bribery case.
These petitions have caused damage to the court, said Justice Arun Mishra in an oral observation during the hearing by a three-judge Bench
"The petitions [have] scandalised this great institution. The damage has already been done. Everybody is doubting the Supreme Court that too, merely on the basis of rumours spread. How do we repair this damage?" he said.
Justice Mishra is part of a Special Bench led by Justice R.K. Agrawal, and also comprising Justice A.M. Khanwilkar, which heard Ms. Jaiswal's petition for an SIT investigation into an alleged conspiracy to bribe Supreme Court judges for a favourable outcome in a pending case of a debarred private medical college. Ms. Jaiswal's petition draws its facts from an FIR registered by the CBI in the case.
"The court is in a crisis," Attorney-General K.K. Venugopal agreed with Justice Mishra. Clarifying that he represented neither the Centre nor the CBI, Mr. Venugopal said the petitions have caused deep distress in the Supreme Court. They have created a split in the judiciary and in the Bar. "There is a crisis of confidence," he said.
The only way to repair the damage, he added, would be for Ms. Jaiswal to apologise and withdraw the petition. The Bench reserved its order on the maintainability of Ms. Jaiswal's petition and indicated it would pass an order on November 14 itself.
Lakshadeepotsava festival
The week-long Lakshadeepotsava celebrations were off to a colourful start at the temple town of Dharmasthala in the Hosakatte Utsava.
The entire Dharmasthala was illuminated to celebrate the festival even as a troupe of 10,000 devotees reached the abode of Manjunatha by Padayatra from Ujire
Liquor sale ban exemption applies to all municipal areas too
The Supreme Court orally observed that its July 11 order exempting the December 2016 ban on sale of liquor within 500 metres along national and States highways applies to all municipal areas across the country.
The court was hearing a plea by the Tamil Nadu government for clarification on the ambit of the July 11 order of the apex court. The SC had explained in the July 11 order that the ban only extended along and in proximity of highways which provide connectivity between cities, towns and villages.
The State government had come to the apex court after the Madras High Court raised doubts whether the exemption granted to municipal areas in the July 11 order pertained to only municipal areas in Chandigarh and none other.
The question had popped up in the HC because the petitioner in the case was an NGO based in Chandigarh called Arrive Safe Society.
::INDIA AND WORLD::
India is the largest contributor to global peacekeeping-Modi
Highlighting India's role in the Indo-Pacific region, Prime Minister Narendra Modi spoke of Lord Buddha and Mahatma Gandhi's tradition of peace, a day after Indian officials joined the quadrilateral grouping that includes Australia, Japan and the United States.
In a meeting with the non-resident Indian community, Mr. Modi said that India has sacrificed lives for the peace of the world even as he informed U.S. President Donald Trump that India will play a role for the welfare of humanity.
"History does not show us a single incident in which India has done bad things to anyone. During the World War I and the World War II, we did not have any territorial ambition, yet more than 1.5 lakh soldiers of my country sacrificed lives in quest for peace. Because of this sacrifice, any Indian can say with pride that we contribute to the world and do not take anything from the world. For India, the land of Buddha and Gandhi, peace is not just a word, peace is in our veins. And, we certainly have never snatched anything from anybody in the past," said Prime Minister Modi.
Mr. Modi's comment sets the backdrop of the quadrilateral dialogue that is being interpreted as a move to counter China's growing might, though Indian officials have strongly stated that they do not wish to target any country through this mechanism.
Mr. Modi indicated India's growing ambition to emerge as a global peacekeeping and peace-enforcing power reminding that India recognises the need for peace in the global order.
"If any country in the world is the largest contributor to global peacekeeping, then it is India. In many restive areas of the world, Indian peacekeepers are present," he said. Interacting with the media, the Foreign Secretary said that peacekeeping in the Southeast Asian region is for the United Nations to decide.
::INTERNATIONAL::
China expresses its willingness for an inclusive dialogue
China proposed an inclusive dialogue among all countries in the Indo-Pacific area, following fledgling attempts to form a quad group comprising India, the United States, Australia and Japan.
Rejecting a Cold War mindset, Chinese Foreign Ministry spokesperson Geng Shuang said: "I think all relevant parties can put forward their vision and proposal on how to develop cooperation between the countries and regions. I hope this kind of proposal and vision can correspond to with the trend and correspond with the trend of the world."
"The relevant proposal (of forming the Indo-Pacific quad) should be open and inclusive and... avoid politicising or excluding some relevant parties," Mr. Geng observed.
During a visit to China, U.S. President Donald Trump had rejected the doctrine of 'containment' of China, and signalled that Washington and Beijing will be the main pillars of a more inclusive international system.
::HEALTH::
Diabetes has a major impact on pregnancy
\
Difficulty in conceiving, miscarriages, malformed babies, and an overall poor outcome in pregnancies, are the major impacts of diabetes in women. With a very evident neglect of health issues faced by women, experts say that gestational and pre-gestational diabetes thus presents a much greater risk.
Given the need of the hour to put forth this issue, this year's theme for World Diabetes Day is fittingly 'Women and Diabetes — Our Right to a Healthy Future'.
According to the International Diabetes Federation (IDF), one in 10 women are living with diabetes, many of whom do not have access to healthcare and lack awareness about the disease.
An even bigger problem is diabetes during pregnancy or uncontrolled diabetes before pregnancy — one is seven births is affected by gestational diabetes. Diabetes is also the ninth leading cause of death in women globally, causing 2.1 million deaths per year.
Most experts observe that women seek help only when complications arise.
::ENVIROMENT::
Environment friendly use of Stubble
With stubble burning being held responsible for raising pollution to dangerous levels in the National Capital Region, over 50 villages in Meerut in western Uttar Pradesh have started an environment-friendly initiative.
They have stopped burning crop residue, paddy waste and sugarcane leaves; and instead have started making organic manure from the remains. In the process, in the past one year alone, they prevented 2,250,000 kg of carbon dioxide from being released in the environment.
Over 250 farmers from 50 villages in Meerut division came up with a model that uses large quantities of paddy waste and sugarcane leaves to make rich quality of organic manure in a compost pit.
Climate changes takes toll on many UNESCO natural sites
Climate change imperils one in four UN-listed natural heritage sites, including coral reefs, glaciers, and wetlands — nearly double the number from just three years ago, a report said on Monday.
The number of UNESCO natural sites at risk has grown to 62 from 35 in 2014, when one in seven were listed, according to the International Union for Conservation of Nature (IUCN), which released the report at UN climate talks in Bonn, Germany.
Among the ecosystems most threatened by global warming are coral reefs which bleach as oceans heat up, and glaciers which melt.
The report found that 29% of UNESCO natural sites faced "significant" threats, and 7% — including the Everglades National Park in the United States and Lake Turkana in Kenya — had a "critical" outlook.
Three World Heritage-listed coral reefs — the Aldabra Atoll in the Indian Ocean, the Belize Barrier Reef in the Atlantic, and Australia's Great Barrier Reef, the biggest on Earth — have been affected by "devastating" bleaching events over the last three years, said the IUCN report.

::BUSINESS AND ECONOMY::
Brexit will affect the Indian firms
Indian businesses based in the U.K. and looking to do business in Europe must be prepared for additional tariffs, customs duties and product specification due to the repercussions of Brexit, according to a Belgian minister.
Mr. Bourgeois said that he was more optimistic about the India-EU Free Trade Agreement finally being signed since the high-level negotiators are now meeting to hammer out the details, and added that the policy environment in India was favourable.
Agriculture is very sensitive for India, and India wants Europe to open its market for the labour force.
Another sensitive issue was that of investment and arbitration, he said. India-EU could model itself on the Comprehensive Economic and Trade Agreement (CETA) between Canada and Europe, he said.
For SMEs, if they have to pay a lot to get their rights, it can be a very serious hurdle for them," he added. "If Indian companies want to invest in Europe or vice versa, it's a risk, of course, but you should create at least an environment so that if there is a dispute, you have a system of equal protection. This is also a point of discussion.
India could benefit from a technological transfer that would enable it to fully exploit its inland waterways without having to go through the expense and effort of dredging the rivers.
Centre says to Record diplomatic bodies' UIN
The government has clarified that sales or supply to foreign diplomatic missions or UN organisations will not have any additional effect on the supplier's tax liability and so such supplies must be recorded along with the Unique Identification Number (UIN) of the recipient.
This clarification follows several foreign diplomatic missions complaining that their suppliers are refusing to record their UIN during transactions.
"Recording of UIN while making such sales will enable foreign diplomatic missions/UN organisations to claim refund of the taxes paid by them in India," the government added. "Therefore, it is advised that under no circumstance any supplier should decline to record the UIN of the diplomat/official on the tax invoice."
Foreign diplomats posted in New Delhi have complained to the Ministry of External Affairs that the Goods and Services Tax regime had modified the tax-exempt status of the foreign missions, and also that the UIN system meant that a country with an embassy as well as a consulate would have to acquire different UIN numbers for the embassy as well as the consulates.
The diplomats also complained that the UIN system infringed on the confidentiality of diplomatic practices and privacy of foreign diplomats posted in India.
SEBI, banks in talks on debt default
The Securities and Exchange Board of India is in talks with banks to reach accord on getting listed corporates to disclose debt default, less than two months after it withdrew a circular mandating compulsory disclosure.
In August, SEBI said companies must disclose instances of principal or interest default within a day of such default. But on September 30, a day before implementation, SEBI deferred the move
"Banks need further time to examine... because there are various types of debts they give. There's term loans, working capital loans etc. so they just need some more time to examine it," said Mr. Tyagi.
ICICI MF unveiled Bharat 22 ETF
ICICI Prudential Asset Management Company Ltd. has unveiled Bharat 22 ETF, an open-ended exchange traded fund, part of the Centre's disinvestment programme.
The new fund offer will be open Nov. 14-Nov. 17 and aims to raise an initial amount of Rs. 8,000 crore. A discount of 3% on the reference market price of underlying constituents is being offered to all categories of investors.
The ETF mirrors the S&P BSE Bharat 22 Index, which comprises select government-owned companies, stakes held under the Specified Undertaking of the Unit Trust of India (SUUTI) and public sector banks. The total expense ratio of the fund is up to 1 basis point, the lowest in the Indian ETF market, a statement said.