Current Affairs for IAS Exams - 14 April 2021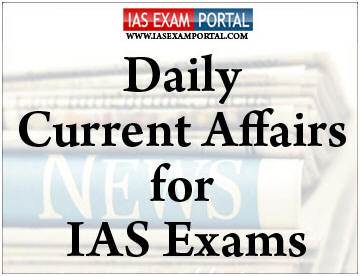 ---
Current Affairs for IAS Exams - 14 April 2021
::NATIONAL::
Redes Vir
Amid a surge in Covid-19 cases, Directorate of Foreign Trade in Ministry of Commerce and Industry issued an order prohibiting export of remdesivir and active pharmaceutical ingredients (APIs) required in its production until further notice.
Remde Siviris an injectable antiviral that aims to prevent replication of the virus (when the virus creates copies of itself, followed endlessly by the copies creating copies of themselves).
It was manufactured in 2014 to treat Ebola, and has since been used to treat SARS and MERS.
In 2020, it was repurposed for Covid treatment.
DIKSHA Portal
According to a recent study, more than half of the NCERT textbooks available on DIKSHA (DigitalInfrastructure forKnowledge Sharing) portal are not accessible for visually impaired students.
DIKSHAis a national platform (Ministry of Education) for school education that is available for the use of all states and UTs of India.
DIKSHA platform is developed for school education, foundational learning programs and to supportinclusive learning for underserved and differently-abled communities of learners and teachers.
Diksha offers textbooks for students across different boards and languages, and training modules for teachers.
CLICK HERE FOR FULL CURRENT AFFAIRS (Only for Course Members)
::INTERNATIONAL::
Thwaites Glacier
Researchers at Sweden's University of Gothenburg are now saying that fears related to Thwaites's melting are worse than previously thought, owing to the supply of warm water flowing underneath at a rate underestimated in the past.
About:
Thwaites Glacier is 120 km wide at its broadest, fast-moving, and melting fast over the years. Because of its size (1.9 lakh square km), it contains enough water to raise the world sea level by more than half a metre.
The studies have found the amount of ice flowing out of it has nearly doubled over the past 30 years.
Thwaites's melting already contributes 4% to global sea level rise each year.
It is estimated that it would collapse into the sea in 200-900 years.
Thwaites is important for Antarctica as it slows the ice behind it from freely flowing into the ocean. Because of the risk it faces — and poses — Thwaites is often called the Doomsday Glacier
Iran unveils advanced nuclear centrifuges
Iran announced has started up advanced uranium enrichment centrifuges in a breach of its undertakings under a troubled 2015 nuclear deal, days after the start of talks on rescuing the accord.
The United States had said it had offered "very serious" ideas on reviving the accord but was waiting for Tehran to reciprocate, something Saturday's move signally failed to do.
President Hassan Rouhani inaugurated the three cascades of 164 IR-6 centrifuges, 30 IR-5 and another 30 IR-6 devices at Iran's Natanz uranium enrichment plant in a ceremony broadcast by state television.
The television aired no images of the injection of uranium hexafluoride gas into the cascades, but broadcast a link with engineers at the plant who said they had started the process.
Iran's latest move to step up uranium enrichment follows an opening round of talks in Vienna Tuesday with representatives of the remaining parties to the nuclear deal on bringing the U.S. back into it.
::ECONOMY::
New Umbrella Entities
The Reserve Bank of India (RBI) is not in favour of having direct and supervisory control over the New Umbrella Entities (NUE) and instead wants agencies such as the National Payments Corporation of India (NPCI) or a newly formed body to take over the role.
About:
The RBI's reluctance to have direct control over NUEs could also signal a soft touch approach by the government, allowing the sector to rapidly.
The control, if given in the hands of NPCI, could raise some protests from newer payment platforms which are already at loggerheads with the agency.
The RBI had released a framework for setting up NUEs, which would be able to carry out various payment services, akin to the ones being provided by the NPCI right now.
The purpose of allowing private companies and entities to apply for a NUE licence was to expand the ambit and coverage of traditional and new financial instruments as well as allow applicants to set up, manage and operate new payment system.
As per the RBI guidelines, the umbrella entity applicants should have a minimum paid-up capital of Rs 500 crore, while no single promoter or promoter group can have more than 40 per cent investment of capital. The NUE should maintain a minimum net worth of Rs 300 crore at all times, said the RBI guidelines.
::SCIENCE AND TECHNOLOGY::
Narrow-Line Seyfert 1
Astronomers have discovered a new active galaxy identified as the farthest gamma-ray emitting galaxy that has so far been stumbled upon.
About:
This active galaxy called the Narrow-Line Seyfert 1 (NLS1) galaxy, which is about 31 billion light-years away, opens up avenues to explore more such gamma-ray emitting galaxies that wait to meet us.
Ever since 1929, when Edwin Hubble discovered that the Universe is expanding, it has been known that most other galaxies are moving away from us. Light from these galaxies is shifted to longer (and this means redder) wavelengths - in other words, it is red-shifted. Scientists have been trying to trace such red-shifted galaxies to understand the early Universe.
Scientists from ARIES, an autonomous institute of the Department of Science & Technology (DST), Government of India, in collaboration with researchers from other institutions, studied around 25,000 luminous Active galactic nuclei (AGN) from the Sloan Digital Sky Survey (SDSS), a major optical imaging and spectroscopic survey of astronomical objects in-operation for the last 20 years and found a unique object that emits high-energy gamma rays located at a high redshift (more than 1).
They identified it as a gamma-ray emitting NLS1 galaxy, which is a rare entity in space.
 CLICK HERE FOR FULL CURRENT AFFAIRS (Only for Course Members)
::SPORTS::
Hideki Matsuyama
Hideki Matsuyama became the first player from the country to win the Masters Tournament.
About:
Hideki Matsuyamais a Japanese professional golfer who plays on the PGA Tour.
He is the first-ever Japanese professional golfer to win a men's major golf championship – the 2021 Masters Tournament.
Matsuyama became only the second Asian male golfer to win a major following YE Yang's triumph at the 2009 PGA Championship.
Two Japanese women have won Majors too. Hisako Higuchi won the 1977 LPGA Championship, while Hinako Shibuno won the 2019 Women's British Open.