Current Affairs for IAS Exams - 14 October 2021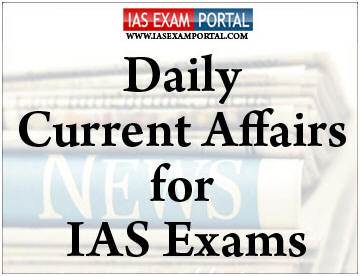 ---
Current Affairs for IAS Exams - 14 October 2021
::NATIONAL::
Centre extends Emergency Credit Line Guarantee Scheme
The government has extended the ₹4.5 lakh crore Emergency Credit Line Guarantee Scheme (ECLGS) till March 31, 2022, to help businesses cope with the pandemic's adverse effects.
About:
ECLGS provides 100% guarantee coverage by National Credit Guarantee Trustee Company to Member Lending Institutions (banks, financial institutions and Non-Banking Financial Companies) on Guaranteed Emergency Credit Line.
The ECLGS was due to expire on September 30 and has helped 1.15 crore micro, small and medium enterprises (MSMEs) so far. 
As on September 24, loans sanctioned under the ECLGS have crossed ₹2.86 lakh crore, with about 95% of the guarantees issued for loans sanctioned to MSMEs.
Following sectors have been covered under ECLGS:
ECLGS 1.0: MSME units, Business Enterprises, Mudra Borrower and individual loans for business purpose.
ECLGS 2.0: 26 stressed sectors identified by Kamath Committee & Healthcare sector.
ECLGS 3.0: Hospitality,Travel & Tourism, Leisure & Sporting and Civil Aviation sector.
ECLGS 4.0: Existing Hospitals/Nursing Homes/Clinics/Medical Colleges/units engaged in manufacturing of liquid oxygen, oxygen cylindersetc.
New Experience Studio at the NITI Aayog Cloud Innovation Center
The National Institution for Transforming India (NITI Aayog), the Government of India's national policy think tank, Amazon Web Services (AWS), and Intel have come together to establish a new experience studio at the NITI Aayog Frontier Technologies Cloud Innovation Center (CIC).
About:
Located in NITI Aayog's New Delhi premises, the studio will be a hub for collaboration and experimentation to enable problem solving and innovation between government stakeholders, startups, enterprises, and industry domain experts.
The studio will help showcase the potential of technologies such as artificial intelligence (AI), machine learning (ML), Internet of Things (IoT), augmented reality and virtual reality (AR/ VR), blockchain, and robotics to accelerate their application in public sector use cases.
The studio will encourage open innovation and serve as a hub for government, healthcare, education, and non-profit startups from India to showcase their solutions.
It will also provide startups with an option to access necessary support to enhance and scale their solutions.
The new experience studio at the NITI Aayog Frontier Technologies CIC, based on the AWS Cloud Innovation Centers program.
It aims to quickly solve public sector challenges through collaboration and actualize innovations from experimentation and prototypes.
CLICK HERE FOR FULL CURRENT AFFAIRS (Only for Course Members)
::INTERNATIONAL::
India support for designating East Antarctica and the Weddell Sea as Marine Protected Areas 
India has extended support for protecting the Antarctic environment and for co-sponsoring the proposal of the European Union for designating East Antarctica and the Weddell Sea as Marine Protected Areas (MPAs) at a high-level ministerial meeting.
About:
The two proposed MPAs are essential to regulate illegal unreported and unregulated fishing. 
India urged the Commission for the Conservation of Antarctic Marine Living Resources (CCAMLR) member countries to ensure that India remains associated with the formulation, adaptation and implementation mechanisms of these MPAs in future.
The proposal to designate East Antarctica and the Weddell Sea as MPAs was first put forth to the CCAMLR in 2020 but could not reach a consensus at that time.
CCAMLR:
CCAMLR is an international treaty to manage Antarctic fisheries to preserve species diversity and stability of the entire Antarctic marine ecosystem. CCAMLR came into force in April 1982. India has been a permanent member of the CCAMLR since 1986.
Work pertaining to the CCAMLR is coordinated in India by the Ministry of Earth Sciences through its attached office, the Centre for Marine Living Resources and Ecology (CMLRE) in Kochi, Kerala.
India and US to set-up joint working group in defence industrial security
The Industrial Security Agreement (ISA) summit between India and the United States was held at New Delhi. 
The summit was organised to develop protocol for the exchange of classified information between the defence industries of both the nations. 
Key highlights:
Held to develop protocol for exchange of classified information between defence industries of both countries
In-principle agreement to establish Indo-US Industrial Security Joint Working Group
Group to meet regularly to align policies for defence industries to collaborate on critical defence technologies.
::ECONOMY::
Ease of Logistics Portal
It was launched by Federation of Indian Export Organisations (FIEO) to facilitate container demand fulfilment in a systematic manner with the provisions for exporters to post their requirements.
About:
FIEO, apex Body of Export Promotion Organisations, was set up jointly by Ministry of Commerce and private trade and industry.
Portal brings exporters and logistic service providers on a single platform to discuss and finalize business.
It gives visibility of exporters logistics requirements (ocean freight, air freight etc) on Pan India basis to be fulfilled by Logistics Service Providers.
::SCIENCE AND TECHNOLOGY::
NASA's Lucy mission
NASA is poised to send its first spacecraft to study Jupiter's Trojan asteroids to glean new insights into the solar system's formation 4.5 billion years ago, the space agency said September 28.
About:
The probe, called Lucy after an ancient fossil that provided insights into the evolution of human species, will launch on October 16 from Cape Canaveral Space Force Station in Florida.
Trojan asteroids associated with Jupiter are thought to be remnants of the primordial materialthat formed the outer planets.
Its mission is to investigate the group of rocky bodies circling the Sun in two swarms, one preceding Jupiter in its orbital path and the other trailing behind it.
 CLICK HERE FOR FULL CURRENT AFFAIRS (Only for Course Members)