Current Affairs for IAS Exams - 14 October 2022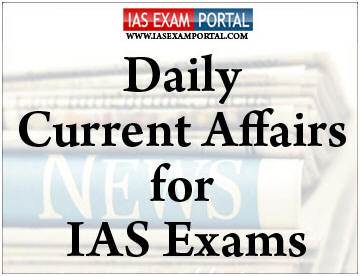 ---
Current Affairs for IAS Exams - 14 October 2022
::NATIONAL::
Direct Benefit Transfer scheme
Direct Benefit Transfer scheme, the International Monetary Fund (IMF) has termed it a 'logistical marvel' considering the sheer size of the country.
Key findings:
IMF's Deputy Director of Fiscal Affairs Department , Paolo Mauro said that while there is a lot to learn from countries across the globe, India's DBT scheme is quite impressive. 
DBT programme that seeks to help people who are at low-income levels reach hundreds of millions of people is a logistical marvel.
The aim of DBT (Direct Benefit Transfer) is to transfer the benefits and subsidies of various social welfare schemes directly in the bank account of the beneficiary on time by bringing efficiency, effectiveness, transparency and also to eliminate the intermediary body.
About DBT programme:
It was started on 1st January, 2013.
It was created in the Planning Commission to act as the nodal point for the implementation of the DBT programmes.
The Mission was transferred to the Department of Expenditure in July, 2013 and continue to function till 14.9.2015.
CLICK HERE FOR FULL CURRENT AFFAIRS (Only for Course Members)
Mahakal Lok Project
Prime Minister Narendra Modi dedicated Phase I of the Mahakal Lok Project to the nation at Shri Mahakal Lok in Ujjain, Madhya Pradesh. The project will be a model for religious tourism in India.
Key objectives:
Mahakal Lok corridor project aims the About Mahakaleshwar temple(dedicated to Lord Shiva) and its adjoining area in Ujjain district (MP).
It will help in enriching the experience of pilgrims visiting the temple byproviding them with world-class modern amenities.
About Mahakaleshwar temple:
The origin of Mahakal temple can be traced to the Pre-historic period.
Puranas narrate that it was first established by Prajapita Brahma.
Kalidasa in Raghuvansam described this temple as 'Niketana'. Also, inMeghadutam, Kalidasa gives a fascinating description of Mahakala temple.
The present five-storeyed structure was built by the Maratha general RanojiShinde in 1734, in the Bhumija, Chalukya and Maratha styles of architecture.
Bhumija style is one of theearliest traditional temple stylesto be developed in Maharashtra.
The main feature of identificationof such temples had been itsstar-shaped plan and thesikhara.
Upper components of the templerested on the strong andwell-designed pillars andpilasters.
CLICK HERE FOR FULL CURRENT AFFAIRS (Only for Course Members)
::INTERNATIONAL::
New island has emerged out of the Pacific Ocean
According to NASA's Earth Observatory, new island has formed in South Pacific after an underwater volcano near Tonga (HomeReef) erupted, oozing lava and expelling steam and water above surface.
About:
Home Reef is part of Tonga-Kermadec subduction zone, where three tectonic plates smash into each other and create an activearea for undersea volcanoes.
Earlier, submarine volcanoes flared up in 1852, 1857, 1984 and 2006, producing new islands each time.
Key findings: 
Process of formation- Volcanic islands originate from passive lava flows on seafloor.
These passive flows harden into rock and build up the height of the underwater mountain over millions of years.
Eventually, some volcanoes reach heights above seafloor where lower pressure allows for explosive eruptions.
Submarine volcanoes that do not reach sea level are called seamounts.
CLICK HERE FOR FULL CURRENT AFFAIRS (Only for Course Members)
::Economy::
RBI regulates use of creditratings
RBI stated that banks can no longer lend based on existing credit ratings assigned to loanswhere name of lending institution is not disclosed.
About:
RBI regulation refers to External Credit Assessment Institutions that provide ratings to debt.
Absence of such information often results in banks applying derived risk weights for unratedexposures.
Banks use the ratings assigned to debt to calculate risk weightage on unrated loans theyprovide to companies.
Banks then use existing rating to determine extent of capital set aside.
CLICK HERE FOR FULL CURRENT AFFAIRS (Only for Course Members)
::SCIENCE AND TECHNOLOGY::
Chandrayaan-2 has mapped sodium content on Moon's surface
Scientists from ISRO have mapped out global distribution of sodium on the Moon's surface.
About:
They used the CLASS instrument (Chandrayaan-2 large area soft X-ray spectrometer) carried byChandrayaan-2 for the study.
Study shows that there is a thin layer of sodium atoms that are weakly bound to the lunarsurface apart from the minor quantities found in lunar rocks.
This region, termed an 'exosphere', begins at the surface of the moon and extends several thousand kilometres merging into the interplanetary space.
CLICK HERE FOR FULL CURRENT AFFAIRS (Only for Course Members)