Current Affairs for IAS Exams - 15 January 2020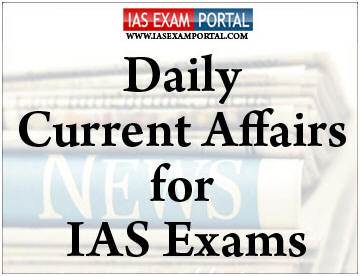 ---
Current Affairs for IAS Exams - 15 January 2020
---
::NATIONAL::
Rajya Sabha panel brings in dedicated system to prevent online child sexual abuse crimes
A dedicated mechanism to deal with online sexual crimes on children and changes in the definition of 'child pornography' under the Protection of Children from Sexual Offences (POCSO) Act are some of the recommendations that a panel of MPs looking into the impact of child pornography is likely to have suggested.
The panel may want the POSCO Act to consider as an offence the act of "advocating or counselling sexual activity" to a minor, and may want an international cyber crime reporting portal to facilitate the reporting of sexual crimes against children from all over the world. The panel, headed by Congress leader Jairam Ramesh, is learnt to have submitted its report to RS chairman.
The committee was set up by Naidu last month after the Parliament was informed in the winter session that 377 websites hosting child pornography had been taken down and 50 police cases have been filed involving online sexual exploitation of children.
The committee has talked about ways to safeguard children against "cyber grooming", and protection of individuals who report child sexual abuse material. Cyber grooming is the practice where someone builds an emotional bond with children through social media or chat rooms to gain their trust to sexually exploit them.
In July last year, the Modi government had strengthened the POCSO Act by including death penalty for sexual assault on children, after which the WCD ministry revised the penalty for possessing and distributing child pornography.
Civil aviation ministry begins registration of drones in the country
All drone operators in India will have to register their unmanned aerial vehicles from Tuesday. A government order issued on Monday wants registrations on digital sky platform by January-end to regulate drone numbers.
Any unregistered drone operated beyond January 31 will invite penal action, said the order issued by the aviation ministry. It said the presence of unregistered drones had come to the notice of the government and operating them violates the norms prescribed by the Directorate General of Civil Aviation (DGCA).
The DGCA had announced the rules to regulate drones in 2018 and had categorised drones into five categories based on weight, starting from 250 grams to 150 kilograms and above. The government had also categorised airspace where drones could operate.
Airspace has been partitioned into Red Zone (flying not permitted), Yellow Zone (controlled airspace) and Green Zone (automatic permission). The red zone areas are closer to airports, military areas and international borders.
A senior government official said that allowing drones beyond line of sight had its own complications in a congested country like India. "It is easier to allow drones beyond line of sight in countries like the US with large open areas, but in a congested country like ours there are a lot of complications in allowing such operations," said the official, who did not want to be identified.
::ECONOMY::
CCI orders probe against e-commerce giants for discount pricing
Fair trade regulator Competition Commission of India, CCI has ordered a probe against Flipkart and Amazon for alleged malpractices, including deep discounting and tie-ups with preferred sellers.
The order follows a complaint filed by Delhi Vyapar Mahasangh, whose members comprise many traders dealing in smartphones and related accessories.
The traders' body accused the e-commerce firms of anti-competitive practices like preferential listing, exclusive tie-ups and private labels.
In its order, the Commission said, it needs to be investigated whether the alleged exclusive arrangements, deep discounting and preferential listing by the opposite parties are being used as an exclusionary tactic to foreclose competition.
The Competition Commission has asked the Director General to complete the investigation and submit a report within 60 days.
Government set to make hallmarking of jewellery and artefacts mandatory
The hallmarking of gold jewellery and artefacts will now be mandatory. Briefing media in New Delhi today, Food and Consumer Affairs Minister Ram Vilas Paswan said that the government will issue a notification tomorrow regarding mandatory hallmarking.
He said, after the issuance the notification, the jewellers will get one year time till 15th of January 2021 to implement the order. He said,now the Hallmarked Gold Jewellery will be available in three grades of 14Carat, 18 Carat and 22 Carat.
Mr Paswan said, the new system will weed out anomalies and corruption in the system of manufacturing of jewellery and hallmarking will protect the interest of the consumers.
Mr Paswan said, there are 892 Assaying and Hallmarking Centres are operational in 234 Districts of the country. He said, the focus will be to open more such centres in the country in the next one year.
Under it, all the Jewellers will have to register with Bureau of Indian Standards and over 28 thousand jewellers have already registered with it. He said, there is also a provision of penal action in case of violation of the order. Anybody found violating the provision, will have to pay a minimum fine of Rs 1 lakh or 5 times the price of the article.
::INTERNATIONAL::
US removes currency manipulator tag on China
The United States on Monday removed the currency manipulator label it imposed on China last summer, in a sign of easing tensions between the economic powers after nearly two years of conflict.
Although Treasury refrained from slapping the label on China in its report last May, Trump in August angrily accused Beijing of weakening its currency "to steal our business and factories," re-stating a long-standing grievance.
Though the semi-annual currency report always gains attention as a key sign of relations between the powers, the currency manipulator designation was largely symbolic.
The label calls for the US Treasury committed to work with the IMF to "eliminate the unfair competitive advantage" created by China's alleged actions and to consult with Beijing about the matter.
The currency report had eight other countries on the "monitoring list" due to concerns about their currency practices: Germany, Ireland, Italy, Japan, South Korea, Malaysia, Singapore, Switzerland, and Vietnam.
Malaysia defends Indian criticism despite palm oil row
Malaysia is concerned about India's new curbs on imports of palm oil after a diplomatic row, Prime Minister Mahathir Mohamad said on Tuesday, but indicated he would continue to speak out against "wrong things" even if it costs his country financially.
India, the world's biggest buyer of edible oils, last week changed rules that traders say effectively ban imports of refined palm oil from Malaysia, the world's second-biggest producer and exporter of palm oil after Indonesia.
The move came after New Delhi objected to Mahathir's criticism of India's new religion-based citizenship law. The 94-year-old premier, whose outspoken nature has soured ties with both India and Saudi Arabia in recent months, earlier accused India of invading the disputed Muslim-majority region of Kashmir.
India was Malaysia's biggest buyer of palm oil in 2019, with 4.4 million tonnes of purchases. In 2020, purchases could fall below 1 million tonnes if relations don't improve, Indian traders say.
To make up for the potential loss, Malaysian officials say they are trying to sell more to Pakistan, the Philippines, Myanmar, Vietnam, Ethiopia, Saudi Arabia, Egypt, Algeria and Jordan.
::SCIENCE & TECHNOLOGY::
ISRO announces launch of GSAT-30 satellite
GSAT-30, a communication satellite of India, is scheduled for launch onboard Ariane-5 launch vehicle (VA 251) from French Guiana on January 17, 2020, at 0235 hrs IST. Weighing 3357 kg, GSAT-30 is to serve as replacement to INSAT-4A spacecraft services with enhanced coverage.
GSAT-30 will be extensively used for supporting VSAT networks, Television uplinking and Teleport services, Digital Services News Gathering(DSNG), DTH-Television services, cellular backhaul connectivity and many such applications.
The communication payload of GSAT-30 is specifically designed and optimised to maximise the number of transponders on the spacecraft bus.
The satellite provides Indian mainland and islands coverage in Ku-band.It also provides extended coverage in C-band which helps Television broadcasters to beam their programs over India, Gulf countries, a large number of Asian countries and Australia.The mission life is more than 15 years.
::SPORTS::
Australia beat India in first ODI at Mumbai
In Cricket, Australia won the 1st ODI against India by 10 wickets with 74 balls remaining at Mumbai today. Australia cruised in their 256 run chase thanks to centuries from their openers David Warner and skipper Aaron Finch. Warner scored 128 and Finch 110, helping Australia score 258 without loss in 37.4 overs.
Earlier, put into bat, India were all out for 255 in 49.1 overs. Shikhar Dhawan top scored for India with 74. K.L. Rahul contributed 47 runs. For Australia, Mitchell Starc claimed 3 Indian wickets. P.J.Cummins and K.W.Richardson shared two wickets each. David Warner was declared Man of the Match.