Current Affairs for IAS Exams - 15 February 2020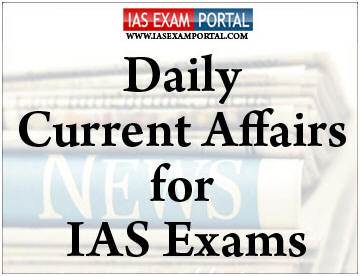 ---
Current Affairs for IAS Exams - 15 February 2020
---
::NATIONAL::
VP stresses on increasing production of nutritive food
Vice President M Venkaiah Naidu has stressed the need to increase the production of nutritive food to overcome the problems of malnutrition and hidden hunger. Addressing the 58th Convocation of Indian Agricultural Research Institute, IARI in New Delhi today, Mr Naidu said, while the food grain production has increased, still the alarming prevalence of malnutrition and hidden hunger are matters of grave concern.

He said, more than 80 per cent of adolescents in India suffer from hidden hunger and the problem has to be addressed on a war footing. The Vice President expressed happiness that significant progress has been made by IARI in developing high yielding, disease-resistant and nutrient-rich varieties of crops. He said climate change has emerged as a serious threat to agriculture. Climate change-induced rise in temperature and changes in rainfall patterns are adversely affecting agriculture.

He said, many a time, the terminal rains are creating havoc by destroying the crops ready for harvest. Mr Naidu said, assessing methane emissions from paddy plants is one of the most outstanding achievements of IARI, which can be helpful in protecting India's interests in climate change negotiations.

He expressed happiness that the Pusa Basmati varieties dominate the Basmati cultivation in India and are helping in securing higher production and profit to the farmers, apart from foreign exchange worth 33 thousand crore rupees annually to the country.

The Vice President said advanced crop varieties and technologies developed by IARI have been important in strengthening the Indian economy and prosperity of farmers.
Puducherry entitled to more funds under NIPFP report
The Union Territory of Puducherry was entitled ₹2,731 crore for the current fiscal from the Centre than the actual allocation of ₹1,545 crore, according to an assessment report prepared by the National Institute of Public Finance and Policy (NIPFP), a Central government organisation.

The assessment, done against the backdrop of .........................
CLICK HERE FOR FULL CURRENT AFFAIRS (Only for Course Members)
::ECONOMY::
SC asks telcos to pay AGR dues immediately
The Supreme Court on Friday ordered the managing directors and directors of companies, including telecom majors BhartiAirtel and Vodafone Idea, to show cause why contempt proceedings should not be initiated against them for failing to pay even a "single penny" to the government in Adjusted Gross Revenue (AGR) dues, worth ₹1.47 lakh crore, despite an October 2019 judgment.

Failure to comply with the orders would entail company heads appearing in person in court at the next hearing on March 17, the court said.

The October 2019 judgment had given the companies three months to pay their dues in AGR. The DoT officer concerned has been asked to file a reply to the contempt notice.

Justice Mishra turned to senior advocate FaliNariman, appearing for Vodafone, saying "Companies have not deposited any money and have no respect for the direction of this court". The court rejected Mr.Nariman's offer to make an immediate part payment in dues.

"Ensure that they pay up by the next hearing," Justice Mishra orally addressed Mr.Nariman.
New textile policy to be unveiled by mid of this year
The Central Government is expected to roll out a Textile Policy by the middle of this year, according to Ravi Capoor, Secretary of the Union Ministry of Textiles.

On the measures to be taken to attract investments in textiles and clothing, he said the need for cost effectiveness is a major challenge.

One factor affecting cost effectiveness is lack of scale...................
CLICK HERE FOR FULL CURRENT AFFAIRS (Only for Course Members)
::INTERNATIONAL::
No trade deal in trump visit to India to be a setback for entrepreneurs
If India and the U.S. cannot achieve a modest trade deal with U.S. President Donald Trump visiting India, it would be a "big setback", Washington's top diplomat for South and Central Asia, Alice Wells said.

U.S. Trade Representative (USTR) Robert Lighthizer cancelling his trip this week to India has cast doubt on whether a mini trade deal could be completed before the February 24 visit of Mr. Trump. Mr.Lighthizer will possibly visit along with Mr. Trump, The Hindu had reported, leaving open the possibility that a modest agreement could be finalised.

Ms. Wells said if a "tiny phase 1 trade deal" with the U.S. President visiting India could not be achieved, it would be a "big setback". She was speaking to reporters on the sidelines of a United States India Business Council (USIBC) welcome reception for Indian Ambassador Taranjit Singh Sandhu on Thursday evening..

She said the U.S. would like to have "a lot more ambitions" for making India part of the global supply chain but that the U.S. experience in negotiating trade was "very painful" and that the policy directions in India — including in the recent Union Budget as well as the e-commerce policy (a draft was introduced in early 2019) — were of concern. Ms. Wells will not be accompanying President Trump to India and neither will Secretary of State Mike Pompeo.

In response to a question from The Hindu on whether Mr. Trump would offer to mediate between India and Pakistan on Kashmir, Ms. Wells said the U.S. President is aware that India is not interested in mediation.
Iran to move towards nuclear deal if provided EU support
Iran has said it is willing to move back towards the 2015 nuclear deal if Europe provides meaningful economic benefits.

Talking to reporters at
CLICK HERE FOR FULL CURRENT AFFAIRS (Only for Course Members)
::SCIENCE & TECHNOLOGY::
Scientists to radio tag the endangered Indian pangolin
Forthe first time, scientists have radio-tagged the Indian pangolin, an endangered animal that is rarely sighted in forests here.

The Indian pangolin, which dons a thick scaly skin, is hunted for meat and used in traditional Chinese medicine. Researchers say tagging the animal will help understand the habits of the reclusive, nocturnal animal.

Radio-tagging involves attaching a transmitter to an animal to monitor its movement.

"In recent years, we have successfully busted pangolin-smuggling syndicates that involved poachers and smugglers from more than nine States," said Rajesh Shrivastav, Chief Wildlife Warden of Madhya Pradesh.

Pangolins are among the most trafficked wildlife species in the world. The projected population declines range from 50% to 80% across the genus.

Out of the eight species of pangolin, the Indian and the Chinese pangolins are found in India. Both these species are listed under Schedule I Part I of the Wildlife (Protection) Act, 1972.
::SPORTS::
Match fixing scandal accused extradited from U.K
SanjivChawla, a key accused in a match-fixing scandal was extradited from United Kingdom today. The 50-year old British national, accompanied by a Delhi Crime Branch team from London, reached IGI Airport in New Delhi this morning.

A Delhi Police official said,Chawla will be taken to the Crime Branch office for questioning. He was allegedly involved in match fixing which involved former South African cricket team captain Hansie Cronje in 2000.