Current Affairs for IAS Exams - 15 February 2021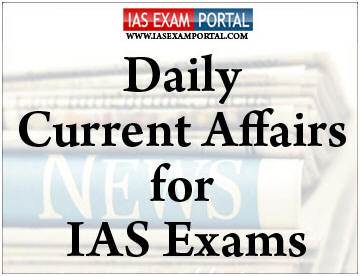 ---
Current Affairs for IAS Exams - 15 February 2021
::NATIONAL::
Assam uses combs for voter literacy
The Goalpara district administration has been distributing combs and other utilitarian items of daily use, such as sanitary pads, with SVEEP messages printed on them. SVEEP expands to Systematic Voters' Education and Electoral Participation, the flagship programme of the Election Commission of India for promoting voter literacy in the country.
The district election office is particularly ramping up SVEEP activities in areas with polling stations that have recorded low overall and low female voter turnout in the 2016 Assembly and 2019 Lok Sabha elections.
The four Assembly constituencies in Goalpara — Dudhnai, Goalpara East, Goalpara West and Jaleswar — averaged a voter turnout of 90.83% in the 2016 State polls but the turnout at some polling booths was less than 10% of the average of a constituency. Two such polling booths with low voting in 2016 and 2019 were Belpara Lower Primary School and Rowmari Junior Basic School, both in Dudhnoi.
Fossils of 'Dickinsonia' found at Bhimbetka
Researchers have discovered three fossils of the earliest known living animal — the 550-million-year-old 'Dickinsonia' — on the roof of the Bhimbetka Rock Shelters, about 40 km from Bhopal.
About:
One can identify the fossils from the white leaf-like patches with a central vertebra (central midrib) and connecting veins. While one fossil is 17 inches long, the other two are much smaller.
The new discoveries, published in a journal, Gondwana Research, can be seen right at the beginning of the 'Auditorium Cave', the first of such caves at Bhimbetka, a UNESCO heritage site, located about 3.5 metres above the ground.
Geological Survey of India's informed that they were the only such fossils available in the country, and were similar to those seen in south Australia.
Bhimbetka rock shelters:
The Bhimbetka rock shelters are an archaeological site in central India that spans the prehistoric Paleolithic and Mesolithic periods, as well as the historic period.
It exhibits the earliest traces of human life in India and evidence of Stone Age starting at the site in Acheulian times.
It is located in the Raisen District in the Indian state of Madhya Pradesh about 45 kilometres (28 mi) south-east of Bhopal. 
It is a UNESCO World Heritage Site that consists of seven hills and over 750 rock shelters distributed over 10 km (6.2 mi).
CLICK HERE FOR FULL CURRENT AFFAIRS (Only for Course Members)
::INTERNATIONAL::
UN Committee for World Food Security endorses voluntary guidelines to end hunger
The first-ever voluntary guidelines on food systems and nutrition meant to end hunger and malnutrition were endorsed by members of the Committee on World Food Security (CFS).
The endorsement took place at the 47th Session of CFS that was held virtually February 8-11.
About:
CFS is an international and intergovernmental platform for stakeholders to work towards ensuring food security and nutrition for all. It is hosted and co-funded by the United Nations Food and Agriculture Organization.
The guidelines have been developed to support countries in their efforts to eradicate all forms of hunger and malnutrition by utilising a comprehensive food systems approach, according to the document released on the occasion.
They are structured around seven focus areas:
1.    Transparent, democratic and accountable governance
2.    Sustainable food supply chains to achieve healthy diets in the context of economic, social and environmental sustainability and climate change
3.    Equal and equitable access to healthy diets through sustainable food systems
4.    Food safety across sustainable food systems
5.    People-centred nutrition knowledge, education and information
6.    Gender equality and women's empowerment across food systems
7.    Resilient food systems in humanitarian contexts
Russia's Foreign Minister holds talks on climate with U.S. envoy
Russian Foreign Minister Sergei Lavrov discussed climate change with U.S. envoy John Kerry and the two agreed to cooperate further within the Arctic Council.
During the conversation, questions were raised about the implementation of the Paris climate accord.
The Foreign Minister welcomed the decision by new U.S. President Joe Biden to rejoin the landmark Paris Agreement on curbing global emissions of greenhouse gases.
The two men also "underlined the need for as wide a cooperation as possible" in the area of the environment.
They also agreed to "develop cooperation" within the Arctic Council — a high-level intergovernmental forum that addresses various issues, including sustainable development and environmental protection in the Arctic region.
::ECONOMY::
DigiLocker
IRDAI has advised all Insurance companies for issuance of Digital Insurance Policies via DigiLocker.
DigiLockeris a flagship initiative of Ministry of Electronics and IT (MeitY) under DigitalIndia Corporation (Not for Profit Company under MeitY).
DigiLocker aims at 'Digital Empowerment' of citizen by providing access to authentic digital documents to citizen's digital document wallet.
Through DigiLocker citizens can access their digital documents anytime, anywhere,legally at par with originals.
::SCIENCE AND TECHNOLOGY::
BL Lacertae
Indian astronomers have reported one of the strongest flares from a feeding supermassive black hole or blazar called BL Lacertae, some 10 million light-years away. 
And, the analysis of the flare from this blazar — one of the oldest astronomical objects — can help trace the mass of the black hole and the source of this emission.
This, the team believes can provide a lead to probe into mysteries and trace events at different stages of evolution of the Universe.
A team of astronomers led by Alok Chandra Gupta from the Aryabhatta Research Institute of Observational Sciences (ARIES) had been following the blazar since October 2020 as part of an international observational campaign. 
The team detected the exceptionally high flare on January 16, 2021, with the help of Sampurnanand Telescope (ST) and 1.3m Devasthal Fast Optical Telescopes located in Nainital.
CLICK HERE FOR FULL CURRENT AFFAIRS (Only for Course Members)