Current Affairs for IAS Exams - 15 March 2020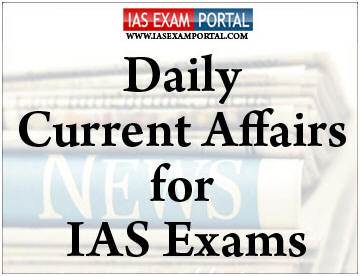 ---
Current Affairs for IAS Exams - 15 March 2020
---
::NATIONAL::
Preventive restrictions put across the country to prevent COVID spread
The number of coronavirus cases in India rises to 81, which includes one death each from Delhi and Karnataka. Researchers, studying the coronavirus, report that the time between cases in a chain of transmission is less than a week, and over 10 percent of patients are infected by someone who has the virus but does not show symptoms yet.
Preventive restrictions have been put in place across the country to restrict the spread of the novel coronavirus. Rajasthan Government has decided to keep close all schools, colleges, coaching centers, gyms, cinemas and theaters etc. till March 30.
The Ministry of Home Affairs (MHA) has ordered the closure of all but 20 immigration land check posts in eastern and northern India from Saturday midnight in order to prevent the spread of COVID-19.
However, the curbs on the Indo-Nepal and Indo-Bhutan borders are applicable "only for third country nationals and not to Indian nationals or nationals of Nepal or Bhutan." The border markets on the India-Bangladesh border will also be suspended.
India has suspended movements of all types of passengers through the international border points with Pakistan from March 16 midnight in wake of the threat from the novel coronavirus pandemic.
The order said that diplomats and UN personnel having valid visas may be allowed through the Attari crossing point along the India-Pakistan border. However, they would be subjected to health screening and, if required, they may be subjected to quarantine.
PM assures restoration of statehood in Jammu & Kashmir
Prime Minister Narendra Modi on Saturday said the government would work with all sections of the population in Jammu and Kashmir to restore its statehood "at an early opportunity".
A 24-member delegation of the newly .....................................................
CLICK HERE FOR FULL CURRENT AFFAIRS (Only for Course Members)
::ECONOMY::
GST rates on mobile phones to be hiked from April
The Goods and Services Tax Council today decided to increase GST rates on mobile phones to 18 per cent from 12 per cent with effect from 1st of April.
The Council also decided to slash GST on maintenance, repair and overhaul services for aircraft to five per cent from 12 per cent while the tax rate on handmade and machine-made matchsticks has been rationalized to 12 per cent.
Briefing media in New Delhi after chairing GST Council meeting, Finance Minister Nirmala Sitharaman said that the council has decided to waive the late fee for delayed filing of annual returns for the financial years 2018 and 2019 by entities with a turnover of less than Rs two crore.
The Minister also said that interest will be levied on net tax liability from 1st of July for delayed GST payments. She said, the GST Council has asked Infosys to deploy more skilled manpower and increase capacity of hardware of GST Network to ensure that the system is glitch-free.
The council has asked Infosys, which has designed the GSTN, to provide a better groomed GSTN system by July, 2020.
Parliamentary panel reports around 60000cr post-harvest losses to fishermen
A parliamentary panel has observed that Fisheries Sector suffers from very high Post-harvest losses.
It says that for Marine Fisheries the ...........................................................
CLICK HERE FOR FULL CURRENT AFFAIRS (Only for Course Members)
::INTERNATIONAL::
Bangladesh calls for specific institution to deal with public health threats in South Asian region
Prime Minister Sheikh Hasina of Bangladesh has called upon the leaders of the SAARC countries to set up an institution to deal with public health threats in future. Speaking during the Video Conference of SAARC leaders convened by Prime Minister Narendra Modi on Sunday, Sheikh Hasina said that Bangladesh was willing to host such an institution if all agreed to it.
She emphasised the need for the SAARC countries to pool together their capacity, expertise and experience in fighting the threat of Corona virus in the region.
Welcoming the idea of holding the video conferencing mooted by Prime Minister Modi she said that member countries need to devise a strong SAARC-wide strategy to combat the public health threat of Corona virus.
Thanking Prime Minister Modi for this important initiative Sheikh Hasina said that the meeting should be followed up by a similar meeting between the Health Ministry officials and experts of the SAARC region to discuss specific areas of cooperation.
She also thanked India for bringing back 23 stranded Bangladeshi students from Wuhan in China.The idea of having a SAARC wide strategy mooted by Prime Minister Modi to combat Corona virus has been widely welcomed in Bangladesh.
A number of dignitaries from Bangladesh assembled at the Indian High Commission in Dhaka on Sunday to watch the video conferencing.
Beijing decides to send all international arrivals to quarantine facilities
Beijing authorities will send all international arrivals in the Chinese capital to quarantine facilities starting Monday, state media reported, as China steps up measures against imported coronavirus cases.
People arriving from abroad had previously ...............................................
CLICK HERE FOR FULL CURRENT AFFAIRS (Only for Course Members)
::SCIENCE & TECHNOLOGY::
Scientists develop new hydrophobic coating that can protect metallic surfaces
Fascinated by the beauty of water rolling off a lotus leaf, a team of chemical engineers has now created a similar superhydrophobic coating that can be used to save steel from rusting.
The team from the Indian ......................................
CLICK HERE FOR FULL CURRENT AFFAIRS (Only for Course Members)
::SPORTS::
Achanta Sharath wins Oman men's title
Ace Indian paddler Achanta Sharath Kamal wins the ITTF Challenger Plus Oman Open. The 37-year-old Indian veteran beat top-seeded Marcos Freitas of Portugal 4-2 in the final played in Muscat on Sunday evening.
Earlier, in the semi-final today, fourth-seeded Achanta pulled off a stunning seven-set victory against Russia's Kirill Skachkov, 11-13, 11-13, 13-11, 11-9, 13-11, 8-11, 11-7.