Current Affairs for IAS Exams - 15 July 2021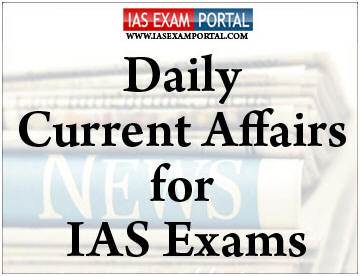 ---
Current Affairs for IAS Exams - 15 July 2021
::NATIONAL::
Report finds positive associations between antimicrobial use in animals and AMR in humans
A new joint inter-agency report has found positive associations between antimicrobial use (AMU) in animals and antimicrobial resistance in animals as well as in humans.
About:
The report, analysed possible relationships between antimicrobial consumption (AMC) in humans and food-producing animals, and the occurrence of antimicrobial resistance (AMR) in bacteria from humans and food-producing animals in the European Union (EU) / European Economic Area (EEA).
The report analysed data for six classes of antibiotics: Third and fourth generation cephalosporins, fluoroquinolones, polymyxins, aminopenicillins, macrolides and tetracyclines.
According to the report:
Penicillins, first- and second-generation cephalosporins and macrolides were the highest selling classes in human medicine.
For food-producing animals, tetracyclines and penicillins were the highest selling classes in 2017.
The consumption of colistin, a last resort antibiotic and an HPCIA was higher in food-producing animals than in humans across EU.
The report also established significant correlations between AMU in humans and animals with AMR in humans, animals respectively and also across sectors.
Antimicrobial use in food-animals is linked to AMR, not only in animals, but also in humans, according to the report.
 Kongu Nadu
It is a commonly used name for part of western TamilNadu, deriving its name from Kongu Vellala Gounder (anOBC community prominent in the region).
About:
Ancient Tamil literatures like Silapathikaram and Sangam Age poems mention Kongu region.
The word 'Kongu' refers to undulating land which cannot be used for anything.
From the second century to the ninth century, a major part of Kongu region was conquered and brought under the rule of the Ganga dynasty.
Most of them were followers of Jainism.
CLICK HERE FOR FULL CURRENT AFFAIRS (Only for Course Members)
::INTERNATIONAL::
Giant Panda
China announces that Giant panda are no longer endangered in the wild.
About:
There are now 1,800 giant pandas in the wild.
After five years, the International Union for Conservation of Nature (IUCN) removed giant pandas from its endangered species list and classified them as vulnerable in 2016.
Giant panda is also known as panda bear, inhabiting bamboo forests in the mountains of central China.
In China, the giant panda has long been considered a national treasure and has been a protected species since the implementation of the wildlife conservation law in 1958.
St. Ketevan
Almost 400 years after she was murdered in present day Iran, relics of St. Queen Ketevan that were found in Goa in 2005 are likely to be put on display in India as well as her native Georgia, according to Archaeological Survey of India (ASI) officials.
About:
On July 10, External Affairs Minister S. Jaishankar handed over one part of the relics to Georgia as a gift from India. According to ASI officials, parts of the bone of the right arm were found at St. Augustine Church in Old Goa in 2005.
Queen Ketevan was killed in 1624 in Shiraz for not converting to Islam and parts of her remains were brought to Goa by Augustinian monks.
Revered as a martyr, her relics remained lost till 2005 as the St. Augustine Church collapsed in 1842, another official said.
A DNA analysis by the CSIR-Centre for Cellular and Molecular Biology, Hyderabad, confirmed their authenticity in 2013.
Public display
The official said the larger part of the relic remained with the ASI in Goa and would be publicly displayed for the first time.
The smaller part had been handed over to Georgia, where it was likely to be displayed publicly with the citation that it was a "gift from people of India to people of Georgia".
The larger part of the relic had been sent to Georgia for an exhibition for six months in 2017.
::ECONOMY::
Garment exporters will continue to get a rebate on Central and State taxes on their outward shipments as the government approved extension of RoSCTL scheme till March 2024.
About:
The scheme will continue till March 31, 2024.
The sectors covered under this scheme (apparel/garments and made-ups) would not get benefits under the Remission of Duties and Taxes on Exported Products (RoDTEP) scheme.
However, textiles products which are not covered under the RoSCTL would be eligible to avail the benefits, if any, under RoDTEP along with other products as finalised by the Department of Commerce.
The scheme will be implemented by the Department of Revenue with end-to-end digitisation for issuance of transferrable Duty Credit Scrip, which will be maintained in an electronic ledger in the customs system.
::SCIENCE AND TECHNOLOGY::
Space Rice
China has harvested its first batch of rice grown from seeds that travelled 23 days in space on the Chang'e-5 lunar probe in November 2020.
About:
Officials said that around 40 grams of the seeds made the trip to the moon and the yield will enrich China's grain varieties.
After the seeds were exposed to zero gravity and cosmic radiation, they were harvested at the space breeding research centre of the South China Agricultural University in Guangdong province.
The country has been taking seeds of rice and other crops to space since 1987.
Significance of space rice:
After being exposed to cosmic radiation and zero gravity, some seeds can mutate and produce higher yields when planted back on Earth.
Contribute to China's hybrid rice breeding by providing more and better genetic sources to expand the seed bank.
 CLICK HERE FOR FULL CURRENT AFFAIRS (Only for Course Members)