Current Affairs for IAS Exams - 15 April 2021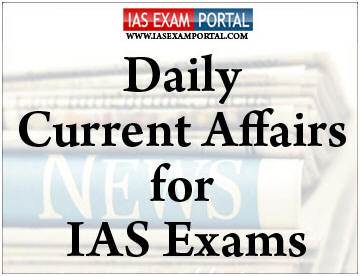 ---
Current Affairs for IAS Exams - 15 April 2021
::NATIONAL::
Luni river
A report by a joint committee formed by the National Green Tribunal (NGT) finds that textile units inRajasthan's Barmer district pollute groundwater and the adjoining Luni river.
About:
Luni River, an ephemeral river, is located in the western side of Rajasthan state; has its origin in the Aravalli Ranges nearby the Pushkar valley.
Major tributaries areJowai, Sukri and Jojari.
Luni meets its end in Barine, located at the north-eastern part of the marsh called the Rann of Kutch in Gujarat,without flowing into any larger water body.
Indian Rhino Vision 2020
Two adult one-horned rhinos were translocated from Pobitora Wildlife Sanctuary to Manas National Parkunder the aegis of the Indian Rhino Vision (IRV) 2020.
It is a joint programme of Assam Forest Department, Worldwide Fund for Nature (WWF) India, and theInternational Rhino Foundation.
It was designed by Rhino Task Force 2005.
Goal:
To achieve a rhino population to 3,000 in seven protected areas in Assam.
To reduce the risk to the rhino population from poachers by spreading the population in multiple parks.
CLICK HERE FOR FULL CURRENT AFFAIRS (Only for Course Members)
::INTERNATIONAL::
Gruppe S
The trial of 11 individuals who are believed to be members of Germany's far-right group called "Gruppe S" (Group S) began in the city of Stuttgart.
These 11 members are suspected of planning attacks on mosques, asylum centres and the German parliament.
Earlier in March, Germany's domestic intelligence agencies designated the far-right Alternative for Germany (AfD) party as a suspected extremist group.
The Federal Prosecutor's Office brought charges against eleven alleged members and one alleged supporter of a right-wing "terrorist" organisation Gruppe S on November 4, 2020.
 6th edition of Raisina Dialogue
Indian Prime Minister inaugurated the 6th edition of Raisina Dialogue in virtual format.
It is India's flagship conference on geopolitics and geo-economics, held annually since 2016.
It is jointly organised by the Ministry of External Affairs and the Observer Research Foundation.
The theme for the 2021 Edition is "Viral World: Outbreaks, Outliers and Out of Control".
It attracts leading minds from the global strategic and policy-making community to discuss broader foreignpolicy and strategic issues facing the world.
::ECONOMY::
e-SANTA
Union Minister of Commerce & Industry (MoCI) virtually inaugurated e-SANTA (Electronic Solution forAugmenting NaCSA farmers' Trade in Aquaculture).
e-SANTA is an electronic marketplace providing a platform to connect aqua farmers and exporters.
It will raise income, lifestyle, self-reliance, quality levels, and traceability for aqua farmers.
National Centre for Sustainable Aquaculture (NaCSA) is an extension arm of Marine Products ExportDevelopment Authority (MPEDA), under the Ministry of Commerce and Industry.
::SCIENCE AND TECHNOLOGY::
The World Health Organization (WHO)
The World Health Organization (WHO), World Organization for Animal Health and the United Nations Environment Programme have laid down fresh guidelines for governments to reduce the risk of transmission of zoonotic pathogens to humans in food production and marketing chains.
About:
A zoonosis is an infectious disease that jumps from a non-human animal to humans.
Zoonotic pathogens may be bacterial, viral or parasitic.
They can spread to humans through direct contact or through food, water and the environment. 
These include suspension of trade in live caught wild animals of mammalian species for food or breeding, as well as a shut down of food markets that sell them.
It also urged governments to bolster regulations to improve standards of hygiene and sanitation in traditional food markets.
 CLICK HERE FOR FULL CURRENT AFFAIRS (Only for Course Members)