Current Affairs for IAS Exams -15 February 2023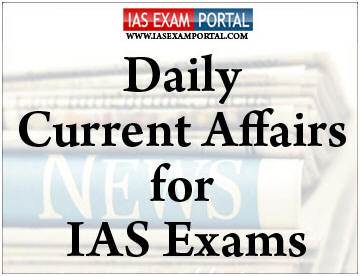 ---
Current Affairs for IAS Exams - 15 February 2023
::NATIONAL::
Supreme Court seeks Centre's stand on having statutory body for elephants
The Supreme Court asked the Centre whether it intended to have a statutory authority for protecting elephants similar to the lines of the National Tiger Conservation Authority (NTCA) and sought a reply in this regard within four weeks.
Background:
In 2010, the 'Gajah report' from ElephantTask Force made a slew of recommendationsto protect and preserve the elephantpopulation, including the:
Constitution of a statutory NationalElephant Conservation Authority(NECA) on the lines of National TigerConservation Authority (NTCA).
About Asian Elephants (Elephasmaximus):
It is a keystone species playing a criticalrole in sustenance of wildlife andbiodiversity.
It is listed:
IUCN Status: EndangeredIn Appendix I of the Convention ofthe Migratory species.
In Schedule I of the Wild Life(Protection) Act, 1972.
More than 60 % of the population ofAsian elephants is found in India.
Measure taken by the government for Elephant safety:
Project Elephant, a centrally sponsored scheme launched in 1992 formanagement of wildlife and its habitats in the country.
In 2010, it was declared India's National Heritage Animal.
Approval to 33 Elephant Reserves by Centre with a total area of nearly 80,000 sq km.
In 2022, Terai Elephant Reserve (TER) was set up in Uttar Pradesh.
Upper Bhadra Irrigation Project
Union Finance Minister recently announced a grant of ₹5300 crore for the Upper Bhadra Irrigation Project in the poll-bound Karnataka.
About Upper Bhadra Project:
It is a major lift irrigation Scheme under implementation in the central region of Karnataka State.
It aims to provide sustainable irrigation facility in khariff season.
It also proposes to recharge ground water tables and provide drinking water by filling 367 tanks with six tmcft water in drought-prone taluks.
It is planned to irrigate an extent of 2,25,515 hectares by micro irrigation in drought-prone districts of Chikkamagalur, Chitradurga, Tumkur and Davangere.
It envisages lifting upto17.40 TMC of water in first stage from Tunga river to existing Bhadra reservoir and lifting 29.90 TMC of water in second stage from Bhadra reservoir to Tunnel near Ajjampura, in Tungabhadra sub-basin of Krishna basin.
In 2022, Central government gave national project statusto "Upper Bhadra Project".
Tungabhadra River:
It is a sacred river in southern India that flows through the states of Karnataka, Andhra Pradesh and Telengana.
The ancient name of the river was Pampa.
It is formed by the confluence of two rivers, the Tunga River and the Bhadra
Both Tunga & Bhadra Rivers are originated on the eastern slops of the Western Ghats.
::INTERNATIONAL::
India, U.S. step up strategic partnership with technology initiative
India and the U.S.launched a program to enhance their strategic partnership with delegations led by the National Security Advisor (NSA) Ajit Doval and his American counterpart, Jake Sullivan, meeting in Washington for the inaugural dialogue of the Initiative on Critical and Emerging Technologies (iCET).
About:
The two sides announced a set of programs whose aim is to increase the depth and scope of bilateral cooperation in cutting edge technology, including in the defence sector.
The iCET seeks to build supply chains which increase co-production and co-development between the countries and increase linkages between the countries' start-up ecosystems, both governments said in their statements describing the dialogue.
iCET aims to:
Position two countries as trusted technology partners by building technology value chains and support the co-development and co-production of items.
Address regulatory restrictions, export controls and mobility barriers through a standing mechanism.
During inaugural dialogue of iCET, two sides announced a set of programs to increase bilateral cooperation:
1.    Strengthen Innovation ecosystem. 
2.    Promote Defense Innovation and Technology Cooperation.
3.    Build Resilient Semiconductor Supply Chains.
Key benefits:
Ease export barriers to India in critical areas such as High-Performance Computing.
Strengthen linkages between the startup ecosystems of India and USA.
Foster an open, accessible, and secure technology ecosystem, based on mutual trust and confidence.
New START Treaty
The United States has accused Russia of not complying with the New START treaty.
The news comes amid growing tensions between the two nations in the backdrop of the Ukraine war.
The state department said Russia suspended inspections and cancelled talks but stopped short of accusing Moscow of expanding nuclear warheads beyond agreed limits.
About New START Treaty:
The New Strategic Arms Reduction Treaty (New START), is an agreement between the U.S. andRussia that sets limits on strategic arms.
It has set central limits on strategic offensive arms and both sides are obligated to maintain thoselimits for as long as the treaty remains in force.
It includes strategic nuclear warheads, launchers and heavy bombers.
Signed in 2010, New START caps to 1,550 the number of nuclear warheads that can be deployedby Russia and US. In 2021 it was extended till 2026.
::Economy::
Agriculture and Farmers' Welfare Initiatives announced in Budget 2023-24
During the Budget speech Union finance Minister announced multiple schemes towards Agriculture and Farmers' Welfare.
Key initiatives announced are:
PM PRANAM (Prime Minister Programme for Restoration, Awareness, Nourishment and Amelioration of Mother Earth): This programme will seek to incentivise states and union territories to promote alternative fertilisers and the balanced use of chemical fertilisers.
Bhartiya PrakritikKheti Bio-Input Resource Centres: Under this10,000 Bio-Input Resource Centres will be set up, creating a national-level distributed micro-fertiliser and pesticide manufacturing network.This will impact over 1 crore farmers over the next three years.
Agriculture Accelerator Fund: The Fund will aim at bringing innovative and affordable solutions for challenges faced by farmers.It will also bring in modern technologies to transform agricultural practices, and increase productivity and profitability."
Cotton crop productivity enhancement: Union government will adopt a cluster-based approach to enhance the cotton crop.To enhance the productivity of extra-long staple cotton, the government will adopt a cluster-based and value chain approach through Public Private Partnerships (PPP).
::SCIENCE AND TECHNOLOGY::
Fairy robot
Researchers at Tampere University have developed a Dandelion seed-inspired flying robot that can potentially stand in for some of these pollinators.
About:
The Flying Aero-robots based on the Light Responsive Materials Assembly, FAIRY robot, is a tiny lightweight robot that relies on wind to float in the air. 
Interestingly, the robot can be controlled with a light source such as a laser beam or an LED. 
This means that the researchers could apply light to the robot to change its shape, allowing it to adapt to the wind's direction. 
This light beam can also be used to control take-off and landing. 
As a result, the researchers were able to stimulate the actuator's bristles to open or close by using visible light.