Current Affairs for IAS Exams - 15 November 2022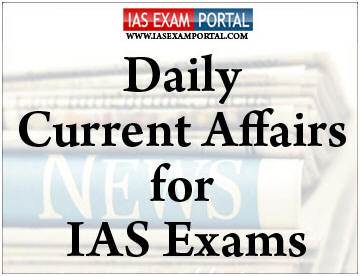 ---
Current Affairs for IAS Exams - 15 November 2022
::NATIONAL::
Decade of Pocso Act
In 2012, Parliament passed the Protection of Children from Sexual Offences (POCSO) Act, which came into force on November 14 of the same year. Ten years later, Tamil Nadu stands ahead of other States in terms of reporting of cases and conviction of the accused. However, the State's activists say that much more can be done.
Key Features of the Act
Child-friendly mechanism for reporting, recording of evidence, investigationand speedy trial of offences through special courts.
It is gender neutral and prescribes stringent punishment graded as per thegravity of the offence.
Defines a child as any person below the age of 18 years.
Provision to establish Special Fast Track Courts for speedy trial.
National Commission for Protection of Child Rights (NCPCR) and its Statecounterpart monitor implementation of law.
Challenges/Concerns related to POCSO Act, 2012
High pendency particularly after Covid-19 and lowconviction rate.
Lack exclusive Special Courts and Special Public Prosecutors.
Cauvery South WildlifeSanctuary
Tamil Nadu gets a new Wildlife Sanctuary called as Cauvery South Wildlife Sanctuary.
About:
Tamil Nadu government has notified the sanctuary as state's 17th wildlife sanctuary.
It was notified under Wild Life (Protection) Act, 1972.
It will connect Cauvery North Wildlife Sanctuary of Tamil Nadu with Cauvery Wildlife Sanctuaryin neighbouring Karnataka.
It is an important elephant habitat comprising of two elephant corridors:
Nandimangalam-Ulibanda Corridor and Kovaipallam-Anebiddahalla Corridor.
Sanctuary is declared for protecting, propagating or developing wildlife or its environment.
Certain rights of people living inside the Sanctuary could be permitted.
It can be declared by both Centre and State.
::INTERNATIONAL::
India Submits its Long-Term Low Emission Development Strategy to UNFCCC
India recently submitted its Long-Term Low Emission Development Strategy to the United Nations Framework Convention on Climate Change (UNFCCC), during the 27th Conference of Parties (COP27).
Salient features of the strategy are:
The focus will be on the rational utilization of national resources with due regard to energy security. The transitions from fossil fuels will be undertaken in a just, smooth, sustainable and all-inclusive manner.
The National Hydrogen Mission launched in 2021 aims to make India a green hydrogen hub.
Increased use of biofuels, especially ethanol blending in petrol, the drive to increase electric vehicle penetration, and the increased use of green hydrogen fuel are expected to drive the low carbon development of the transport sector.
Smart city initiatives, integrated planning of cities for mainstreaming adaptation and enhancing energy and resource efficiency, effective green building codes and rapid developments in innovative solid and liquid waste management.
Improving energy efficiency by the Perform, Achieve and Trade (PAT) scheme, National Hydrogen Mission, high level of electrification in all relevant processes and activities, enhancing material efficiency and recycling leading to expansion of circular economy, and exploring options for hard-to-abate sectors, such as steel, cement, aluminium and others.
India is on track to fulfilling its NDC commitment of 5 to 3 billion tonnes of additional carbon sequestration in forest and tree cover by 2030.
Provision of climate finance by developed countries will play a very significant role and needs to be considerably enhanced.
Sea Vigil-22
The third edition of the 'Pan-India' Coastal Defence Exercise 'Sea Vigil-22' will be conducted on 15-16 Nov 22.
About:
This National Level Coastal Defence Exercise was conceptualised in 2018 to validate various measures that have been instituted towards enhancing maritime security since '26/11'.
The concept of 'Sea Vigil' is to activate the Coastal Security apparatus across India and assess the overarching Coastal Defence mechanism.
The exercise will be undertaken along the entire 7516 km coastline and Exclusive Economic Zone of India and will involve all the Coastal States and Union territories along with other maritime stakeholders, including the fishing and coastal communities.
The exercise is being conducted by the Indian Navy in coordination with the Coast Guard and other ministries entrusted with the task of maritime activities.
The exercise is a build up towards the major Theatre Level Readiness Operational Exercise (TROPEX), which the Indian Navy conducts every two years.
Sea Vigil and TROPEX together will cover the entire spectrum Maritime Security challenges.
::Economy::
Lavender Cultivation
Union minister Jitendra Singh has recently said that Jammu and Kashmir's Doda district would be recognised as a role model in lavender farming owing to farmers cultivating the plant on a commercial scale there.
About:
Lavandula (common name lavender) is a genus of 47 known species of flowering plants in the mint family, Lamiaceae.
The flowers may be blue, violet or lilac in the wild species, occasionally blackish purple or yellowish.
Lavender has been used over centuries in traditional medicine and cosmetics.
These flowers grow in temperate areas and are drought-resistant crops.
A single Lavender plant bears flowers for 15 years, needs low maintenance and can be used from the second year of plantation.
::SCIENCE AND TECHNOLOGY::
Researchers look to nanoparticles for treating cancer
Nanomaterials (particles less than 100nm in length) based cancer treatment helpalter drug toxicity profile with enhanced surface characteristics to deliver anoptimal concentration of drugs at tumour sites.
About:
Conventional therapies face challenges in delivery of drugs and also causeunwanted side effects due to toxic nature and higher doses of medicines.
Nanomaterials hold significant promise to improve disease diagnosis andtreatment based on their unique features, such as their:
Higher surface to mass ratio to other particles.
Quantum properties.
Ability to adsorb and carry other compounds.
Advantages of nanomaterials in drug delivery
Allow targeted and efficient delivery as nanostructures are able to penetratetissues and are easily taken up by cells.
Enables delivery of drugs that are poorly water soluble.
Remain in bloodcirculation for a longtime, releasingincorporated drug in acontrolled fashion.