Current Affairs for IAS Exams - 15 October 2021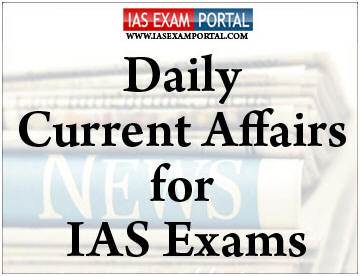 ---
Current Affairs for IAS Exams - 15 October 2021
::NATIONAL::
Government granted Maharatna status to Power Finance Corporation
The government has accorded the 'Maharatna' status to state-owned Power Finance Corporation (PFC), a move that will pave the way for the company's greater financial and operational efficiency, according to a company statement.
About:
Incorporated in 1986, PFC is the largest infrastructure finance company dedicated to the power sector under the administrative control of the Ministry of Power.
The grant of 'Maharatna' status to PFC will impart enhanced powers to PFC's board while taking financial decisions.
Criteria for granting 'Maharatna' status:
Part of Ratna Status to CPSEs (Maharatna, Navratna and Miniratna), Maharatna status is given on meeting the criteria as:
Having Navratna status.
Listed on Indian stock exchange with minimum prescribed public shareholding under SEBIregulations.
Should have significant global presence/international operations, and in last 3 years,
Over Rs. 25,000 crore of average annual turnover.
Over Rs. 15,000 crore of average annual net worth.
Over Rs. 5,000 crore of annual net profit after tax.
Draft plastic waste recycling targets
The Union environment ministry has come out with a draft notification for regulation of extended producer responsibility under plastic waste management rules 2016. 
About:
The draft specifies the quantity of waste that will have to be managed by producers, importers and brand owners who generate plastic packaging waste in India.
EPR means the responsibility of a producer for the environmentally sound management of the product (plastic packaging) until the end of its life. 
People and stakeholders can submit objections or suggestions to the environment ministry on the draft within 60 days.
EPR covers three categories of plastic packaging including 
rigid plastic packaging; 
flexible plastic packaging of single layer or multilayer (more than one layer with different types of plastic); 
plastic sheets, carry bags (including carry bags made of compostable plastics), plastic sachet or pouches; and 
multi-layered plastic packaging.
CLICK HERE FOR FULL CURRENT AFFAIRS (Only for Course Members)
::INTERNATIONAL::
High-Level Meeting to Mark 60th Anniversary of Non-Aligned Movement
Recently, the Minister of State for External Affairs andCulture (MoS) addressed the High-level CommemorativeMeeting to mark the 60th Anniversary of the NAM.
Non-Aligned Movement (NAM).
About:
NAM was created and founded during the independence struggles of Africa, Asia, Latin America and at the height of the Cold War.
The idea was to declare themselves as non-aligned from either of the two nascent military blocks (NATOand the Warsaw Pact).
A key role was played in this process by the then Head Of State of Egypt, Ghana, India, Indonesia andYugoslavia, who later became the founding fathers of the movement.
Ten Principles of Bandung proclaimed during Bandung Asian-African Conference (April, 1955) were adopted later as the main goals of NAM.
Movement was founded on a wider geographical basis at the First Summit Conference of Belgrade held in 1961.
China-Taiwan tussle
Tensions between China and Taiwan have escalated since October 1, when China observes its National Day to mark the birth of the People's Republic of China (PRC).
About:
Taiwan, earlier known as Formosa, a tiny island off the east coast of China, is where Chinese republicans of the Kuomintang government retreated after the 1949 victory of the communists — and it has since continued as the Republic of China (RoC).
The island is located in the East China Sea, to the northeast of Hong Kong, north of the Philippines and south of South Korea, and southwest of Japan. What happens in and around Taiwan is of deep concern to all of East Asia.
Since its founding in 1949, the PRC has believed that Taiwan must be reunified with the mainland, while the RoC has held out as an "independent" country.
The RoC became the non-communist frontier against China during the Cold War, and was the only 'China' recognised at the UN until 1971. That was when the US inaugurated ties with China through the secret diplomacy of Henry Kissinger, national security adviser to President Richard Nixon.
Taiwan observes October 10 — "double 10" — as its national day; it was on this day in 1911 that sections of the Manchu army rose in rebellion, leading ultimately to the overthrow of the Qing dynasty and the end of 4,000 years of the monarchy. The RoC was declared on December 29, 1911.
::ECONOMY::
Lokniti-CSDS Survey
An analysis of asset ownership data at the household level collected by Lokniti-CSDS indicates that no more than 3% of Indian households — that is, 1 in every 33 — own these five assets at the same time.
Gauging who can afford the five assets of a car, an air-conditioner at home, a desktop or laptop computer, a refrigerator, and a television set, has been seen as an important indicator of economic well-being in a fast-growing, aspirational economy.
Apart from bigger assets such as a home or a piece of land, these five assets may be understood as ones that middle-class Indian households typically yearn to possess.
What proportion of Indian households own these five assets?
An analysis of asset ownership data at the household level collected by Lokniti-CSDS during its National Election Study in 2019 indicates that no more than 3% of Indian households — that is, 1 in every 33 — own all of these five assets at the same time.
The pace of growth of ownership of these assets has been unexceptional in recent years — five years previously, in 2014, the percentage of households that owned these assets was 2%, or 1 in every 50 households. 
Asset-ownership data collected during our studies in the five states that have gone to polls after the onset of the pandemic (Bihar, West Bengal, Tamil Nadu, Assam, Kerala), show the numbers have remained constant.
::SCIENCE AND TECHNOLOGY::
Sodium-ion batteries
Peat, plentiful in bogs in northern Europe, could be used to make sodium-ion batteries cheaply for use in electric vehicles, scientists at an Estonian university say. 
Sodium-ion batteries, which do not contain relatively costly lithium, cobalt or nickel, are one of the new technologies that battery makers are looking at as they seek alternatives to the dominant lithium-ion model.
Key highlights:
Scientists at Estonia's Tartu University say they have found a way to use peat in sodium-ion batteries, which reduces the overall cost, although the technology is still in its infancy.
The process includes heating decomposed peat to a high temperature in a furnace for 2-3 hours. The university expects the government to fund a small-scale factory in Estonia to try out the technology.
Distillers in Scotland dry malt over peat fires to flavour whisky, and some northern European countries use peat to fuel factories and households, or as fertilizer.
As bogs are drained to mine peat, they release trapped carbon dioxide, raising environmental concerns. But the Estonian scientists say they are using decomposed peat, a waste product of traditional extraction methods that is usually discarded.
 CLICK HERE FOR FULL CURRENT AFFAIRS (Only for Course Members)