Current Affairs for IAS Exams - 15 September 2021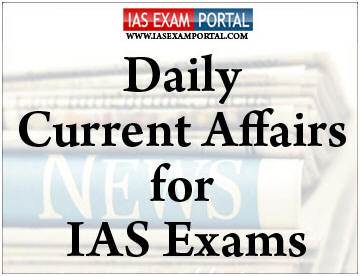 ---
Current Affairs for IAS Exams - 15 September 2021
::NATIONAL::
Coal Project enhances Green Cover under Mission Mode
New projects of Coal India Ltd. (CIL), under the Ministry of Coal are not only reclaiming land to its original shape but also enhancing Green cover.
About:
Its emphasis is to have simultaneous back filling of land after opencast Coal Mining operation and dense plantation thereon.
This has helped in lowering down the effect of pollution substantially & has also helped in increasing Carbon offset.
The Opencast Coal Project in Singrauli District of Madhya Pradesh is forging ahead in it.
All new coal projects have mandatory well laid mine closure plan which apart from other activities, becomes a guiding factor for restoration of land to its original condition after completion of mining activity. 
Action on such restoration begins right from the start of the project wherein backfilling of void by overburden becomes a major activity after mining & simultaneous plantation over the land becomes key activity for early biological restoration.
Paytm to launch FASTag-based parking service across India
Paytm Payments Bank Ltd (PPBL) has enabled the country's first FASTag-based metro parking facility in partnership with the Delhi Metro Rail Corporation (DMRC).
PPBL will facilitate the processing of all FASTag-based transactions for cars having a valid FASTag sticker which eliminates the need for stopping to pay cash at the counter. 
Additionally, Paytm Payments Bank has enabled a UPI-based payment solution for two-wheelers entering the parking site.
About Fastag:
It was mandatory from December 1, 2017 stickers for vehicles to enable seamless digital movement across toll plazas (national and state).
Uses radio frequency identification (RFID) technology and is valid for five years.
Indian Highways Management Company Limited and National Payment Corporation of India are implementing this program.
CLICK HERE FOR FULL CURRENT AFFAIRS (Only for Course Members)
::INTERNATIONAL::
Climate Action and Finance Mobilization Dialogue
India and the USA launched the "Climate Action and Finance Mobilization Dialogue (CAFMD)". 
The CAFMD is one of the two tracks of the India-U.S. Climate and Clean Energy Agenda 2030 partnership launched at the Leaders' Summit on Climate in April 2021.
CAFMD will have three pillars:
Climate action pillar to look at ways to reduce emissions in the next decade.
Pillar for setting out a roadmap to achieve 450GW renewable energy (RE) in transportation,buildings and industry.
Finance Pillar to collaborate on attracting finance to deploy 450 GW of RE and demonstrate atscale clean energy technologies.
Hindi Diwas 2021
It is observed every year on September 14 with the goal preserving and maintaining the language.
Constituent Assembly of India accepted Hindi, written in Devanagari script, as the official language of India on September 14, 1949.
Article 343 of Constitution states that official language of the Union shall be Hindi in Devanagari script.
Article 351 provides for spread of Hindi language to develop it so that it may serve as a medium of expression for all the elements of the composite culture of India.
However, Hindi is not considered as a classical language in India.
::ECONOMY::
RBI announces opening of third cohort under Regulatory Sandbox
The Reserve Bank of India on Monday announced the opening of the third cohort under the Regulatory Sandbox.
About:
The application for the third cohort may be submitted from October 1 to November 14, 2021, it said. The theme for the third cohort is MSME lending.
The RBI also announced that eight entities have been selected for the 'test phase' of the second cohort on cross border payments. Six entities have completed the 'test phase' of the first cohort on retail payments.
The products were evaluated based on mutually agreed test scenarios and expected outcomes. 
The products found acceptable under this cohort may be considered for adoption by regulated entities subject to compliance with applicable regulatory requirements, it further said.
::SCIENCE AND TECHNOLOGY::
REX MK II
Israel Aerospace Industries (IAI) unveiled the Rex MK II unmanned ground vehicle (UGV) at Defence and Security Equipment International (DSEI) 2021.
About:
It is an unmanned land platform, intended to keep troops out of harms way in complex circumstances.
REX MK II can patrol battle zones, track infiltrators and open fire. 
It supports combat forces ingathering intelligence, providing logistical support, carrying injured soldiers, and helpsREX MK II execute remote attacks.
The multi-mission Rex MK II has a payload capacity of up to 1.3 tonnes, compared to 350 kg for the original Rex UGV. 
The Rex MK II can be operated autonomously or by a single operator using wireless communication.
Other features:
To carry ammunition, medical equipment, water, food, or wounded personnel on stretchers; 
To gather intelligence with an electro-optical sensor and radar payload; 
To equipped with a remote controlled weapon station armed with a 7.62 mm machine gun or 50-cal heavy machine gun; or support other missions as required.
 CLICK HERE FOR FULL CURRENT AFFAIRS (Only for Course Members)