Current Affairs for IAS Exams - 16 February 2020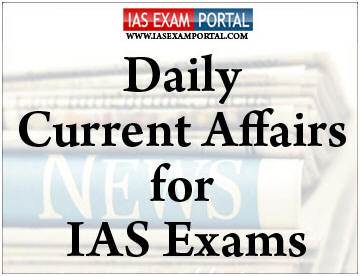 ---
Current Affairs for IAS Exams - 16 February 2020
---
::NATIONAL::
India asserts Kashmir issue will be settled on its own
In a firm repartee, External Affairs Minister S. Jaishankar on Saturday told a senior U.S. senator that India would "settle" the Kashmir issue on its own.

Referring to the Kashmir issue during a panel discussion at the Munich Security Conference, Senator Lindsey Graham said the best way to sell democracy would be to settle the Kashmir issue in a democratic way.

"In India, you are moving forward, you got your problems like we do at home, but you've chosen the democratic path. When it comes to Kashmir, I don't know how it ends, but let's make sure that two democracies will end it differently. If you can prove that concept here, then I think that's probably the best way to sell democracy," the Republican leader said.

To this, Mr.Jaishankar promptly responded, "Do not worry, Senator. One democracy will settle it and you know which one."During the discussion Mr.Jaishankar also said that the UN was far less credible than it had been in history and "something" should be done about it.

"The United Nations is far less credible than it has been in history, which is not entirely surprising because when you think about it, there are not too many things which are 75 years old and still as good as they were.

Clearly there is something that needs to be done there," he said.

Earlier, meeting U.S. House Speaker Nancy Pelosi on the sidelines of the conference, he said her "consistent support" to India-U.S. ties had always been a great source of strength.
PM urges scientists to focus on real time issues
Prime Minister NarendraModi has urged scientists to focus on real-time social issues being faced by the country such as malnutrition by providing value addition in agricultural products.

Chairing a meeting of the Council of Scientific .....................................
CLICK HERE FOR FULL CURRENT AFFAIRS (Only for Course Members)
::ECONOMY::
RBI governor claims credit growth gaining momentum
Amid concerns over the economic slowdown, RBI chief Shaktikanta Das on Saturday said credit growth momentum is picking up and ruled out any possible spike in inflation due to Budget proposals as the government is maintaining 'fiscal prudence'.

After the first meeting of the RBI Board post the 2020-21 Budget presentation, Mr. Das also expressed hope that transmission of rate cuts would improve further.

Facing revenue shortage, the government raised the fiscal deficit target to 3.8% of the GDP for 2019-20 in the Budget, from the 3.3% pegged earlier. The government has utilised 'escape clause' under the Fiscal Responsibility and Budget Management (FRBM) Act, which allows the Centre to breach its fiscal deficit target by 0.5 percentage points in times of severe stress in the economy.

Speaking on the inflationary impact of the Budget proposals, Mr. Das said, "The good part of the government borrowing is also budgeted to come from small savings. Therefore, I don't see much of an inflationary impact."

Retail inflation based on consumer price index (CPI) soared to a near six-year high of 7.59% in January, surpassing the Reserve Bank of India's comfort range primarily on account of rising vegetable and food prices.

Similarly, wholesale prices-based inflation accelerated to a 10-month high of 3.10% in January, mainly due to costlier food articles, particularly onion and potato.
IBBI data shows high liquidation in NCLT cases
More than half of the cases admitted to the National Company Law Tribunal (NCLT) are been liquidated as recovery through resolution continues to elude creditors, latest data released by the Insolvency and Bankruptcy Board of India (IBBI) showed.

A total of 3,312 cases were admitted in the........................................
CLICK HERE FOR FULL CURRENT AFFAIRS (Only for Course Members)
::INTERNATIONAL::
Portugal sets priority for joint expertise with India
Portuguese President Marcelo Rebelo de Sousa has said that his country's priority is to have joint expertise in various areas of the economy.

In his keynote address at the India-Portugal Business Forum in Mumbai, de Mr Sousa said that India is an economic and social global power and the largest democracy in the world.

Stating that both India and Portugal know each other for a long time, Mr de Sousa said that both Portugal and India are not just the European or Asian countries or cultures but they are universal. The President said the two countries work with the world, for the world be it for the peace, freedom, sustainable development or climate change.

The forum, organised by industry bodies, CII, ASSOCHAM and FICCI, was also attended by Portuguese Foreign Minister Augusto Santos Silva, Secretary of State of Internationalisation of Portuguese Republic EuricoBrilhante Dias, and Commerce and Industry Minister PiyushGoyal, besides industry leaders from the two countries.

Addressing the forum, Mr.Goyal said that both India and Portugal are focused on economic growth, investment, industry and innovation. Mr.Goyal said that during his meeting with the Portuguese business delegation, he discussed various sectors such as real estate and infrastructure development.

He said the Indian government is keen to expand its relationship with Portugal. The minister also said that it has been decided to hold the next session of the India-Portugal Joint Economic Committee in India soon to review the gamut of the bilateral trade and economic relations.
Srilanka objects to U.S blacklisting of its army chief
Sri Lanka has taken "strong objection" to the U.S. blacklisting its Army chief over allegations of "gross human rights violations" that the State Department on Friday called "serious and credible".

In addition to a statement from the U.S. State .................................
CLICK HERE FOR FULL CURRENT AFFAIRS (Only for Course Members)
::SCIENCE & TECHNOLOGY::
Researchers decode multiplying nature of malarial parasite
With over 4,00,000 deaths in 2018, according to the WHO, malaria still remains one of the biggest killer infections globally, concentrated mainly in Africa and India. The disease is caused by the parasite Plasmodium and transmitted by the Anopheles mosquito.

To understand in detail how this parasite multiplies within a mosquito, an international team of researchers spent years studying different proteins in the parasite. Their study published in Cell Reports has found two ........................................
CLICK HERE FOR FULL CURRENT AFFAIRS (Only for Course Members)
::SPORTS::
India clinches 3 medals at world snow shoe championships
Indian athletes finished with three medals in different categories in the World SnowShoe Championship at Myoko, Japan today.

According to a tournament official, Ayan Bin Shahnaz bagged silver, while Zain Ali and MuzamilHussain Mir, all are from Kashmir, bagged bronze medals in their respective categories.

Athletes from 17 countries including the USA, Canada, Australia, Italy, Germany, Spain, Sweden and France participated in the championship.