Current Affairs for IAS Exams - 16 February 2021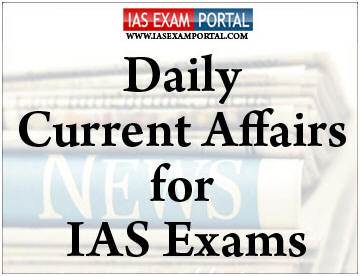 ---
Current Affairs for IAS Exams - 16 February 2021
::NATIONAL::
Mahatma Gandhi NationalFellowship
Mahatma Gandhi NationalFellowship (MGNF)is a Certificate Program in Public Policy and Management offered by IIMs. 
It has been designed at the initiative of Ministry of Skill Development and Entrepreneurship (MSDE).
MGNF, first launched as a pilot, is now expanding to all districts in the country.
MGNF fellows will understand overall skill ecosystem along with being attached to District Skill Committees(DSCs) and help them manage the skill development planning at district level through formulating DistrictSkill Development Plans (DSDPs).
MGNF is in line with objectives of SANKALP programme of MSDE to strengthen the district skill administration and DSCs.
Arjun Mk-1A tank 
Prime Minister Narendra Modi handed over the indigenous main battle tank Arjun Mk-1A to the Army in a function at the Jawaharlal Nehru Indoor Stadium in Chennai. 
Chief of the Army Staff General Manoj Mukund Naravane received the model of the tank, designed and developed by Chennai-based Combat Vehicles Research and Development Establishment (CVRDE), a unit of the Defence Research and Development Organisation (DRDO).
About:
The Arjun Mk-1A has superior firepower, high mobility, excellent protection and comfort for the crew. According to CVRDE 14 major improvements have been made over the Arjun Mk-1 Combat Vehicle Research and Development Facility (CVRDE) as a leading laboratory. 
The aim was to create a "state-of-the-art tank with superior firepower, high mobility and excellent protection". 
During development the CVRDE achieved breakthroughs in the engine, transmission, hydropneumatic suspension, hull and turret, and weapon control system. 
Mass production began in 1996 at the Indian Ordnance Factory in Avadi, Tamil Nadu. 
The move in for 118 of these Tanks will soon be placed at the Heavy Vehicle Factory (HVF) in Avadi near Chennai. 
The Army is expected to contact the Defense Acquisition Council (DAC) for approval soon. After that, the entry for 118 tanks will be placed at a cost of Rs. 8,956.59 crore. 
Problems with Arjun Mk-1 ammunition, spares and repairs have also been fixed and the DRDO has an Arjun hub in Jaisalmer for parts and Support set up.
CLICK HERE FOR FULL CURRENT AFFAIRS (Only for Course Members)
::INTERNATIONAL::
France votes on anti-radicalism bill
France's lower house of parliament is voting on a bill that would strengthen government oversight of mosques and religious schools and crackdown on polygamy and forced marriage, among other measures aimed at rooting out Islamic radicalism.
The bill is part of broader French efforts to fight extremism in recent years that gained new urgency after a teacher was beheaded in October and other attacks. 
President Emmanuel Macron says the efforts are also needed to protect French values like gender equality and secularism from encroaching on fundamentalism in some communities.
But many French Muslims say the draft law limits religious freedom and unfairly targets them, and say France already has enough laws to fight terrorist violence. 
Critics call the bill a political manoeuvre by Macron to win support from conservative and far-right voters ahead of next year's presidential election.
India tops the world with global death in road accidents
The country accounts for about 4.5 lakh road crashes per annum, in which 1.5 lakh people die.
India tops the world in road crash deaths and injuries. It has 1 per cent of the world's vehicles but accounts for 11 per cent of all road crash deaths, witnessing 53 road crashes every hour; killing 1 person every 4 minutes.
About:
The 2019 World Bank report, titled 'Guide for Road Safety Opportunities and Challenges: Low- and Middle-Income Countries Country Profiles', puts the road crash and serious injury cost estimate at 7.5 per cent of India's GDP or Rs 12.9 lakh crore for 2016. 
In the last decade, 13 lakh people died and another 50 lakh got injured on Indian roads.
It is more than twice the figure cited by the government at 3 per cent of GDP or Rs 4.3 lakh crore.
A recent study commissioned by the Ministry of Road Transport and Highways (MoRTH) estimates the socio-economic costs of road crashes at Rs 1,47,114 crore in India, which is equivalent to 0.77 per cent of the country's GDP.
::ECONOMY::
RBI sets up panel for strengthening UCBs
The Reserve Bank of India has set up of an eight-member expert committee on urban co-operative banks (UCBs) to examine their issues and provide a roadmap for strengthening the sector.
About:
The panel, to be headed by former RBI Deputy Governor will take stock of regulatory measures taken by the central bank and other authorities in respect of UCBs and assess their impact over last five years to identify key constraints and enablers, if any, in fulfilment of their socio-economic objective.
It will also review the current regulatory and supervisory approach and recommend suitable measures to strengthen the sector, taking into account recent amendments to the Banking Regulation Act, 1949. 
The panel will also suggest effective measures for faster rehabilitation or resolution of UCBs and assess potential for consolidation in the sector. 
It will consider the need for differential regulations and examine prospects to allow more leeway in permissible activities for UCBs with a view to enhance their resilience.
It will draw up a vision document for a vibrant and resilient urban co-operative banking sector having regards to the Principles of Cooperation as well as depositors' interest and systemic issues.
::SCIENCE AND TECHNOLOGY::
India opening up the geo-spatial sector
The Ministry of Science and Technology Monday released new guidelines for the Geo-spatial sector in India, which deregulates existing protocol and liberalises the sector to a more competitive field.
About:
Geospatial data is data about objects, events, or phenomena that have a location on the surface of the earth.
The location may be static in the short-term, like the location of a road, an earthquake event, malnutrition among children, or dynamic like a moving vehicle or pedestrian, the spread of an infectious disease. 
Geospatial data combines location information, attribute information (the characteristics of the object, event, or phenomena concerned), and often also temporal information or the time at which the location and attributes exist. 
Geo-spatial data usually involves information of public interest such as roads, localities, rail lines, water bodies, and public amenities.
CLICK HERE FOR FULL CURRENT AFFAIRS (Only for Course Members)
::MISCELLANEOUS::
Basant Panchami 
Basant Panchami and Saraswati Puja are being celebrated in different parts of the country. 
People, especially students worship Saraswati, the goddess of wisdom and knowledge on this occasion. 
In West Bengal, Saraswati Puja is being celebrated with religious fervor and traditional gaiety. In view of the pandemic, this year the participation in puja is less than normal.
On this day the Hindus visit temples and pray to the goddess Saraswati. Several schools begin their session on Saraswati Puja Day. 
Flowers are offered to the goddess Saraswati and the festive yellow dishes such as sweet saffron rice, KesariSheera, BoondiKeLadoo, Rajbhog and Khichdi are prepared at home.