Current Affairs for IAS Exams - 16 March 2020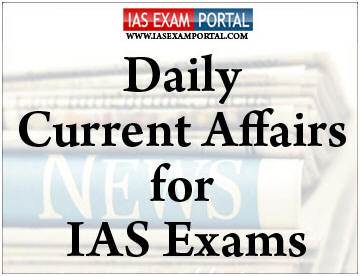 ---
Current Affairs for IAS Exams - 16 March 2020
---
::NATIONAL::
Home ministry to announce new industrial policy for Jammu & Kashmir
Union Home Minister Amit Shah has said that an Industrial Policy will be announced soon for the rapid economic development of Jammu and Kashmir.
Saying that Jammu and Kashmir attracted 13,000 Crore rupees for the last 70 years, Mr Shah expressed hope that by 2024 three times more investment will come in the region.Mr Shah said this while meeting a 24 member delegation from Jammu and Kashmir's Apni Party led by Altaf Bukhari in New Delhi yesterday.
The Home Minister said NDA government will take all steps for the overall development of the region. Mr Shah also emphasised that there is no intention of the Government for demographic change in the region and all such talks have no basis at all. He said the Government will work with all sections of the society to realize the hopes of statehood for Jammu and Kashmir at an early opportunity.
Mr Shah assured the delegation that Jammu and Kashmir will have a better domicile policy than other states. He added that a reasonable Economic Development Policy will be drafted soon after widespread consultation.
Mr Shah emphasised that there is no discrimination in the implementation of Central Laws in the region and interests of all sections will be taken care of.
On the issues of reservation, the Home Minister said that a Commission will be set up soon and reiterated that no injustice will be done to Gujjars, nomads and other communities. On the issues concerning J&K Bank, he assured the delegation to personally look into the issues.
CJI rules out shutdown of courts
An urgent meeting was called by Chief Justice of India (CJI) Sharad A. Bobde on Sunday to clarify that there cannot be a complete shutdown of courts in the wake of the COVID-19 outbreak.
The CJI explained that as virtual .........................
CLICK HERE FOR FULL CURRENT AFFAIRS (Only for Course Members)
::ECONOMY::
Govt. says MPLAD scheme fund remains unspent
A cumulative amount of Rs 5,275.24 crore remained unspent under Members of Parliament Local Area Development (MPLAD) scheme as on March 4, 2020, Parliament was informed on Wednesday.
The government released Rs 53,704.75 crore under MPLAD scheme out of which Rs 51,267.75 crore was spent as on March 4, 2020, Union Minister Rao Inderjit Singh said in a written reply to the Lok Sabha.
As per the data given by the Ministry of Statistics & Programme Rs 5,275.24 was the "unspent fund" as on March 4.
Under MPLAD scheme, each Member of Parliament has the choice to suggest to the District Collector for development works to the tune of Rs 5 crore per annum to be taken up in his/her constituency.
Rajya Sabha MPs can recommend works in one or more districts in the State from where he/she has been elected. The nominated members of the Lok Sabha and Rajya Sabha may select any one or more districts from any one State for implementation of their choice of work under the scheme.
"Given the nature and dynamics of the scheme, unspent balances are bound to exist at any given point of time, as the funds released under the scheme are non-lapsable and the funds received by a district in a particular year can be utilized in the subsequent financial year(s) also.
"Moreover, unspent balance is not an unused fund but also includes the funds in pipeline for implementation of ongoing works," the Minister of State for Statistics & Programme Implementation said.
Export body recommends reduced dependence on China
The Apparel Export Promotion Council (AEPC) has advised its members to explore more markets for buying intermediates or raw materials to reduce dependency on China due to coronavirus outbreak.
In a letter to its members, ..................................
CLICK HERE FOR FULL CURRENT AFFAIRS (Only for Course Members)
::INTERNATIONAL::
UN chief urges governments to work together to prevent global recession
UN chief Antonio Guterres on Sunday urged governments to work together to stop the coronavirus pandemic from plunging the global economy into recession.
"No country can face it alone," the secretary general wrote in an opinion article in the Publico daily.
"More than ever, governments must cooperate to revitalise economies, expand public investment, promote trade and ensure that people and communities affected by the disease are supported," he said.
The virus was "infecting the global economy," he said.The pandemic had created a "real and growing risk of a global recession," the former Portuguese premier said.
The International Monetary Fund, which releases its updated outlook on the world economy next month, has said that the severity of the slowdown will depend on how long the virus outbreak lasts and how governments respond
In January the fund was still projecting world GDP growth of 3.3 percent, but that was before global disruptions, shutdowns and plunging oil prices.
Coronavirus has infected close to 160,000 people worldwide and killed more than 6,000, according to the latest AFP tally of official figures.
::SCIENCE & TECHNOLOGY::
Study finds new minor planets at the edge of solar system
Astronomers have discovered 139 new trans-Neptunian objects (TNOs) -- minor planets located in the far reaches of the solar system.
The study, published in The Astrophysical Journal Supplement Series, also describes a new approach for finding similar types of objects, and could aid future searches for the hypothetical ...............................................
CLICK HERE FOR FULL CURRENT AFFAIRS (Only for Course Members)
::SPORTS::
Tai Tzu Ying clinches All England championship
In Badminton, Taiwan's shuttler Tai Tzu Ying clinched her third women's singles title of the All England Championships at Birmingham in United Kingdom today.
Ying beat China's Chen Yufei in two straight games 21-19, 21-15 in 44 minutes.
Earlier in the men's singles, Denmark's Victor Axelsen outclassed Taiwan's Chou Tien-Chen in two straight games 21-13, 21-14 in the summit clash that lasted for about 46 minutes.