Current Affairs for IAS Exams - 16 May 2017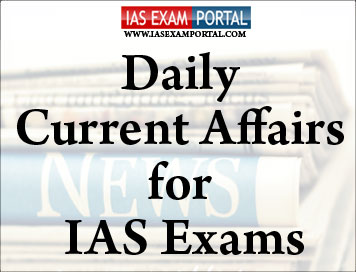 Current Affairs for IAS Exams - 16 May 2017
::
National

::
ICJ to decide on halt of execution Kulbhushan Jadhav
The International Court of Justice will decide whether to order Pakistan to temporarily halt the execution of former Indian naval officer Kulbhushan Jadhav after what India termed a "farcical" military trial in Pakistan.
India's counsel Harish Salve accused Pakistan of "egregious violations" of the Vienna Convention on Consular Access.
Pakistan dubbed Mr. Jadhav a "terrorist" and accused India of ambushing it by pushing for provisional measures (the stay on execution) from the court, denying the need for extreme urgency in the case. 
It also asserted that Mr. Jadhav had 150 days to legally challenge his sentence, while stating that the Vienna Convention provisions were not intended for a 'spy' involved in terror activities.
The decision of the court, in the form of an order, could come within days, with the shortest period ever taken by the court on an order being the day after the hearing. 
Several thousand computers affected by ransom ware 
First weekday after the WannaCry ransomware attack began, several thousand more computers turned out to be affected, particularly in Asia. 
However, a second wave of the attack that many feared would be carried out with mutated versions of the malware did not happen.
In India, Information Technology Minister Ravi Shankar Prasad said barring "isolated incidents" in Kerala and Andhra Pradesh, there had been no major impact of the attack.
Mr. Prasad said the government had issued an advisory in March, and informed administrators about Microsoft's "software patch" to be used against a possible attack. 
The existence of the EternalBlue exploit of Windows that the malware uses to spread has been known for some time.
A cyber coordination centre to take precautions against such attacks would start operations by June. A software upgrade of all government systems will also be in place by then.
While Mr. Prasad denied any knowledge of banking systems being affected, an official said a few ATMs in remote areas had been shut to upgrade their operating software.
Simple and practical way to kill cancer cells
Scientists have discovered a simple and practical way to kill cancer cells by using light to steer immune cells to attack the tumours.
Researchers at the University Rochester Medical Centre describe their method as similar to "sending light on a spy mission to track down cancer cells."
Immunotherapy is different from radiation or chemotherapy. Instead of directly killing cancer cells, immunotherapy tells the immune system to act in certain ways by stimulating T cells to attack the disease.
They discovered that a molecule called channelrhodopsin, active in algae and is light sensitive, could be introduced to the immune system via a virus and activated to control the T cell response to cancer. 
They also tested an LED chip in mice, which could eventually be implanted in humans. The team evaluated their methods in mice with melanoma on the ears.
The animals wore a tiny battery pack that sent a wireless signal to the LED chip — allowing researchers to remotely shine light on the tumour and surrounding areas, giving T cells a boost for their cancer-killing function.
Strategic Partnership model for defence procurements
The Defence Acquisition Council (DAC) chaired by Defence Minister Arun Jaitley discussed the proposed Strategic Partnership (SP) model for defence procurements.
Another DAC meeting has also been slotted to discuss the issue, and officials expressed confidence that it would be finalised and approved. 
After the DAC's approval, the policy would be sent to the Cabinet Committee on Security (CCS) chaired by the Prime Minister for final clearance.
The model aims to boost the role of private sector in defence manufacturing and develop the local base in the long term.
International 
Next Belt and forum summit will be held in 2019
China took the first step to institutionalise the Belt and Road Forum (BRF) with President Xi Jinping announcing that the next edition of the conclave would be held in 2019.
The Chinese President stressed that the BRI would be a collective enterprise which would strive to work in harmony with the national plans of the participating countries. 
He said the BRI would stand by the "Silk Road spirit" of win-win cooperation.
He stressed the BRF had emerged as a forward looking platform, which had "taken stock of cooperation, built consensus and tried to build the course with a road map and action plan".
Business and Economy
Cash transactions are picking up again
Cash transactions are beginning to trump almost every form of digital payment alternative with April clocking a decline in volumes as well as value of transactions conducted through cards, mobile banking and the Unified Payment Interface (UPI).
The trend assumes significance six months after the Centre announced demonetisation of Rs. 500 and Rs. 1,000 notes on November 8.
The near-completion of the remonetisation process and merchants unwillingness to pay user charges also known as the Merchant Discount Rate (MDR) to banks has resulted in a slump in demand for new point of sale (PoS) devices, according to industry players.
While merchants are moving away from card transactions due to the MDR charge, other payment systems like Aadhaar-enabled payments, UPI and Bharat QR are all relatively unpopular in smaller towns.
The RBI's database shows that Immediate Payment Service (IMPS) transactions contracted 3.4% in volume and 0.5% in value in April 2017 compared with the previous month. In contrast, December saw a growth of 46% and 33% in the volume and value of IMPS transactions.
Similarly, the volume of UPI transactions grew only about 11% in April, down from 47% in March. 
The value of these transactions contracted 8% in April as opposed to a growth of 25% in March. Card transactions contracted 3.6% in volume and 1.1% in value over the same period.
E-wallets were the only commonly-used mode of electronic payments that witnessed a growth (4%) in the value of transactions in April and players in the space are optimistic that this trend may stick. 
Overall, financial technology experts say that the government could take more steps to encourage the shift to digital payments but do admit that the attraction of cash is very tough to combat.
Anti-dumping duty imposed on glass from Iran and China
India has imposed anti-dumping duty on a certain type of glass from Iran and also Chinese aluminium radiators to protect domestic industry from cheap imports.
While an anti-dumping duty of up to $55.59 per tonne was imposed on clear float glass, $22.89 was slapped on imports of aluminium radiators. The duty on both the products would be effective for a period of five years.
Clear float glass is used in construction, refrigeration, mirror and solar energy industries. The product is a superior quality of glass.
The Commerce Ministry's investigation arm — Directorate General of Anti dumping and Allied Duties (DGAD) — in a separate probe, had arrived at a conclusion that these products had been dumped into India and had caused material injury to the domestic industry in the country.
April trade deficit widened
The country's goods trade deficit in April, the first month of FY'18, widened to $13.2 billion — the highest since the $16.2 billion clocked in November 2014, data released by the Commerce Ministry showed.
This was due to goods imports in April recording a historic 49.07% year-on-year growth to $37.9 billion — following a surge in gold, oil, coal, chemicals, pearls and precious stones imports — and outpacing exports despite shipments rising for the eighth consecutive month.
Goods exports in April were worth $24.6 billion but its growth slowed down on a month-on-month basis to 19.8% as against the 27.12% growth in March. Non-petroleum and non-gems and jewellery exports in April increased 17.06% to $177.18 billion. 
The growth in exports is positive for all major economies — USA (4.74%), European Union (0.16%) and Japan (13.3%) — barring China (where it shrunk -1.56%) for Feb 2017 over the corresponding period of the previous year as per latest WTO statistics.
In India, gold imports continued to surge when it jumped 211.35% in April to $3.8 billion. In March, the imports of the yellow metal had risen 328.9% to $4.1 billion while in February it had increased by 147.6% to $3.4 billion. Oil imports in April rose 30.12% to $7.3 billion.