Current Affairs for IAS Exams - 16 July 2022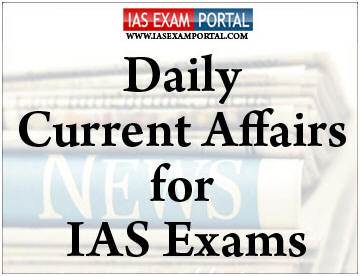 ---
Current Affairs for IAS Exams - 16 July 2022
::NATIONAL::
Scientific Social Responsibility
Department of Science and Technology (DST) recently released the Scientific Social Responsibility (SSR) Guidelines.
About:
SSR is the ethical obligation of knowledge workers to voluntarily contribute to widest spectrum of stakeholders in society.
SSR is aimed at creating an effective ecosystem for optimum use of existing assets to empower less endowed, marginalized and exploited sections of society.
Key highlights: 
Every knowledge institution would prepare its implementation plan in consultation with an identified knowledge-based institution called "Anchor Scientific Institution (ASI)" for achieving its SSR goals.
Every knowledge worker is expected to contribute at least ten person-days in a year towards SSR over and above their routine/regular work.
Individual and institutional SSR activities would be adequately incentivised with necessary budgetary support.
Advantage: 
To expand domain of science and its benefits within community.
CLICK HERE FOR FULL CURRENT AFFAIRS (Only for Course Members)
Inter-State Council
The Centre has reconstituted the Inter-State Council (ISC), which works to promote and support cooperative federalism.
About: 
President (under Article 263) can establish such a council and also authorized to define the natureof duties to be performed by such a council.
In pursuance of the recommendations of Sarkaria Commission, ISC was constituted in 1990.
ISC is a recommendatory body on issues relating to inter-state, Centre–state and Centre–unionterritories relations.
Compositions:
CM of UTs having legislative assemblies and Administrators of UTs not having legislative assemblies are also its members.
Union Home Minister will be the chairman of standing committee.
CLICK HERE FOR FULL CURRENT AFFAIRS (Only for Course Members)
::INTERNATIONAL::
Monkeypox
The World Health Organization (WHO) has said that Monkeypox can be contained in countries outside of Africa where the virus is not usually detected.
Key highlights: 
The WHO's said that, this is a containable situation and there is a need to stop human-to-human transmission.
As the transmission is really happening from skin-to-skin contact, most of the people who have been identified have more mild diseases.
As report said, more than 100 cases of the virus, which causes a rash and a fever have been confirmed in Europe, Americas, and Australia.
The virus is most common in remote parts of Central and West Africa.
About Monkeypox: 
Monkeypox is an infectious disease caused by the monkeypox virus that can occur in certain animals, including humans. Symptoms begin with fever, headache, muscle pains, swollen lymph nodes, and feeling tired.
This is followed by a rash that forms blisters and crusts over.
The time from exposure to onset of symptoms is usually 7 to 14 days.
The duration of symptoms is typically two to four weeks.
Cases may be severe, especially in children, pregnant women or people with supressed immune systems.
CLICK HERE FOR FULL CURRENT AFFAIRS (Only for Course Members)
World Economic Forum launches alliance to supercharge India's climate action
The World Economic Forum (WEF) has launched the India chapter of the Alliance of CEO Climate Action Leaders to supercharge India's climate action and decarbonization efforts.
About:
Part of the World Economic Forum's Climate Action Platform, the alliance will continue efforts to achieve the vision outlined in the white paper released last year.
Mission 2070: A Green New Deal for a Net Zero India', on India's low-carbon transition by 2070. It will bring together the government, businesses, and other key stakeholders to achieve Prime Minister Narendra Modi's ambitious 'Panchamrit' pledge, which includes the country's net-zero target by 2070.
CLICK HERE FOR FULL CURRENT AFFAIRS (Only for Course Members)
::ECONOMY::
RBI formed committee to review customer service standards
The Reserve Bank of India (RBI) on May 23 set up a six-member committee to examine and review customer services in regulated entities with an aim to protect the interests of customers.
Key highlights:
The committee will also look into the adequacy of customer service regulations and suggest measures to improve customer service, the banking regulator said in a release.
The committee, which will be chaired by former RBI deputy governor BP Kanungo, will submit its report in three months from the date of its first meeting.
The RBI is looking to enhance customers' experience in banking and make sure that grievances are quickly addressed–both by regulated entities and the central bank.
The committee would review the emerging and evolving needs of the customer service landscape, especially in the context of evolving digital and electronic financial products and distribution landscape and suggest suitable regulatory measures, the RBI said.
It will also identify the best practices, adopted globally and domestically, in customer service and grievance redressal.
The committee is also expected to suggest measures to leverage technology for enhancing customer service efficiencies, upgrading internal grievance redress mechanism and strengthen the overall consumer protection framework of the central bank.
CLICK HERE FOR FULL CURRENT AFFAIRS (Only for Course Members)
::SCIENCE AND TECHNOLOGY::
BioRRAP
Department of Biotechnology has developed BioRRAP to track the regulatory approvals for a research proposal on a single portal.
About:
BioRRAP provides a single route to direct the applicant to regulatory agencies providing requisite approval relevant to the biological research.
This will provide more credibility to such biological researches and will strengthen interdepartmental synergies and increase efficacy in functioning of agencies regulating various aspect of biological research.
CLICK HERE FOR FULL CURRENT AFFAIRS (Only for Course Members)