Current Affairs for IAS Exams - 16 June 2022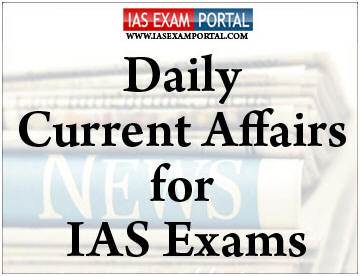 ---
Current Affairs for IAS Exams - 16 June 2022
::NATIONAL::
Har Ghar Dastak campaign 2.0
"Har Ghar Dastak campaign 2.0" to accelerate the pace and coverage of COVID19 vaccination across States and UTs has commenced across the country.
About:
Incorporating the experience & learning from Har Ghar Dastak campaign launched in Nov 2021, Har Ghar Dastak 2.0will be implemented from 1st June 2022 to 31st July 2022.
The objective of the Har GharDastak2.0Abhiyan is to vaccinate and cover the eligible population groups for first, second and precaution doses through door-to-door campaigns. 
Major focus will also remain on improving sub-optimal coverage of persons aged ≥ 60years with precaution dose, along with considerably slower speed of coverage in the 12-14 years cohort by focussed campaigns for old age homes, schools/colleges including the out-of-school children (for focussed coverage of children aged 12-18 years population), prisons, brick kilns, etc. 
States/UTs have been urged to undertake effective monitoring with respective micro-plans based on due-lists of all eligible beneficiaries. 
CLICK HERE FOR FULL CURRENT AFFAIRS (Only for Course Members)
Valmiki Tiger Reserve
The forest department of Bihar has established an elephant rescue centre at Bihar's Valmiki Tiger Reserve (VTR) to rehabilitate stray, abandoned and injured elephants.
About:
It is located in the extreme northeastern end along the international border with Nepal in western Champaran district.
The west of the reserve is bounded by the Gandak River.
It is contiguous with Nepal's Chitwan National Park to the north, sharing a forested boundary with Sohagibarwa Wildlife Sanctuary in Uttar Pradesh.
It represents one of the last patches of forests having a unique combination of the terai-bhabar vegetation.
It is the only protected area where Gaur is found in the Shivaliks and Gangetic plains landscape.
CLICK HERE FOR FULL CURRENT AFFAIRS (Only for Course Members)
::INTERNATIONAL::
U.S. guns legislation laws 
The United States recently witnessed two episodes of mass shootings in a span of 11 days that killed more than 30 people including elementary school children. 
Key highlights: 
U.S. recorded a total of 24,576 homicides in 2020, of which approximately 79%, or 19,384 incidents, involved the use of a firearm.  
Public policy think tank Council on Foreign Relations (CFR) mentioned in an assessment in July 2021 that many gun control advocates have suggested that U.S. "should look to the experiences of its wealthy democratic peers that have instituted tighter restrictions to curb gun violence."
Gun laws in countries as the United Kingdom, Australia and Canada are stringent and require applicants to meet a host of criterions for acquiring a firearms licence with Japan having the most cumbersome process laden with complex documentations and training.  
Countries like Uruguay, on the other hand, are more open in according licenses.  
Scenario in India:
The minimum age requirement for acquiring a gun licence in India is 21 years.
The applicant must not have been convicted of any offence involving violence or moral turpitude five years prior to commencing the application, not of an 'unsound mind' and not a threat to public safety and peace. 
Property qualification is not a criterion for acquiring gun license. Upon receiving an application, the licensing authority (I.e., the Home Ministry), asks the officer in-charge of the nearest police station to submit a report about the applicant after thorough vetting within a prescribed time.  
The Arms Act amended in 2019 reduces the number of firearms that an individual can procure from 3 to 2. The validity of the license has been increased from the present 3 years to 5 years.  
CLICK HERE FOR FULL CURRENT AFFAIRS (Only for Course Members)
Leadership for Industry Transition (LeadIT).
Ahead of the UN's Stockholm+50 conference, India and Sweden hosted the Industry Transition Dialogue at Stockholm as part of Leadership for Industry Transition (LeadIT).
About: 
It gathers countries and companies committed to reaching net-zero carbon emissions from industry by 2050.
LeadIT is a voluntary initiative launched by India and Sweden at the UN Climate Action Summit of 2019.
It is supported by the World Economic Forum and its Secretariat is hosted by Stockholm Environment Institute.
Japan and South Africa, the latest members of the initiative were welcomed. This extends the total membership of LeadIT to 37 including countries and companies together.
CLICK HERE FOR FULL CURRENT AFFAIRS (Only for Course Members)
::ECONOMY::
Direct-to-Mobile 
Department of Telecommunications (DoT) has set up a committee to study direct broadcast to smartphones.
Main use cases of D2M network:
In 2021, Prasar Bharati announced collaboration with IIT Kanpur to test feasibility of the technology, called Direct-to-Mobile (D2M).
It has ability to converge with traditional mobile networks.
To provide additional data pipes to mobile operator which can help decongest their network from heavy bandwidth consumption during peak traffic periods.
CLICK HERE FOR FULL CURRENT AFFAIRS (Only for Course Members)
::SCIENCE AND TECHNOLOGY::
Liquid mirror telescope 
The Four-metre International Liquid Mirror Telescope (ILMT) saw the first light recently, gazing out from its vantage on Devasthal, a hill in Uttarakhand, into the deep sky.
Key highlights: 
The telescope, staring at the sky overhead, will make sky surveys possible and obtain images that can help observe transient phenomena such as supernovae and record the presence of space debris or meteorites – basically, watch the skies.
The telescope has been built by a collaboration of scientists from Canada, Belgium and India 
It is located at an altitude of 2,450 metres at the Devasthal Observatory campus of the Aryabhata Research Institute of Observational Sciences (ARIES) in Nainital district.
A large pool of mercury placed in a vessel is spun around so fast that it curves into a parabolic shape. Since mercury is reflective, this shape helps in focusing the reflected light. A thin sheet of mylar protects the mercury from the wind.
The first image made by the telescope consisted of several stars and a galaxy NGC 4274 which is 45 million light years away. 
CLICK HERE FOR FULL CURRENT AFFAIRS (Only for Course Members)
::MISCELLANEOUS::
Sologamy
A 24-year-old Vadodara woman, Kshama Bindu, on Thursday (June 2) announced that she would marry herself later this month, in what she described as an "act of self-love". The wedding, being seen as one of the first instances of self-marriage or "sologamy" in the country, is slated for June 11.
About:
Sologamy is the act of marrying oneself in a public ceremony, also referred to as self-marriage or autogamy. 
While such a marriage has no legal sanction or status, the symbolic ceremony is used by many as an act to emphasize their self-love and independence.
It can be traced back to Linda Baker, a dental hygienist from the US, who married herself in 1993. 
A sologamy divorce was also reported last year when a Brazilian model, Cris Galera (33), announced she was ending her solo-marriage after just 90 days as she had fallen in love with someone else.
CLICK HERE FOR FULL CURRENT AFFAIRS (Only for Course Members)