Current Affairs for IAS Exams - 16 September 2021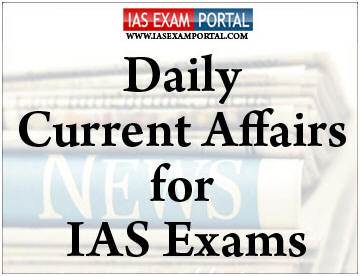 ---
Current Affairs for IAS Exams - 16 September 2021
::NATIONAL::
Student Entrepreneurship Program 3.0
It has been launched by Atal Innovation Mission(AIM),NITI Aayog in collaboration with Dassault SystemesFoundation, the third in the series.
It was conceptualized and rolled out in France in 2017.
About SEP 3.0
Targets Young Innovators of Atal Tinkering Labs(ATL), to push school students to become futureinnovators and entrepreneurs.
Theme of this year is Made in 3D- Seed the Future Entrepreneurs Program.
The imperativeness of Student Entrepreneurship Program:
The Student Entrepreneurship Programme will serve as a catalyst and help accelerate the entrepreneurial journey of the young innovators in creating a new innovative India.
SEP 3.0 will allow young entrepreneurs to work closely with Dassault volunteers and gain the knowledge of Mentor support, Prototyping, and testing support, End-User feedback, Intellectual Property registration among others.
Atal Innovation Mission:
The Government of India has been running its flagship initiative 'Atal Innovation Mission' (AIM), to promote a culture of innovation and entrepreneurship in the country. 
The objective of this scheme is to enhance curiosity, creativity, and imagination in young minds & inculcate adaptive learning, and physical computing With more than 7,200 labs across the country, over 3.5 million students have been trained under the initiative.
Cluster Development Fund
Small Industries Development Bank of India (SIDBI) handed over Rs 350 crore commitment letterto Assam government under Cluster Development Fund (CDF).
About:
Ministry of Micro, Small and Medium Enterprises (MSME) has adopted Cluster DevelopmentProgramme (CDP) for enhancing the productivity, competitiveness and capacity building ofMicro and Small Enterprises (MSEs).
This set up common facility centres for testing, training centre, complementing productionprocesses, etc.
It promotes green and sustainable manufacturing technology for the clusters.
It is also create or upgrade infrastructural facilities in new/existing Industrial Clusters of MSEs.
CLICK HERE FOR FULL CURRENT AFFAIRS (Only for Course Members)
::INTERNATIONAL::
Exercise PEACEFUL MISSION
Joint Counter Terrorism Exercise PEACEFUL MISSION is a Multilateral Exercise, which is conducted biennially as part of military diplomacy between Shanghai Cooperation Organisation (SCO) member states. 
About:
The 6th edition of Exercise PEACEFUL MISSION is being hosted by Russia.
The aim of the exercise is to foster close relations between SCO member states and to enhance abilities of the military leaders to command multi-national military contingents. 
The Indian military contingent comprising of an all arms combined force of 200 personnel to include 38 personnel from the Indian Air Force is participating in the Exercise PEACEFUL MISSION -2021. 
The exercise will enable sharing of best practices between the Armed Forces of SCO nations. 
The exercise will also provide an opportunity to the Armed Forces of SCO Nations to train in Counter-Terrorism Operations in an urban scenario in a multinational and joint environment.  
The scope of the exercise includes professional interaction, mutual understanding of drills & procedures, establishment of joint command & control structures and elimination of terrorist threats. 
Toxic3 Os
US activists, politicians have submitted a Citizen Petition to the Food and Drug Administration (FDA)to reclassifyToxic 3 Os(oxybenzone, octinoxate and octocrylene).
They urged that these chemicals be shifted to Not Generally Recognized as Safe & Effective(GRASE Category II).
These'Toxic 3 Os'are active ingredients present in more than two-thirds of all sunscreens.
They pose a threat to public health, marine life and coral reefs.
::ECONOMY::
Prepaid Payment Instruments
RBI has issued Master Directions on Prepaid Payment Instruments (PPI).
No entity can set up and operate payment systems for PPIs without prior approval or authorisation of the RBI.
Classify PPIs in two categories - small PPIs and full KYC PPIs.
They were earlier classified as closed systems, semi-closed systems and open system PPIs.
RBI under Payment and Settlement Act, 2005 defines PPIs as instruments of payment that facilitate buying of goods and services, including the transfer of funds, financial service and remittances, against the value stored within or on the instrument.
::SCIENCE AND TECHNOLOGY::
Nasal Vaccine
Nasal Vaccine has been developed by Bharat Biotech and supported by Department of Biotechnology (DBT) and its PSU, Biotechnology Industry Research Assistance Council (BIRAC).
Nasal vaccine doses are given via the nose, rather than oral or through muscles. It helps todeliver the medication directly into the respiratory pathway.
The R&D for the vaccine is being supported under Mission COVID Suraksha which was launchedunder third stimulus package, Atmanirbhar 3.0 for consolidating available resources towardsaccelerated vaccine development.
 CLICK HERE FOR FULL CURRENT AFFAIRS (Only for Course Members)