Current Affairs for IAS Exams - 17 February 2020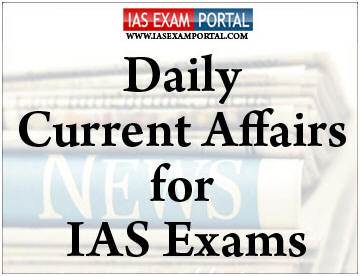 ---
Current Affairs for IAS Exams - 17 February 2020
---
::NATIONAL::
EC to consider remote voting system with aid from scientists
The model of an Aadhaar-linked electronic voting system, which will enable electors to cast their votes from any part of the country irrespective of where they are registered to vote or even abroad, is being prepared for the Election Commission of India by the Indian Institute of Technology-Madras (IIT-M), ECI officials said.

The model is likely to be presented before the Commission next month and if approved, a prototype can be readied by the year-end or early next year, Deputy Election Commissioner SandeepSaxenatold .

If the project is given the go-ahead by the EC, election laws will have to be changed. "The IIT-M is developing a system for two-way remote voting in controlled environment using blockchain technology. It will have to be integrated with our ERO Net so if a person votes remotely, the electoral roll will reflect that," he said.

With the proposed linking of Aadhaar with voter IDs at an "advanced stage", the official said, the two-way system would be possible only when the linking is complete.

The ECI had used a one-way electronic system for service electors for the first time in the 2019 LokSabhaelections.The postal ballots were transmitted electronically to the service electors, which led to an increased turnout or 60.14%.
Madhya Pradesh records highest number of neonatal deaths
Madhya Pradesh has recorded the highest percentage of newborn deaths of 11.5% against the total admissions to government-run sick newborn care units (SNCUs) in the past three years across the country, a rate ominously spiralling since 2017, according to the National Health Mission (NHM). The country's average is 7%.

Although admissions of neonates (under 28 days) in the State have dropped from April 2017 to December 2019 — remaining lower than West Bengal, Rajasthan and Uttar Pradesh — the percentage of deaths at 12.2% surpassed Bihar's last year.

Meanwhile, West Bengal, where 34,344 neonatal deaths occurred in the period, the most in the country, the declining percentage of deaths from 9.2% in 2017 to 8.9% in 2019 coincided with a slump in admissions.

Staff crunch, low community referrals, absence of a special neonatal transport service to health centres, and the non-availability of enough units to cater to increasing institutional deliveries had contributed to the spike in the percentage of deaths, said Dr.SaloniSidana, Additional Mission Director, NHM State unit.

"Urban areas report a higher death percentage as they offer tertiary care, and admit several serious cases from peripheral districts," said the official, who stated that several districts had under-reported deaths as well.

The issue of under-reporting is illustrated by the NHM's Child Health Review 2019-2020, which highlights 43 districts where government officials didn't report more than 50% of deaths of children under five, to falsely jack up their score.
::ECONOMY::
Government set to roll out simplified tax regime from April
Finance Minister NirmalaSitharaman said that simplified tax compliance regime will be rolled out by April 1st, this year. Addressing economists and experts as part of Jan JanKa Budget held in Hyderabad the minister directed senior officials to conduct district level interactions in person to clear all GST related issues of traders and industry people.

The Finance Minister also said, the state governments are also on board with the Central Board of Indirect Taxes and Customs (CBIC) and the state governments also have the responsibility to create awareness about GST.

The Finance Minister said that many aspects have been taken into consideration before imposing cess and taxes in the Budget 2020-21.

Minister made it clear that the 5 per cent cess on imports of Medical equipment is applicable to only those equipment which are also produced in India.

She further said, the cess collected will be spent on creating medical infrastructure like hospitals in tier-two and tier-three cities in the country.
Experts suggest strengthening of banking sector to rebuild economy
Chairman for Economic Studies in the Vivekananda International Foundation, S Gurumurthy has advocated for a comprehensive inter-related approach to Indian economic modeling and stressed on several important points to improve the economy.

Mr Gurumurthy was speaking at a discussion on Political Stability and Transformation of Union Budget in New Delhi on Saturday. He said, banking system should be strengthened in a way that it can undertake the burden of rebuilding the economy.

Suggesting the measures aiming at restyling the economy, he said, development banking should be separated from commercial banking first. He said, development finance institution should be established to reduce the possibility of generation of Non Performing Assets, NPAs.

Speaking on the occasion, RajyaSabha MP Rajeev Chandrasekhar held strong political stability responsible for progressive economic growth, saying it has positive impacts on overall developmental target across sectors.

He said, political stability not only cleans up the financial system but improves the credit culture through governance and bring reforms in public sector banks. He also added that resolution of NPAs and consolidation of public sector banks can be done under the umbrella of strong leadership at the Centre.

AIR Correspondent reports that more than 100 participants from financial background, academia and students attended the panel discussion.
::INTERNATIONAL::
FATF to take stock of Pak's role in terror financing
A crucial meeting of the Financial Action Task Force (FATF) began in Paris yesterday. The plenary session of the FATF will take stock of Pakistan's role in terror financing.

A statement posted on the FATF website said that the session will review progress made by Pakistan and some other countries that present a risk to the financial system.

India will keep up the pressure on Pakistan to cut finances to terrorist groups, in particular seeking action against Jaish-e-Mohammed chief MaulanaMasoodAzhar and Lashkar-e-Taiba leader Zaki-ur-RehmanLakhvi.

During the six-day meeting, more than 800 representatives from 205 countries, IMF, United Nations, World Bank and other organizations will focus on global action to follow the money that fuels crime and terrorism.

Pakistan was placed on the 'grey list' by the Paris-based watchdog in June 2018 and was given a plan of action to complete by October 2019 or face the risk of being placed on the watchdog's blacklist.

In its October meeting, the FATF had noted that Pakistan had addressed only five out of the 27 tasks given to it in controlling funding to terror groups. The intergovernmental organisation had asked Pakistan to complete its full action plan by February 2020.
India signs MoU with Russia for defence support and spares
In a step forward towards addressing the issue of regular spares and support for Russian military equipment with the armed forces, 14 MoUs were signed between Indian and Russian companies for setting up joint ventures covering a range of equipment from modern T-90 tanks to legacy Pechora air defence systems.

The MoUs were signed during the 5th India Russia military industry conference held during the Defexpo 2020 in Lucknow. They come under the Intergovernmental Agreement (IGA) on joint manufacturing of spares in India signed last September for mutual cooperation in manufacturing of spares, components, aggregates and other material related to Russian or Soviet-origin arms and defence equipment.

Lack of timely spares and support has been a constant issue faced by the military, a major part of which consists of Russian defence hardware.

One important MoU was signed between the Bharat Dynamics Limited and the AlmazAntey of Russia for exploring the feasibility of a joint venture in India for the production of various sub systems of "air defence missile systems like Tunguska, Kavadrat, the OSA-AKA, Pechora air defence system as well as the Shilka self-propelled air defence gun system".

There are also agreements on emerging technologies — Artificial Intelligence, Internet of Things, blockchain and robotics based on Russian technologies under the proposed Indo-Russian Joint Venture ICT Center of Excellence.
::SCIENCE & TECHNOLOGY::
ISRO set to launch 10 earth imaging satellites this year
On February 15, 2020, ISRO published its annual report 2019-20. According to the report, the Indian Space Research Organization will launch 10 Earth Observation Satellites in 2020-21. It includes the first Geo Imaging Satellite, GISAT-1.

The report says that 18 communication satellites, 19 national Earth Observation satellites and eight navigation satellites are in service.Out of these, 3 of these communication satellites are dedicated for military communication.

For the year 2019-20, ISRO had planned for 17 missions. Out of these, six are yet to be completed and are expected to be completed by March 31, 2020.

According to the report, ISRO has planned 36 missions in the upcoming year. It includes six Earth Observation satellites. The organization also has plans to add 8 Earth Observation satellites in 2021-22.

The Earth Observation satellites to be launched includes RISAT-2BR2. The RISAT-2BR2 with its fleet of predecessors RISAT-2B and RISAT-2B1 will be placed 120 degrees apart. RISAT are Radar Imaging Satellites that provide all weather surveillance using SAR (Synthetic Aperture Radars).
::SPORTS::
Haryana government announces rupees 6crore to olympic medal winners
Haryana government has decided to give 6 crore rupees to players of the state that bag gold medals at the Olympic Games. State Chief Minister ManoharLalKhattar said, 3 crore rupees will be given to those winning gold medals at Asian Games and 1.5 crore rupees to the winners of yellow metal at Commonwealth Games.

An amount of 15 lakh rupees will be given to each player participating in the Olympic Games so that the players can make the state, as well as the country, proud.

Mr Khattar said, the move is aimed at promoting sports in the state and encouraging youths to excel in the field. He said, the state government will also provide employment to the sportspersons in addition to the cash incentive.

The Chief Minister was addressing the concluding function of the four-day 46th Junior National Kabaddi Competition at Maharishi Dayanand University in Rohtak yesterday.