Current Affairs for IAS Exams - 17 February 2021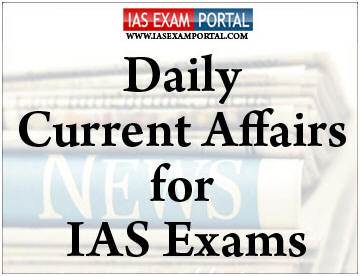 ---
Current Affairs for IAS Exams - 17 February 2021
::NATIONAL::
Digital Intelligence Unit
The Telecom Ministry said it would set up a nodal agency, 'Digital Intelligence Unit' (DIU), for speedy investigation and resolution of such cases.
About:
DIU would be set up as a nodal agency by Ministry of Communications for speedy investigation and resolution of cases related financial frauds involving telecom resources.
It will coordinate with various LEAs [law enforcement agencies], financial institutions and telecom service providers in investigation.
At License Service Area level,Telecom Analytics for Fraud Management and Consumer Protection system will also be created.
This will strengthen the trust of people in the digital ecosystem and will make financial digital transaction sprimarily through mobile more secure and reliable.
TECHNOGRAHIS
An Enrolment Module for TECHNOGRAHIS, has been launched by Shri Durga Shanker Mishra, Secretary, MoHUAvia video conferencing.  
About:
TECHNOGRAHIS are students from IITs, NITs, engineering, planning and architecture colleges, faculty members, academicians, and stakeholders.      
The Ministry of Housing and Urban Affairs (MoHUA) is promoting six Light House Projects (LHPs) as Live Laboratories for transfer of technology to the field.
The primary goal is to encourage large scale participation of people to create technical awareness for on-site learning. 
The LHPs are model housing projects. About 1,000 houses at each location are being built with allied infrastructure facilities.
This technology revolution is cost-effective, environment-friendly, disaster-resilient and promotes speedier construction. 
The initiative will prove to be a major push towards technical transformation in India.
CLICK HERE FOR FULL CURRENT AFFAIRS (Only for Course Members)
::INTERNATIONAL::
Ngozi Okonjo-Iweala
Nigeria's Ngozi Okonjo-Iweala was appointed Monday to head the leading international trade body as it seeks to to resolve disagreements over how it decides cases involving billions in sales and thousands of jobs.
Ms Okonjo-Iweala, 66, was appointed director-general of the World Trade Organization by representatives of the 164 member countries, according to a statement from the body.
Ms Okonjo-Iweala, formerly Nigeria's finance minister, had a 25-year career at the World Bank, where she rose to the No. 2 position of managing director. 
She holds both U.S. and Nigerian citizenship.
Australia approves AstraZeneca vaccine for use
Australia's regulator approved the AstraZeneca vaccine as its second for use against COVID-19.
Pfizer's product will be available in Australia next week. It will be given in two doses three weeks apart, while AstraZeneca's will be administered in two doses 12 weeks apart.
Prime Minister Scott Morrison said the Therapeutic Goods Administration, the regulator, found the AstraZeneca vaccine was safe and effective.
Health Minister Greg Hunt said the AstraZeneca vaccine will prevent serious COVID-19 illness.
Australia has contracted 53.8 million doses of the AstraZeneca vaccine, and 50 million of those will be manufactured in Australia.
The government has also secured 20 million Pfizer vaccines for a population of 26 million.
::ECONOMY::
Pilot Pey Jal Survekshan
Ministry of Housing and Urban Affairs has launched a Pilot Pey Jal Survekshan under Jal Jeevan Mission- Urban, JJM-U. 
Jal Jeevan Mission Urban is designed to provide universal coverage of water supply to all households through functional taps in all 4,378 statutory towns in accordance with Sustainable Development Goal - 6.
The total outlay proposed for JJM (U) is 2 lakh 87 thousand crore rupees which includes 10 thousand crorer upees for continuing financial support to AMRUT Mission.
::SCIENCE AND TECHNOLOGY::
Sandes
It is an instant messaging platform launched by National Informatics Centre (NIC), Ministry of Electronics and Information Technology.
Initially it was open only to government officers, and now has been released for the common public.
It has an additional safety feature, that allows a user to mark a message as confidential, will allow the recipient to be made aware the message should not be shared with others.
It was launched as part of the government strategy to push for use of India-made software and build an ecosystem of indigenously developed products.
CLICK HERE FOR FULL CURRENT AFFAIRS (Only for Course Members)