Current Affairs for IAS Exams - 17 March 2020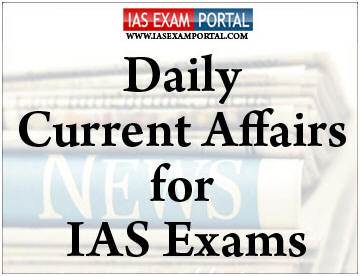 ---
Current Affairs for IAS Exams - 17 March 2020
---
::NATIONAL::
President nominates former CJI to Rajya Sabha
President Ram Nath Kovind on Monday nominated former Chief Justice of India (CJI) Ranjan Gogoi to the Rajya Sabha.
"In exercise of the powers conferred by sub-clause (a) of clause (1) of Article 80 of the Constitution of India, read with clause (3) of that article, President is pleased to nominate Shri Ranjan Gogoi to Council of States to fill the vacancy caused due to the retirement of one of the nominated members [K.T.S. Tulsi]," the Home Ministry said in its notification.
Justice Gogoi, who retired in November, headed the five-judge Bench that delivered the verdict in the Ayodhya land title dispute on November 9.
Soon after the unanimous verdict was delivered, Prime Minister Narendra Modi had lauded the judiciary for bringing an end to the decades-old Ayodhya land title dispute.
"The picture says it all," tweeted Congress communications chief Randeep Surjewala with two screenshots: Justice Gogoi's nomination to the Rajya Sabha and a news headline, "India's judiciary is facing an increasing lack of trust by public".
HRD ministry claims support to states via Samagra Shiksha Yojana
Human Resource Development Minister Ramesh Pokhrial Nishank has said that Central Government is providing support to the States and UTs through Samagra Shiksha Yojana for implementing the various provisions ..............................................
CLICK HERE FOR FULL CURRENT AFFAIRS (Only for Course Members)
::ECONOMY::
SEBI not to consider ban on short selling
The stock exchanges on Monday clarified that the Securities and Exchange Board of India (SEBI) was not considering any proposal regarding a ban on short selling to curb the ongoing volatility and equity sell-off.
The spokespersons for BSE and the National Stock Exchange (NSE) said 'there is no proposal on ban on short selling with SEBI', after a media report suggested that the capital markets regulator was considering such a ban among other measures.
Regulators in a few countries like Spain, South Korea and Italy have banned short selling amid huge volatility and a fall in stock prices.
Short selling refers to a strategy by which traders bet on a decline in prices and try to profit at a time when the markets are falling.
Indian indices have fallen more than 25% from their record highs reached in January.In market parlance, a fall of over 20% is looked upon as a sign of the markets entering a bear market.
Labour ministry claims growth in employment in major sectors
Minister of Labour and Employment Santosh Kumar Gangwar today informed the Lok Sabha that except the Construction Sector, all major sectors have shown growth in employment in the country.
While replying to a question, the .....................................
CLICK HERE FOR FULL CURRENT AFFAIRS (Only for Course Members)
::INTERNATIONAL::
India provides aid for construction of school buildings in Nepal
The Government of India will provide 107.01 million Nepali Rupees for three new school buildings in Nepal. The schools will be constructed in Darchula, Dhanusha and Kapilvastu districts.
The Embassy of India and Nepal's Ministry of Federal Affairs and General Administration signed Memorandum of Understandings (MoUs) with Mahakali Municipality, Darchula and Mukhiyapatti Musharniya Rural Municipality, Dhanusha in Kathmandu today for the construction of two new school buildings.
These schools will be built under the India-Nepal Development Partnership program at a total estimated cost of 73.96 million Nepali Rupees. The new infrastructure will be used by Shree Malikarjun Higher Secondary School at Dhap in Darchula district and Baidyanath Devnarayan Public Higher Secondary School at Tulsiyahi in Dhanusha district.
The Government of India will provide funds while construction work, including a call for tender, the award of work and day to day supervision, will be by Mahakali Municipality, Dharchula and Mukhiyapatti Musharniya Rural Municipality, Dhanusha.
The Government of India has also committed an amount of 33.05 million Nepali Rupees for the construction of new school buildings for Shivbhari School, Mahrajgunj Municipality in Kapilvastu district.
The Embassy of India handed over a cheque of 8.26 million Nepali Rupees as the first installment of its total commitment to the District Coordination Committee Kapilvastu.
G7 offers support to economies affected by COVID
Leaders of the G7 advanced economies have pledged to use all their tools to safeguard the economy and help workers hurt by the coronavirus pandemic.
As the outbreak caused more countries .................................
CLICK HERE FOR FULL CURRENT AFFAIRS (Only for Course Members)
::SCIENCE & TECHNOLOGY::
Space -X to launch space tourists to ISS next year
Elon Musk-led private space launch company SpaceX plans to send three tourists to the International Space Station (ISS).The 10-day long space voyage would take place sometime around the end of 2021, reported The Verge.
The tourists will be shot into orbit ...............................................
CLICK HERE FOR FULL CURRENT AFFAIRS (Only for Course Members)
::SPORTS::
IOC to hold talks with sports bodies on postponing Tokyo Olympics
With less than five months to go for the Tokyo Olympics, International Olympic Committee President Thomas Bach plans emergency talks with member organizations, sources close to the IOC said in Lausanne, Switzerland yesterday.
A Spokesman said that IOC will take stock of the actions taken to respond to the coronavirus crisis as the organization conducts regular dialogue with all the Olympic partners and regularly informs them of the situation, added.
While many international sporting events have been postponed or cancelled, Japanese Prime Minister Shinzo Abe promised on Friday that Tokyo would host the Olympic Games as planned in July and August.