Current Affairs for IAS Exams - 17 July 2021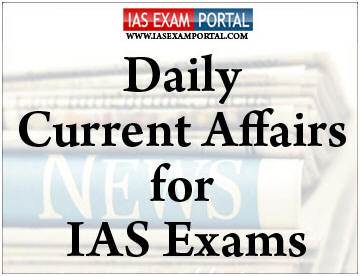 ---
Current Affairs for IAS Exams - 17 July 2021
::NATIONAL::
Article 311(2)(c)
Lt Governor Manoj Sinha has dismissed 11 Jammu and Kashmir government employees for alleged terror links under provisions of Article 311(2)(c) of the Constitution. The employees include two sons of Hizbul Mujahideen chief Syed Salahuddin.
Constitutional provision:
Article 311 of the Constitution deals with 'Dismissal, removal or reduction in rank of persons employed in civil capacities under the Union or a State'.
Under Article 311(2), no civil servant can be "dismissed or removed or reduced in rank except after an inquiry in which he has been informed of the charges and given a reasonable opportunity of being heard in respect of those charges''.
Subsection (c) of the provision, however, says this clause shall not apply "where the President or the Governor, as the case may be, is satisfied that in the interest of the security of the State it is not expedient to hold such inquiry".
The safeguard of an inquiry also does not apply in cases of conviction on a criminal charge [311(2)(a)], or "where the authority…is satisfied that for some reason, to be recorded by that authority in writing, it is not reasonably practicable to hold such inquiry". [311(2)(b)]
Section 126 of the constitution of the erstwhile state of Jammu and Kashmir too, while providing safeguards to civil servants/government employees like in Article 311 of the Indian Constitution, laid down exceptions under which a person could be dismissed without holding an inquiry.
Anti-Defection Law
Lok Sabha Secretariat has issued notice to 3 members under Anti-Defection Law.
About anti-defection law:
Introduced by 52nd CAA, 1985, it added 10th Schedule to the Constitution and it aims to curbpolitical defections by legislators.
Two grounds to disqualify a member of a legislature: 
If the member voluntarily gives up the membership of the party. 
If a legislator votes in the House against the direction of his party and his action is not condoned by his party.
Exception: 
If there is a merger between two political parties and two-thirds of the members of a legislature party agree to the merger.
CLICK HERE FOR FULL CURRENT AFFAIRS (Only for Course Members)
::INTERNATIONAL::
Solar storm
A'minor' (classification by National Oceanic and Atmospheric Administration) storm may hitEarth and may cause global power failure.
Geomagnetic storms refer to major or minor disturbances occurring in Earth's magnetospheredue to the efficient exchange of energy from solar winds entering Earth's space environment.
Solar winds are powerful storms that travel throughout Solar System and are visible in the haloaround the Sun during an eclipse or when the particles hit Earth's atmosphere as aurora borealisand aurora australis.
Solar flares, high-speed solar wind, and solar storms are all forms of solar activity driven bysolar magnetic field.
International Cooperationand Convention Centre Rudraksh
Prime Minister Narendra Modi inaugurated an international cooperation and convention centre, also known as 'Rudraksha', in Varanasi,which has been constructed with Japanese assistance.
About:
This spread in 2.87 hectares of land, the two-storey convention centre comprises main hall with a full flying tower, a seating capacity of 1,200, a gallery, meeting rooms, and parking for 120 cars.
Under it, 5 areas were identified on which the Japanese will extend their expertise to help rejuvenate the holy city of Varanasi.
In 2015, India and Japan signed an agreement on Sister City Cooperation, of which the Kyoto-Varanasi partnership was a part.Kobe-Ahmedabad are also sister-cities.
::ECONOMY::
Foreign card payment network companies
The Reserve Bank of India has so far barred three foreign card payment network companies — Mastercard, American Express and Diners Club — from taking new customers on board over the issue of storing data in India. 
Why have these companies been barred from enrolling new customers?
On July 14, the RBI imposed restrictions on Mastercard Asia Pacific Pte Ltd from onboarding new domestic customers (debit, credit or prepaid) in India from July 22, citing non-compliance with guidelines for storage of data in India.
The RBI said it had given almost three years for Mastercard to comply with the regulatory directions, but it was unable to complete the process.
Earlier, the RBI had imposed restrictions on American Express Banking Corp and Diners Club International Ltd from enrolling new domestic customers onto their card networks from May 1, 2021, also citing non-compliance of storage of data.
Will existing card users and banks be affected?
Existing customers using a credit card or a debit card with Mastercard, American Express or Diners Club as the payment network can continue using these. 
Banks and non-banking finance companies that were planning to use these payment networks won't be able to use these platforms to enrol new customers until the RBI lifts the ban.
::SCIENCE AND TECHNOLOGY::
AI-powered grievance management application
Union defence Minister launched an Artificial Intelligence-powered application.It has been developed by the Ministry of Defence with the help of IIT-Kanpur.
This project is first of itskind initiative of the Government for using AI, data science and Machine Learningtechniques in grievance redressal.
Characteristics
Capability to understand the content of the complaint, thus identify repeated ones or spams automatically.
Categorise complaints of different categories including its geographical analysis.
Significance: 
It will reduce human intervention, save time and bring more transparency intheir disposal.
 CLICK HERE FOR FULL CURRENT AFFAIRS (Only for Course Members)