Current Affairs for IAS Exams - 17 October 2020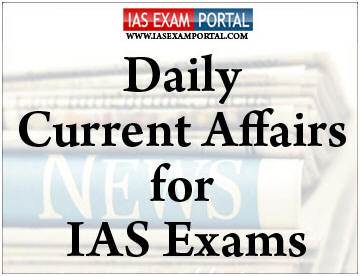 ---
Current Affairs for IAS Exams - 17 October 2020
---
::NATIONAL::
---
Stay on civil/criminal proceeding not to exceed beyond 6 months,claims SC
---
Any stay on civil or criminal proceedings is valid for a period of six months, beyond which the trial will resume, the Supreme Court held in an order on Friday.
"Whatever stay has been granted by any court, including the High Court, automatically expires within a period of six months," a Bench led by Justice Rohinton F. Nariman said.
 An extension of the stay has to be granted only for a "good reason."The Bench was reiterating a 2013 judgment in the Asian Resurfacing of Road Agency Pvt. Ltd case.
"The speaking order must show that the case was of such exceptional nature that continuing the stay was more important than having the trial finalised," the court said.
The judgment was concerned with the case of refusal of a magistrate court in Pune to resume trial as the Bombay High Court had previously stayed the proceedings.
"We must remind the magistrates all over the country that in our pyramidical structure under the Constitution of India, the Supreme Court is at the apex, and the High Courts, though not subordinate administratively, are certainly subordinate judicially. This kind of orders fly in the face of our judgment . We expect that the magistrates all over the country will follow our order in letter and spirit," the Supreme Court observed.
Government aims to make country free from transfat by 2022
---
Health Minister Dr Harsh today said that the aim of the government is to make India Trans Fat free by 2022, a year ahead of target set by World Health Organization .
Chairing the event on World Food Day organized by FSSAI, Dr Harsh Vardhan said, due to the unprecedented challenges faced by the world on account of the Covid pandemic, there has been a renewed focus on food, nutrition, health, immunity and sustainability. He said, focus this year is on elimination of Trans Fats from the food supply chain.
The Minister said, Trans Fat, a food toxin present in Partially Hydrogenated Vegetable Oils, baked and fried foods, is a major contributor to the rise in non-communicable diseases in India.
CLICK HERE FOR FULL CURRENT AFFAIRS (Only for Course Members)
---
::ECONOMY::
---
AtalBeemitVyaktiKalyanYojana (ABVKY) to ensure wages to those who became unemployed due to lockdown
---
The government is launching a campaign, AtalBeemitVyaktiKalyanYojana (ABVKY), to ensure that Employees' State Insurance Corporation-registered workers who had lost their jobs during the lockdown can claim of 50% of their wages for up to three months as unemployment relief even if they have resumed work. 
The move is seen as an outreach to those displaced by the lockdown and blunt the criticism that the government did not take care of migrant and factory workers, who were the worst hit. Sources said that the documents will need to be submitted physically as the beneficiaries are not linked to Aadhaar.
Ministry sources said the scheme has started to receive nearly 400 claims daily since the labour ministry and ESIC decided to extend ABVKY last month, when it also decided to bump up the rate of unemployment relief from the existing 25% of wages to 50% of wages.
While unemployment benefits could only be available following submissions through employers, the labour ministry has now permitted claims to be made directly to designated ESIC branch office. ESIC services nearly 3.4 crore families through medical insurance cover and cash benefits to almost 13.5 crore beneficiaries.
Under the new social security code law, the government has also decided on extending ESIC services to all 740 districts of the country, for which labour ministry officials said they have tied up with hospitals empanelled under the Ayushman Bharat scheme and 3rdparty service providers.
India-International food and agri week inaugurated
Food Processing Industries Minister Narendra Singh Tomar today virtually inaugurated the India - International Food and Agri Week. Addressing the inaugural session, Mr Tomar said Indian food processing sector is 32 per cent of India's food market.
The Minister said, proper marketing and latest technology can lead to greater development of the agriculture sector and significant steps have been taken in this direction. He added that with 3.4 per cent GDP growth rate agriculture sector has contributed hugely to India's economic growth even during Covid times.
Mr Tomar said, the Ministry has started an awareness campaign named 'Anna DevoBhava' to mark this occasion. He stressed that along with increasing awareness about the value of food we must also focus on reducing food wastage. 
CLICK HERE FOR FULL CURRENT AFFAIRS (Only for Course Members)
   ::INTERNATIALON::
Israeli parliament back peace deal with UAE
Israel's Parliament voted on Thursday in favour of normalisation of ties with the United Arab Emirates after a marathon debate with over 100 speeches lasting more than eight hours.
A total of 80 lawmakers voted to approve the U.S.-brokered agreement, with 13 from the Arab-led Joint List against.
"This historic agreement will bring us closer to other countries in the region to sign other peace agreements," Prime Minister Benjamin Netanyahu said.
He said Israel had contact with another country in the region for the first time, but did not reveal its name.
The UAE in August became the first Arab state to establish relations with Israel since Egypt in 1979 and Jordan in 1994. It was quickly followed by Bahrain.
The U.S.-brokered deals were formalised at the White House on September 15.The West Asia agreements were condemned by the Palestinians as a "betrayal".
India-Chile holds joint commission meeting for the first time
---
India and Chile held their first joint commission meeting yesterday and agreed to add new momentum to their relations in a wide range of fields including trade and commerce, agriculture, health and social security, defence and space. 
The meeting held virtually was co-chaired by External Affairs Minister S Jaishankar and his Chilean counterpart Andres Allamand Zavala. Both sides noted that the Joint Commission was a significant development in India - Chile relations, being the first institutionalized dialogue between the two countries at the level of Foreign Ministers.
India welcomed Chile's decision to designate India as a priority country in its foreign policy. Chile will also be opening its Consulate General in Mumbai.
Based on their convergence of views on many global and regional issues, both sides agreed to coordinate closely at the multilateral fora.
The External Affairs Minister underlined Prime Minister NarendraModi's vision of Atmanirbhar Bharat for enhancing resilience through self-reliance and human-centric globalization as the basis for India's economic revival. He invited Chile to take advantage of India's new economic capacities and growing market.
::SCIENCE & TECHNOLOGY::
---
Study finds global climate events in 3200years may have impacted Indian monsoons
Global climatic events like the Roman Warm Period, Medieval Climate Anomaly, and the Little Ice Age may have had significant impacts on India's landscape, vegetation, and socio-economic growth, with abrupt shifts in the Indian Summer Monsoon (ISM) coinciding with these climatic events, a study by Indian researchers has found. 
The study by the Wadia Institute of Himalayan Geology, an institute of the Department of Science & Technology, shows wet monsoon conditions in the North-Western Himalaya between 1200 and 550 BCE.
This condition prevailed till 450 AD, coinciding with the Roman Warm Period. It was followed by reduced precipitation and a weak ISM till 950 AD and then strengthened during the Medieval Climate Anomaly between 950 and 1350 AD.
In a recent study published in the journal 'Quaternary International', researchers obtained grain size data, stable isotope ratios of carbon and nitrogen, total organic carbon (TOC), and total nitrogen data from the sediments of the lake.
The findings pointed out a revival of wet climatic conditions with a strong ISM around 1600 AD following the Little Ice Age, which prevails in present times.
The variability of ISM in the historical past needs to be ascertained to understand present, and future behaviour of ISM as climate shifts and water supply has dictated the flourish and demise of ancient civilisations, the study said.
::SPORTS::
Wimbledon tennis set to return by next year
---
Wimbledon is set to go ahead next year even if the Grand Slam tournament has to be staged behind closed doors, organisers announced on Friday.The grasscourt championships were cancelled this year for the first time since World War II because of the coronavirus pandemic.
The All England Club is planning for several scenarios in 2021 — a full-capacity Wimbledon, reduced numbers of fans or holding the tournament with no spectators present.
CLICK HERE FOR FULL CURRENT AFFAIRS (Only for Course Members)